In 1 of the Largest Districts Most Needing A/C, 1,000 Hawaii Classrooms Get Cooled Off This School Year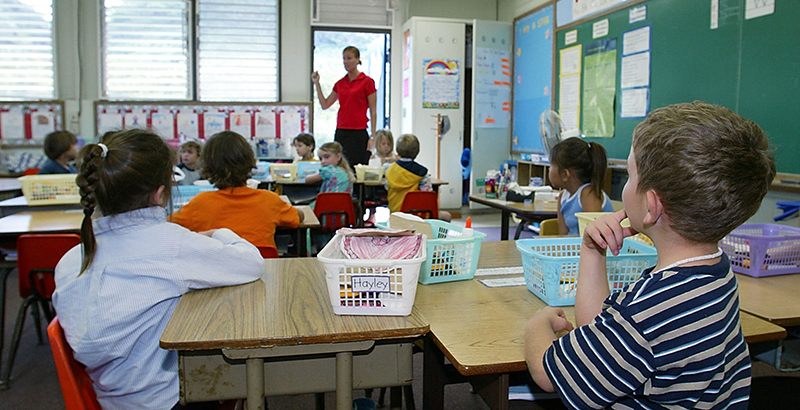 Last week, Hawaii completed its $100 million mission to cool down 1,000 public school classrooms. It's part of the state's ongoing effort to bring air conditioning to the warm islands, where fewer than half the classrooms have A/C.
The heat abatement program, as it's called, is outfitting schools with different cooling tools, depending on what their building can support. These include solar-powered A/C, insulation, vents to remove hot air, ceiling fans, and skylights that brighten, but don't heat up, a classroom.
"The learning environment is way, much more comfortable," Nanakuli High School senior class president Talafaaiva Ealim told the Star Advertiser. "Before, we would work in the heat, and we'd get all sweaty and sticky. It's a whole lot easier for the teachers to teach now that students are paying more attention."
An additional 300 classrooms will receive air conditioning by the end of September, using money left over from the Legislature's $100 million appropriation. Hawaii's Department of Education estimated that if every school in the state were to get A/C, it could cost as much as $1.7 billion.
(The 74: Exclusive: Too Hot to Learn: Records Show Nearly a Dozen of the Biggest School Districts Lack Air Conditioning)
Even with the 1,000 newly outfitted rooms, Hawaii schools still lag behind other comparably large districts when it comes to cool classrooms. A public records request by The 74 found that while most of the 50 largest districts in the nation equip all their schools with air conditioning units, 11 districts don't have enough for many of their classrooms.
It's hard to keep students' attention and manage behavior when classrooms get overheated, teachers told The 74. Some schools without air conditioning have let students out early or canceled classes when temperatures have gotten too high. Additionally, research from Harvard has found that test scores can drop when students are stuck in the heat.
"Taking an exam on a 90 [degree] day relative to a 72 [degree] day results in a reduction in exam performance that is equivalent to a quarter of the black-white [student] achievement gap," the study says.
But as climate change drives temperatures, districts are still trying to invest in A/C. New York City, for example, spends millions to cool its classrooms, and about 11,000 still don't have A/C units. By 2022, the district will spend $29 million to make these units ubiquitous across schools.
Get stories like these delivered straight to your inbox. Sign up for The 74 Newsletter