8 Things We Know About the High School Stabbing in NYC That Left One Student Dead, Another Critically Injured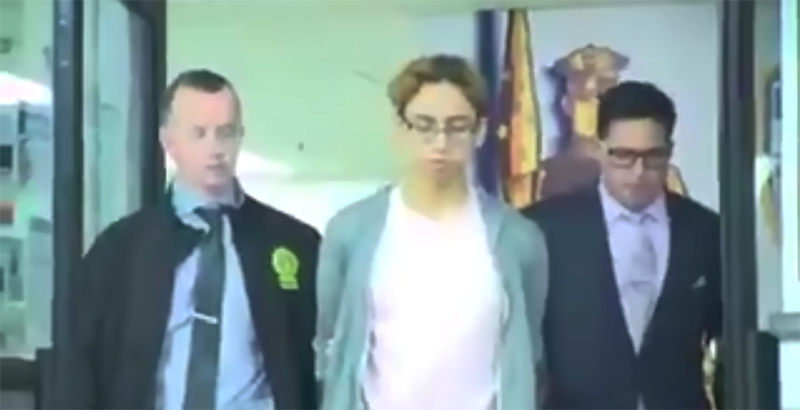 News roiled New York City residents Wednesday after a teenager was killed and another critically wounded in a stabbing at a high school in the Bronx. A classmate was arrested and charged with murder after the attack in a third-period history class at Urban Assembly School for Wildlife Conservation.
Here's what we know at this point:
1. An 18-year-old suspect has been arrested
High school student Abel Cedeno was taken into custody and charged with murder, attempted murder, manslaughter, attempted manslaughter, assault, and criminal possession of a weapon. After the incident, Cedeno reportedly gave the knife to a school counselor and walked into the assistant principal's office, where he waited for police to arrive.
2. One student died, another is in critical condition
Fifteen-year-old Matthew McCree, who was stabbed in the chest, was pronounced dead at St. Barnabas Hospital. Ariane Laboy, 16, was stabbed in the arm and torso and was in critical but stable condition.
3. The perpetrator used a 3-inch switchblade
The weapon used in the attack has a 3-inch blade that springs forward from a 4-inch handle. Friends said Cedeno bought the $30 switchblade on Amazon two weeks ago.
4. Bullying was a factor
Students had begun to taunt Cedeno on the first day of school, the New York Daily News reports, and he told police that the bullying had gone on "for a while."
Bullying incidents increased in New York City schools in the past year, according to a recent analysis of city student survey data. Between 2016 and 2017, the Daily News found a 10 percentage point jump in bullying reports.
Data from the National Center for Education Statistics show that bullying has decreased nationally in recent years. In 2015, 20.8 percent of students 12 to 18 years reported being bullied, down from 21.45 percent in 2013. Bullying incidents are most prevalent in middle schools, the data showed.
Learn more about bullying in schools with these flashcards by The 74.
5. This was the first killing inside a New York City school in years
Before Wednesday's altercation, the most recent school violence deaths at America's largest district occurred in the early 1990s. A 15-year-old student with an emotional disability stabbed a classmate to death in 1993 at Junior High School 25 on Manhattan's Lower East Side. A fatal stabbing and a fatal shooting were recorded in 1992, both in Brooklyn.
New York Police Department statistics show that seven serious crimes, including two assaults, occurred at the School for Wildlife Conservation during the 2016–17 year.
In a recent analysis for The 74, Max Eden of the Manhattan Institute, a conservative think tank, created a campus-by-campus safety map, based on data from 2015–16 New York City school culture surveys. More than half of teachers said order was not maintained in the school, 64 percent of students reported that peers don't respect one another, 38 percent said there were frequent physical fights, and 34 percent reported frequent bullying. (You can search New York City schools, and read summaries of their culture surveys, in this special 74 interactive.)
6. The building housed two schools
Public School 67, an elementary school, and the School for Wildlife Conservation, which serves grades 6 to 12, are co-located in the same building. The suspect and both victims were students at the high school. About 1,096 students attend school in the building.
7. The school did not have a metal detector
New York City officials began placing metal detectors in some district middle and high schools several decades ago, at a time when school crime was more prevalent. After Wednesday's incident, some parents were angry that the building did not have metal detectors and demanded action from Mayor Bill de Blasio. Police said during a news conference that the metal detectors could have intercepted the knife. By Thursday, de Blasio said, officials planned to equip the building with "random screening, done with metal detectors."
Civil rights groups have long opposed metal detectors in schools, arguing that they instill fear in students, disproportionately target poor and minority students, and fail to improve safety. City officials have debated removing the devices for several years.
8. Violent deaths at schools are rare
Fewer than 2.6 percent of youth homicides occur at schools, according to the Centers for Disease Control and Prevention, a statistic that has held relatively stable for the past decade. About 8 percent of high school students reported being involved in a physical fight on school property in the past year, according to a 2015 survey. Additionally, 5.6 percent said they skipped school in the past month because they felt unsafe at school, and 4.1 percent reported carrying a weapon on school property. Of those surveyed, 6 percent reported having been threatened or injured with a weapon on school property in the past year.
Get stories like these delivered straight to your inbox. Sign up for The 74 Newsletter