What the Harvard Affirmative Action Victory Means for Students Who Face 'Endemic Inequalities' in K-12 Schools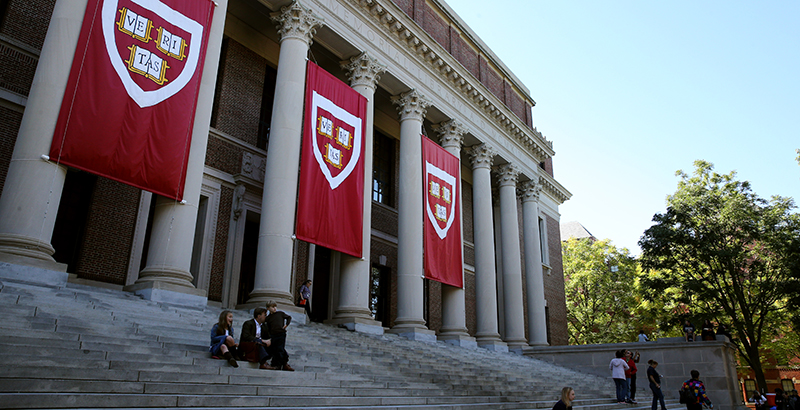 After a federal judge ruled Tuesday that Harvard University's admissions policies do not discriminate against Asian-American applicants, Madison Trice was jubilant. The use of race in admissions decisions, she said, is crucial to college access for students like her.
Any other outcome, she said, could have been detrimental for black students like her with college ambitions.
"I can't imagine the impact it would have had on applicants like me — applicants whose experiences were significantly shaped by racism and who need to discuss those experiences and their racial identities to communicate who they are in their applications," Trice told reporters on Tuesday evening. A Harvard student, she testified at the trial last year in U.S. District Court in Boston.
Earlier Tuesday, District Judge Allison Burroughs upheld Harvard's admissions process, which considers students' race as one of multiple factors. In doing so, Burroughs rejected the plaintiff's argument that the process discriminated against Asian-American applicants. Students for Fair Admissions, which filed the lawsuit on behalf of anonymous college applicants, alleged that Harvard's admissions process relied on a racial quota that held Asian-American students to a higher standard than applicants of other races.
The ruling in the high-profile legal fight comes with national implications as colleges and universities seek to foster racially diverse student bodies. But it also affects high school students gauging their admissions chances at any number of schools, including the elites like Harvard.
During the trial last year, Trice discussed the essay she wrote in her application to Harvard, which highlighted her experiences being bullied as a high school student in Washington, D.C., and accepting herself for who she is. Being mistreated in school, she testified, was inextricably linked to her race.
On Tuesday, Trice — a government major who plans to graduate in 2021 — outlined several anecdotes from her childhood. While in elementary school, for example, she wasn't admitted into gifted and talented classes until her parents put up a fight, she said, "to allow me to be educated at the level that I was performing."
Such experiences, she said, highlight the "detrimental effects of discrimination in our education system" before students even reach college. Trice isn't alone: Students of color are generally less likely to be identified for gifted and talented programs, and in New York City, the disparities became central to a heated debate this summer over admissions to the city's selective public schools.
"Those instances would have made it difficult for me to shine the way that I did in my college application without being able to articulate the way that discrimination affected me," she said.
In the 130-page ruling, Burroughs recognized the value of race-conscious admissions policies that comply with Supreme Court precedent, noting that such efforts help ensure that colleges "offer a diverse atmosphere that fosters learning, improves scholarship and encourages mutual respect and understanding." Yet she acknowledged that Harvard's process is "not perfect," and she recommended that the university maintain clear guidelines on the use of race and provide implicit bias training to admissions officers.
"That being said, the Court will not dismantle a very fine admissions program that passes constitutional muster," Burroughs wrote, "solely because it could do better."
In reflecting on the decision, Michaele Turnage Young, senior counsel at the NAACP Legal Defense and Educational Fund, said that race-conscious college admissions are necessary to combat inequities that exist within America's public K-12 school system. Students of color, she noted, are more likely to attend high-poverty schools where teachers are on average less experienced. Such schools typically have fewer resources and, as such, often offer fewer academic and extracurricular activities.
"The fact that we have endemic inequalities in K-12 education in this country more than supports the fact that colleges and universities must continue to be able to consider race as one of many factors in admissions," she said. Though not a direct party in the lawsuit, LDF represented 25 Harvard groups that filed a brief arguing in favor of the current policy. The groups included the Association of Black Harvard Women, the Harvard Asian American Alumni Alliance and the Harvard Latino Alumni Alliance.
Adan Acevedo, a 2013 Harvard graduate and co-president of the Harvard Latino Alumni Alliance, said Harvard's holistic admissions process was critical to his college acceptance. Acevedo is from an immigrant family, he said, "who struggled in this country to get a better shot at what we call the American Dream."
"Different parts of my life, whether it was cross-country practice or having to go home in a dangerous neighborhood," he said, "made me the person I am today. Without considering those things, Harvard does a disservice to any applicant."
In a letter, Harvard President Larry Bacow said the ruling was a victory for diversity on campus.
"The consideration of race, alongside many other factors, helps us achieve our goal of creating a diverse student body that enriches the education of every student," Bacow wrote. "We reaffirm the importance of diversity — and everything it represents to the world."
Groups that represent Asian-American students offered varied responses to the news on Tuesday. The Asian American Coalition for Education, which backed the federal complaint against Harvard, called the decision "retrogressive" and argued that overwhelming evidence documents "egregious anti-Asian discrimination" in Harvard's admissions process. The group alleged the decision demonstrates that the court holds a "biased alliance with the defendant on [the] basis of political correctness and elitist arrogance."
But John Yang, president and executive director of the civil rights group Asian Americans Advancing Justice, applauded the judge's decision, arguing that Asian Americans benefit from affirmative-action policies that protect them from discrimination.
"It is through these race-conscious policies that allow all applicants, especially and including Asian-American applicants, to tell their whole story and to tell of the different hardships and the different upbringings that they've had," he said.
Jeannie Park, a Harvard graduate and president of the Harvard Asian American Alumni Alliance, offered a similar sentiment.
"For so many of us, race is an integral part of our identities and our life experiences, and there would be no way to present ourselves fully in the admissions process without it," she said.
Despite the latest decision, it's unlikely that Harvard is in the clear entirely: The case has been widely viewed as the next opportunity for the Supreme Court to weigh the legality of affirmative action. Students for Fair Admissions President Edward Blum, a prominent affirmative-action opponent who filed the suit against Harvard, said in a statement that his group plans to appeal Tuesday's ruling.
"Students for Fair Admissions is disappointed that the court has upheld Harvard's discriminatory admissions policies," Blum said in the statement. "We believe that the documents, emails, data analysis and depositions [Students for Fair Admissions] presented at trial compellingly revealed Harvard's systematic discrimination against Asian-American applicants."
But Sherrilyn Ifill, president and director-counsel of the Legal Defense and Educational Fund, said the facts in the Harvard case "cannot be overcome or easily shaken, even on appeal."
The Supreme Court's most recent ruling on affirmative action in college admissions, in 2016, upheld a University of Texas admissions policy that takes race into consideration when selecting applicants.
"We know the legal question of affirmative action is one that has been roiled up consistently over the past 30 years," Ifill told reporters on Tuesday evening. "It's worth remembering that every time we make it to the United States Supreme Court, affirmative action survives."
But this time, affirmative action could face steeper opposition at the Supreme Court. Just months after the death of conservative Justice Antonin Scalia, the court ruled 4-3 in favor of the University of Texas at Austin with Justice Elena Kagan recusing herself. The Supreme Court currently has a conservative majority.
Get stories like these delivered straight to your inbox. Sign up for The 74 Newsletter