Exclusive Video: California's Gubernatorial Candidates Talk School Equity, Student Standards & Reprioritizing Education at Children's Forum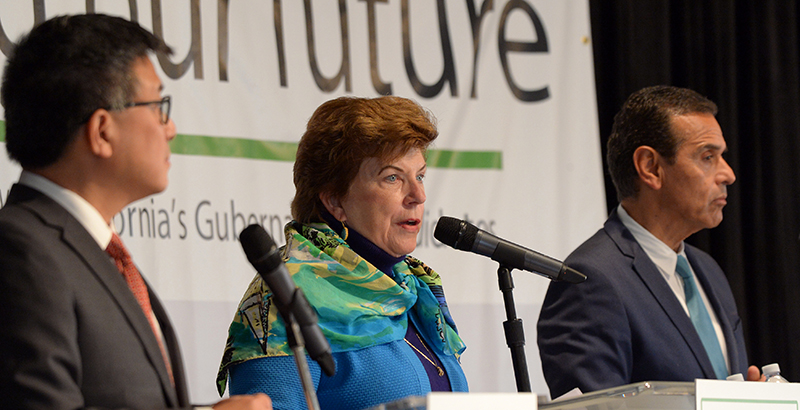 #EDlection2018: See The 74's preview coverage of key education races to follow through 2018 — visit The74Million.org/Election.
Top California gubernatorial candidates Antonio Villaraigosa, John Chiang, and Delaine Eastin gathered May 15 to discuss the most critical issues facing the state's 9.1 million children — particularly education — at a nonpartisan community forum hosted by three Los Angeles-based nonprofit organizations in partnership with LA School Report, which is powered by The 74.
You can watch the full video replay of the conversation right here:
Titled "Building Our Future: A Forum on Children With California's Gubernatorial Candidates," the evening's program focused on educational equity, child welfare, juvenile justice, health care, poverty, and access to technology for California children and youth. The discussion was held three weeks before voters go to the polls for the June 5 primary, which will determine the top two candidates vying for the governor's seat in November.
The Chronicle of Social Change, the Children's Defense Fund-California, and the Children's Partnership co-hosted the event at Los Angeles Trade Technical College in partnership with LA School Report and the Los Angeles Daily News.
Catch up on the rest of The 74's in-depth coverage of the California governor's race right here:
● How education is shaping one of America's most-watched campaigns: Of the major candidates, former San Francisco Mayor Gavin Newsom continues to outpace all challengers in his three-year bid for the governor's seat. But the race is by no means decided. Past Los Angeles mayor and education reform hero Antonio Villaraigosa recently benefited from $12.5 million in contributions from charter school supporters, while Republican businessman John Cox, a few points ahead of Villaraigosa in the polls, looks to consolidate support on the right. Here's a breakdown of the key education issues shaping the race.
● What the voters are saying: How important is K-12 public education to California voters as they choose a new governor this year? Very. And that sentiment is growing. Nearly two-thirds — 64 percent — of likely voters in a new survey called education "very important," an increase from 58 percent four years ago when the same question was asked. A full 90 percent said candidates' positions on education are important to them.
Ahead of the L.A. forum, several top gubernatorial candidates completed questionnaires about top issues affecting California families:
● Gavin Newsom: "The fragmented state of our education system has stymied efforts to fully address the needs of our state's most at-risk students. We need to end this era of inefficiency by linking early childhood, K-12, higher education, and workforce data systems to more productively identify what practices are working and where our resources should be deployed."
● Antonio Villaraigosa: "Improving schools starts with transparency around performance so states and districts can help low-performing schools get better. Without the data, you can't make the case for change."
● John Chiang: "We need to increase funding for schools so we're providing the resources we want our kids to have: the best teachers possible, low teacher/student ratios, school nurses, arts and music, and more. That way, we aren't redirecting money that our students deserve."
● Delaine Eastin: "California needs to increase the level of per-pupil funding of education from the bottom 10 to the top 10 states in the union. The state needs to ensure the schools have all the resources, funding, and tools necessary to support the continuous improvement of school districts and schools identified as needing improvement. We must consider even more support for the lowest-performing subgroups."
Get stories like these delivered straight to your inbox. Sign up for The 74 Newsletter