WATCH: Education Experts Talk the Importance of STEM Skills (and the Urgent Need to Accelerate) Math Recovery in a Post-COVID World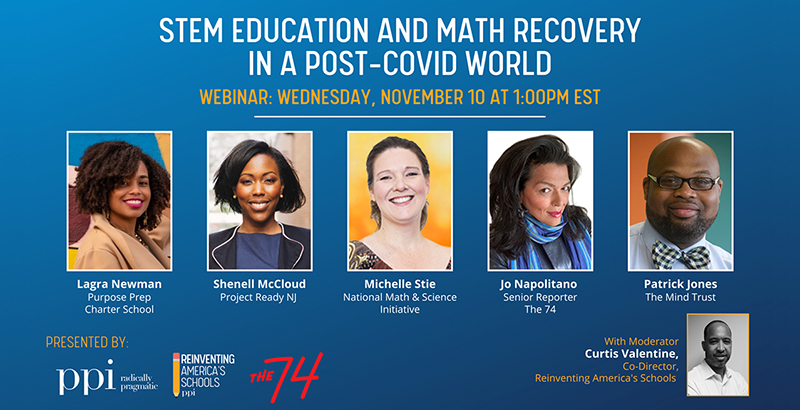 Get stories like these delivered straight to your inbox. Sign up for The 74 Newsletter
New research suggests the pandemic's long-term impact on math learning might be considerably more severe than on reading skills. How can educators and parents counter this? Why is it so important?
Those questions will be on the table Wednesday, when The 74 and the Progressive Policy Institute host their latest webinar, STEM Education and Math Recovery in a Post-COVID World. Panelists include Lagra Newman, founder of Purpose Prep Charter School in Nashville; Shenell McCloud, CEO of Project Ready in New Jersey; Michelle Stie, vice president of the National Math & Science Initiative; Jo Napolitano, senior reporter at The 74; and Patrick Jones, senior vice president at The Mind Trust in Indianapolis. Curtis Valentine, co-director of the Reinventing America's Schools project at PPI, will moderate.
The webinar is part of a series co-sponsored by the Reinventing America's Schools Project and The 74.
Join us Wednesday at 1 p.m. Eastern: Click here to register and receive the Zoom link, or come back to this page at 1 p.m. to stream the event live.
Some recent T74 coverage of COVID learning loss:
Get stories like these delivered straight to your inbox. Sign up for The 74 Newsletter