Watch: Dr. Fauci Says CDC Guidance For Schools May Be Changing to Permit 3 Feet Between Students in Classrooms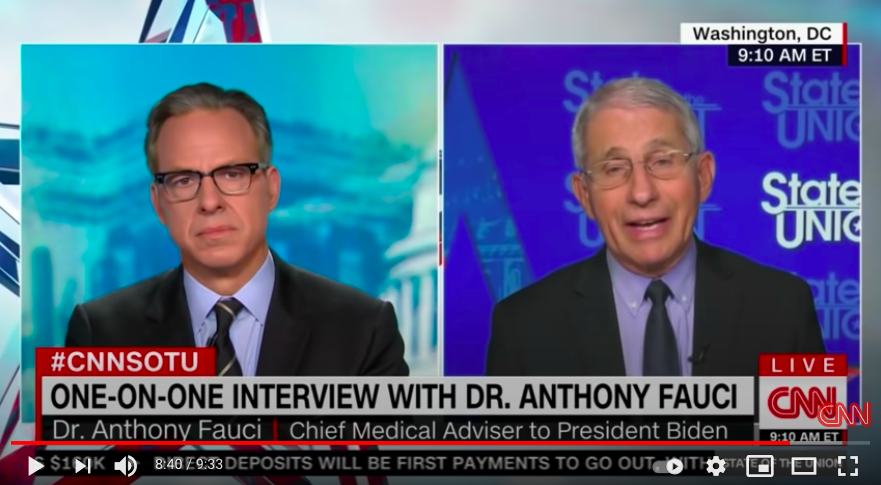 Sunday morning on CNN, Dr. Anthony Fauci addressed a new study out of Massachusetts that showed "similar" spread of coronavirus within classrooms when students were separated by three vs. six feet:

"What the CDC wants to do is they want to accumulate data and when the data shows that there is an ability to be three feet [apart] they will act accordingly," Fauci said on CNN's State of the Union.
"The CDC is very well aware that data are accumulating that 3 feet is okay under certain circumstances." (See the CDC's most recent guidance for schools, released Feb. 12)
A few more details on the Massachusetts study referenced by Jake Tapper (which you can find broken down here): Researchers who examined 251 school districts in Massachusetts serving 537,336 students and 99,390 staff via in-person instruction during a 16-week period found "student case rates were similar in the 242 districts with ≥3 feet versus ≥6 feet of physical distancing between students."
You can find more recent data surrounding classroom distancing in our March 12 and March 5 briefings on COVID and education policy. See all our latest coverage of schools and students amid the public health emergency at The74Million.org/PANDEMIC.
Support The 74's year-end campaign. Make a tax-exempt donation now.