This Week in Education Politics: State Chiefs Come to Town, HELP Considers Nominees as Guns Debate Continues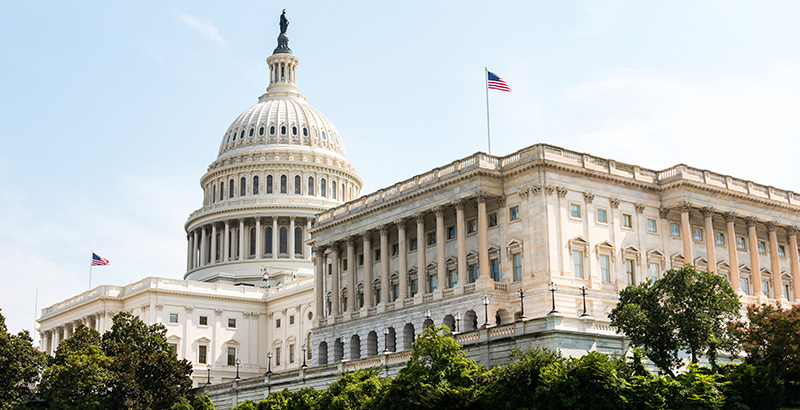 THIS WEEK IN EDUCATION POLITICS publishes most Sundays. (See previous editions here.) You can get the preview delivered straight to your inbox by signing up for The 74 Newsletter; for rolling updates on federal education policy, follow Carolyn Phenicie on Twitter @cphenicie.
INBOX: SCHOOL SAFETY — President Trump and congressional leaders continue to work on gun control and school safety proposals in the wake of the massacre in Parkland, Florida. At a meeting with members of Congress last week, the president made news by seeming to embrace Democrats' gun control proposals, though he may already backing away from it after meeting with the National Rifle Association.
Trump continues to push to allow teachers and others to carry weapons on campus and to end gun-free school zones. In another meeting last week, he also raised the issue of violence in video games, and he'll sit down with representatives of that industry this week.
Meanwhile, Parkland students have continued their gun control advocacy, planning a rally in Washington (where Maryland high schoolers are organizing a housing share for teens traveling to D.C. for the event) in late March. And teachers unions, gun control advocates, and civil rights groups are pushing a national day of action April 20, the 19th anniversary of the shooting at Columbine High School.
MONDAY & TUESDAY: STATE CHIEFS — The Council of Chief State School Officers, which represents state education secretaries and superintendents, holds its annual Legislative Conference. The group recently launched its own school safety working group.
Education Secretary Betsy DeVos addresses the chiefs late Monday afternoon, and congressional Education Committee leaders make remarks first thing Tuesday morning.
MONDAY & TUESDAY: STATE ED BOARDS – The National Association of State Boards of Education also holds its annual D.C. meeting this week. On Tuesday, members will meet with lawmakers and hear from Jason Botel, principal deputy assistant education secretary, on ESSA and "other administration priorities."
TUESDAY: WELFARE & CHILD CARE — A subcommittee of the House Education and the Workforce Committee looks at the role of child care in "strengthening welfare to work." Congress increased funding for child care vouchers for low-income Americans in its recent deal setting up long-term spending.
TUESDAY: LABOR DEPT. BUDGET — Labor Secretary Alexander Acosta testifies before the House Appropriations Committee on his department's fiscal 2019 budget request. The Trump administration proposed cutting about $1.1 billion from the department, including to Job Corps, a residential job training program for people ages 16 to 24, and to workforce training programs for young people, Bloomberg BNA reported. The administration's requests, though, are largely moot, as Congress agreed to a two-year deal that would raise total government spending.
WEDNESDAY: ED NOMINEES — The Senate Health, Education, Labor, and Pensions Committee will vote on two nominees: Frank Brogan to be assistant secretary of elementary and secondary education, and Mark Schneider to be director of the Institute of Education Sciences, the Education Department's research arm.
Brogan previously served as Florida's education secretary and lieutenant governor and led the state higher education systems in Florida and Pennsylvania. As The New York Times reported, Brogan has a unique experience in the ongoing debate on arming teachers: When he was an assistant principal, Brogan "chased down an armed teenager, talked him into lowering his weapon, then grabbed his arm and wrestled it away."
Schneider would come to the job from the American Institutes for Research, and he led the National Center for Education Statistics during the George W. Bush administration.
After a delay in nominations by the Trump administration, the confirmation logjam is now focused on the Senate floor. If approved by committee, Brogan and Schneider would join four other nominees approved by the HELP panel and awaiting confirmation by the full Senate.
Get stories like these delivered straight to your inbox. Sign up for The 74 Newsletter