The Week Ahead in Education Politics: Immigration Turmoil for DACA Students, House Moves on Ed Spending, LGBT Suicide Prevention & More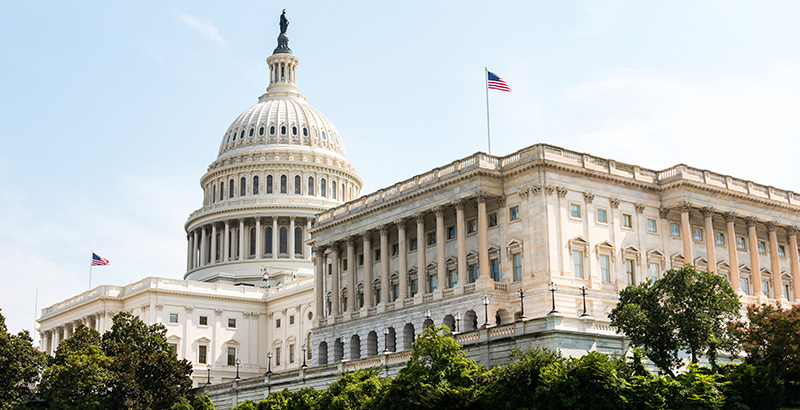 Update, June 20: The Appropriations Committee markup of the Education Department spending bill originally scheduled for Wednesday has been rescheduled for Tuesday June 26.
THIS WEEK IN EDUCATION POLITICS publishes most Saturdays. (See previous editions here.) You can get the preview delivered straight to your inbox by signing up for The 74 Newsletter; for rolling updates on federal education policy, follow Carolyn Phenicie on Twitter @cphenicie.
INBOX: IMMIGRATION? — After some high procedural drama surrounding a little-used petition process, House Republican leadership put forward what it deemed a compromise immigration measure that would provide increased funding for a wall at the border with Mexico and set up a visa system for DACA recipients.
Leaders had planned to vote on the bill this week, but President Donald Trump threw cold water on the compromise when he announced Friday morning he wouldn't sign the measure. Republicans scrambled to save the bill, with senior leaders predicting the president would walk back his remarks, Politico reported. The bill's fate was murky even before Trump's remarks, with Democrats and hard-line conservatives both questioning the measure.
The future of 680,000 DACA recipients has been in turmoil for nine months, after the Trump administration ended the program. It has since continued renewing applications under court order, though most DACA recipients whose statuses expired have lost protections.
Lawmakers have been unable to come to a deal that satisfies Democrats and moderate Republicans who urge a pathway to citizenship for the so-called Dreamers, hard-line conservative Republicans who oppose citizenship, and President Trump, who has long demanded money for a border as part of any immigration deal.
JANUS WATCH: The number of days on which the Supreme Court could announce its opinion in a key public-sector union case is dwindling. The court is scheduled to be in Monday, June 18, and Monday, June 25, to announce decisions, but could add additional days as it approaches the end of its term. Review our recap of oral arguments, and five things to know about the case, as the edu-world awaits what many expect to be a landmark decision.
TUESDAY & WEDNESDAY: CHILD CARE — Progressive advocacy groups convene the first Grassroots Assembly for Child Care to call for better early federal child care policies. Sen. Patty Murray, the ranking Democrat on the Health, Education, Labor and Pensions Committee and a former preschool teacher, will address the group.
WEDNESDAY: EDUCATION APPROPRIATIONS — The House Appropriations Committee marks up the fiscal 2019 spending bill that includes the Education Department. The Labor, Health and Human Services, and Education subcommittee approved the bill, which provides $71 billion for the Education Department, Friday.
ICYMI: LGBT SUICIDE PREVENTION — Sen. Orrin Hatch is an unlikely advocate for acceptance of LGBT Americans.
In the 1970s, he said gay people have a "psychological deficiency" and shouldn't be allowed to teach in public schools, and he was a strong defender of federal laws barring married same-sex couples from receiving government benefits, The Washington Post reported.
Yet on Wednesday, Hatch, an 84-year-old Mormon and strong social conservative, made an impassioned speech on the Senate floor to send a "message of love" to LGBT Americans, particularly LGBT young people, who die by suicide at rates two to seven times as high as their peers.
"LGBT youth deserve our unwavering love and support. They deserve our validation and the assurance that not only is there a place for them in this society, but that it is far better off because of them. These young people need us, and we desperately need them," Hatch said.
Hatch, with Indiana Democratic senator Joe Donnelly, wrote a bill that would require the Federal Communications Commission to recommend an easy-to-remember three-digit number for the National Suicide Prevention Hotline, like 911 for emergency services. The Senate has passed the bill, as has a House subcommittee; Hatch encouraged the full House to approve the legislation quickly.
The National Suicide Prevention Hotline number is 1-800-273-8255. The Trevor Project's hotline for LGBTQ youth is 1-866-488-7386.
Support The 74's year-end campaign. Make a tax-exempt donation now.