'The Safest School in America' Deploys a Range of Sophisticated Security Technology. Is It a National Model?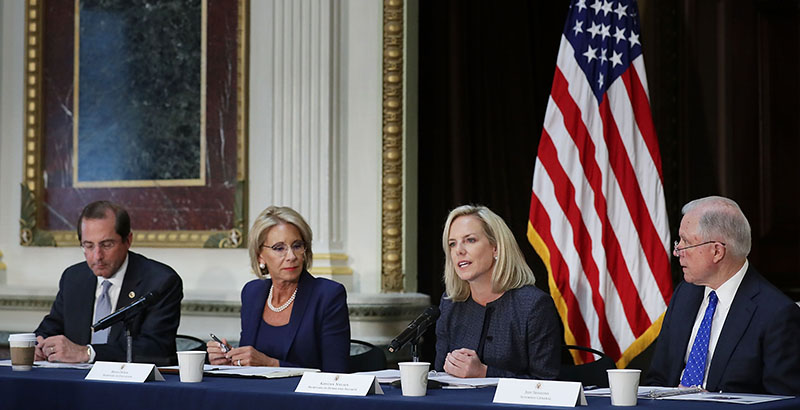 Inside what's been dubbed "the safest school in America," teachers wear panic buttons that can set off an alarm and notify police. Law enforcement officers monitor security cameras in real time. Should a shooter arrive on campus, police can deploy smoke cannons hidden inside the school's ceiling.
On Thursday, the Indiana school's high-tech security features were highlighted in Washington during a meeting of the Federal Commission on School Safety.
But are the security measures at the Shelbyville, Indiana, school a model for the nation? Max Schachter thinks so. Schachter is CEO of Safe Schools for Alex, a foundation he created after his son was killed in February's mass school shooting in Parkland, Florida. On Thursday, he outlined to Trump administration officials the promises of next-generation school security technology.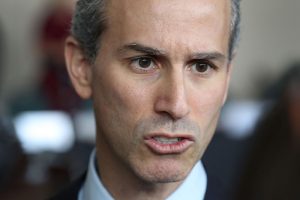 "If the door to Alex's classroom had ballistic-hardened glass, he would still be alive today," Schachter said during the meeting. After the shooting, he said, he traveled the country to see what other schools were doing to protect students, and the Indiana campus stood out. "In the 19 years since the Columbine tragedy, we have focused most of our efforts on mental health and prevention. School hardening has been at the bottom of the list. Visiting that school in Indiana convinced me that it is time to bring hardening up to the top."
President Donald Trump created the commission after the February school shooting at Marjory Stoneman Douglas High School, and Thursday's meeting, led by Homeland Security Secretary Kirstjen Nielsen, was titled "Creating a Citadel of Learning: New Tools to Secure Our Schools, Inside and Out." Commission meetings have focused on a range of issues related to school violence, and Thursday's event homed in on school security measures, the role of school-based police, active-shooter training, and threat assessments.
Following the mass shooting in Parkland, school districts across the country have moved to place additional security features in their buildings, and security companies have ramped up efforts to promote emerging products, such as surveillance cameras with facial recognition technology.
In the aftermath of mass school shootings like the 1999 shooting at Columbine High School in Colorado and the 2012 shooting at Sandy Hook Elementary School in Connecticut, the presence of school-based police and technology like surveillance cameras has surged. For example, just 19 percent of schools were equipped with security cameras during the 1999-2000 school year, according to the most recent National Center for Education Statistics data; by the 2015-16 school year, 81 percent of schools had video surveillance.
Also, 48 percent of public schools reported having a sworn law enforcement officer on campus in 2015-16, compared with 36 percent in 2005-06.
In 2017, school security was a $2.7 billion business, according to an analysis by IHS Markit, a market-research firm. Still, the $400,000 security system installed at Southwestern High School in Shelbyville, Indiana, remains one of a kind. In fact, the Shelbyville district hasn't outfitted its other schools with similar features.
School leaders from across the country frequently cite cost as a leading concern when weighing potential security features. But in Shelbyville, the high-tech security system was funded in part by Net Talon, a security company behind the design.
Despite the proliferation of school security technology, little academic research exists to show whether the products prevent school violence. And despite the heightened fear Parkland and other school shootings generate, school shootings are statistically rare and campuses have actually become safer in recent years.
A contentious debate over school security has played out in Broward County, Florida, since the district was shaken by the Parkland tragedy. Among new measures, the campus has additional armed security staff, upgraded surveillance cameras, and classroom doors that lock automatically. But the district ultimately decided against adding metal detectors, a decision that's garnered pushback from some parents.
For school districts, Schachter acknowledged that security like bulletproof doors is expensive. "It would take a million dollars just to put these doors in Marjory Stoneman Douglas," he said. "That's just one high school in America. If you have a limited budget, you have to make those hard decisions."
Beyond cost, some education leaders have raised concerns about the effects surveillance could have on campus climate. JoAnn Bartoletti, executive director of the National Association of Secondary School Principals, took issue with the title of Thursday's event, noting that "citadels" don't make great learning environments. "We can't harden schools to the point of compromising the reason schools exist to begin with," she tweeted.
In a statement, Bartoletti said schools should prioritize creating a single point of entry onto campuses before focusing on entertaining "controversial discussions like arming teachers or million-dollar classroom retrofits with bulletproof doors."
Asked by Health and Human Services Secretary Alex Azar how schools can balance security with maintaining an inviting campus climate, Schachter refuted the notion that the Indiana school looks like a fortress.
"We interviewed children, we interviewed teachers, administrators, and everyone said they felt safer being in this environment," he said.
Get stories like these delivered straight to your inbox. Sign up for The 74 Newsletter