Texas Schools Face Long Road to Recovery After Hurricane Harvey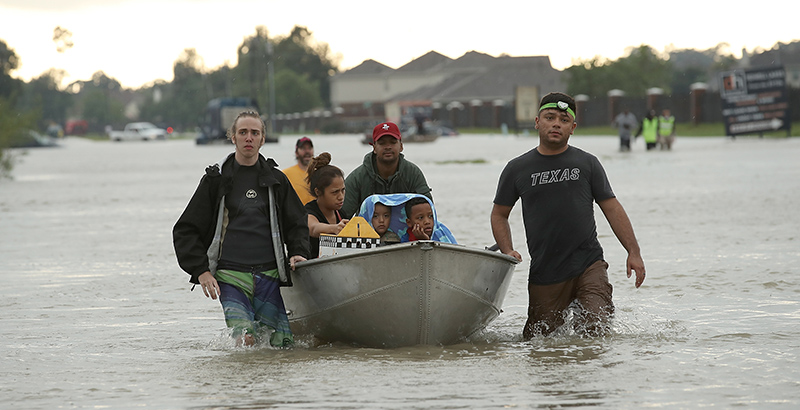 Hurricane Harvey made landfall on Aug. 25, 2017, eventually dropping 27 trillion gallons of rain on Texas, causing $75 billion of damage, and killing more than 75 people.
The record-breaking storm left an estimated 22,000 children homeless in the Houston area, which will have lasting effects on them and their schools. (To get a sense of the lingering academic effects of homelessness, a recent study in New York found that about 20 percent of homeless and formerly homeless students were meeting academic standards, compared with around 40 percent of their never-homeless peers. Experts say the issue is similar across the country.)
Here's some essential information on the current state of the recovery effort:
1 More than 22,000 children are homeless.
A KHOU investigation in November found that more than 22,000 children had been homeless in the Houston area since Hurricane Harvey.
Experts say the trauma of a disaster like Harvey lingers with children, and research shows homelessness, even temporarily, has a lasting effect on academic performance.
"This is something that could indeed affect this whole generation," Bob Sanborn, president and CEO of the advocacy group Children at Risk, told KHOU. "This Harvey generation of kids are going to be kids that struggle just a little bit more."
2 Some accountability measures will be put aside for areas affected by Harvey.
Students in fifth and eighth grade in hurricane-affected areas will be able to pass to the next grade even if they don't pass grade-level state assessments, the Houston Chronicle reported.
Some district superintendents in affected areas were hoping for waivers for school ratings, but Texas Education Agency Commissioner Mike Morath said the agency is collecting information now and will decide about accountability measures in the spring. Houston Superintendent Richard Carranza has said he is optimistic the commissioner is taking the storm into account.
In the meantime, the state is seeking waivers from some federal requirements to allow more flexibility, according to the Chronicle.
3 The Houston Independent School District will rebuild four schools.
Most districts are repairing schools damaged by floods, but Houston Independent School District trustees voted to approve a $126 million rebuilding plan to raze four damaged schools built between 1956 and 1966 and rebuild them from scratch. The new buildings will be elevated to prevent future flooding, the Chronicle reported. Two of the elementary schools will be built in their current locations, but officials are still deciding about the other two. In total, about 2,800 students attended these four elementary schools last year. Students from these four schools will continue attending temporary schools until at least January 2020.
Seven affected schools, including the four being rebuilt, will also get help from a $4.7 million donation given to the district for support services and technology from the oil giant Aramco Services.
4 Full recovery will take years.
After Hurricane Katrina devastated New Orleans in 2005, children missed months of school and experienced trauma and chaos, creating a cohort of "lost children" who fell behind academically and struggled to make up for the lost time.
Harvey affected people "all up and down the economic spectrum," many of whom had never experienced poverty or homelessness before, Patrick Lopez of the Texas Homeless Education Office told The 74. The hurricane damage is going to affect everything from property values to the tax base for schools, and it will take years for the region to fully recover, he added.
Houston Mayor Sylvester Turner has acknowledged that the path to complete recovery will be long and difficult, but he has also praised his city for swiftly beginning the rebuilding process after Harvey.
"I'm very, very pleased with the speed of the recovery and how the city is bouncing back," Turner told The Washington Post in November. "That is not to say that there are not tremendous needs. There are tremendous needs, so let me be clear about that. But I don't think any other city could have responded more quickly than this city has."
Support The 74's year-end campaign. Make a tax-exempt donation now.