Teacher of the Year Finalists Represent 3 States, Defense Dept. Schools, Subjects From Art to ASL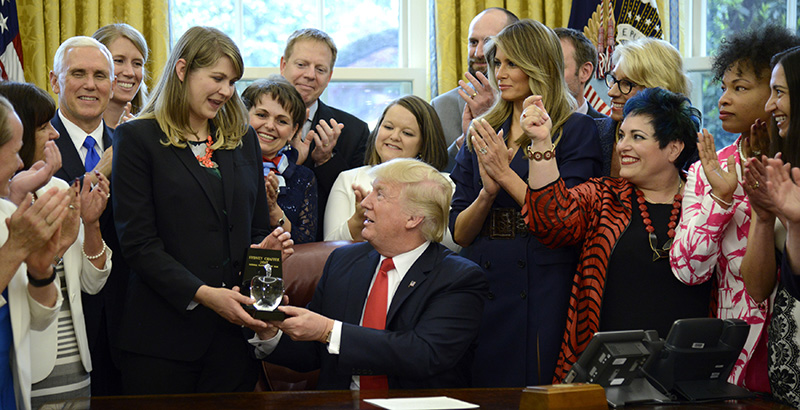 Teachers from four states, covering subjects as diverse as sign language and art, are finalists for the 2018 Teacher of the Year prize.
The finalists are Amy T. Anderson, an American Sign Language teacher in southern New Jersey; Kara Ball, an elementary school teacher at the Department of Defense Education Activity at Camp Lejeune, North Carolina; Jonathan Juravich, an elementary school art teacher in Powell, Ohio; and Mandy Manning, an English and math teacher for high school immigrant and refugee students in Spokane, Washington.
The finalists "exemplify the highest levels of teaching, innovation and leadership, and have demonstrated a commitment to students and public education. These State Teachers of the Year capture the spirit and passion of America's teachers. Any of them would do an outstanding job as the profession's ambassador," the selection committee said in a press release.
Teachers of the year from the 50 states, territories, the District of Columbia, and Department of Defense schools are eligible for the national prize. A national selection committee representing 14 education advocacy groups will pick the winner, to be announced in the spring. The winner will spend the year traveling the country to advocate for students.
The president has held a reception at the White House for award winners every year since 1952, according to a release from the Council of Chief State School Officers, which administers the program. Last year's Rhode Island Teacher of the Year, Nikos Giannopoulos, became an internet sensation for posing with a lacy black fan for his photo with President Trump.
Last year's national winner was Sydney Chaffee, a high school humanities teacher from Massachusetts and the first-ever Teacher of the Year from a charter school. She planned to focus her year traveling and advocating for educators focusing on social justice and equity.
Last year's other finalists were Chris Gleason, a middle school band and music teacher from Wisconsin; Megan Gross, a high school special education teacher from San Diego; and Athanasia Kyriakakos, a visual arts teacher at a technical school in Baltimore.
Get stories like these delivered straight to your inbox. Sign up for The 74 Newsletter