Superintendent Searches in LA, NYC; Government Shutdown Ends — and More Must-Reads From America's 10 Biggest School Districts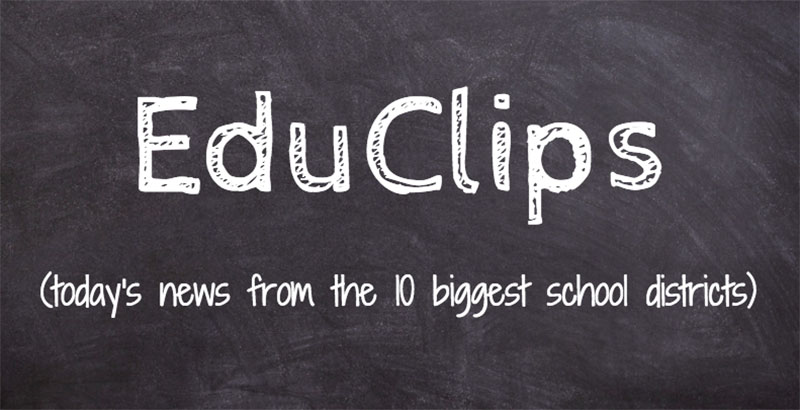 EduClips is a roundup of the day's top education headlines from America's largest school districts, where more than 4 million students across eight states attend class every day. Read previous EduClips installments here. Get the day's top school and policy news delivered straight to your inbox by signing up for the TopSheet Education Newsletter.
Top Story
SHUTDOWN ENDS — The partial shutdown of the federal government ended after 3 days Monday when President Trump signed a stopgap spending bill passed by Congress. Among other items, the bill extends the expired Children's Health Insurance Program for six years.
After 24 hours of furious negotiation over plans to consider immigration legislation in the coming weeks, the Senate voted to move forward with the continuing resolution, which would fund the government through February 8. In exchange for his support, Senate Minority Leader Chuck Schumer, D-NY, said he has received assurances from Senate Majority Leader Mitch McConnell, R-KY, that if an agreement isn't reached by then, the GOP leader will bring a vote to the floor on legislation to grant legal status to those protected under the Deferred Action for Childhood Arrivals program, roughly 700,000 immigrants who are in the country illegally after being brought here as children. (Read at NPR)
National News
FLU EPIDEMIC — When School Closes Due to the Flu: Districts Across at Least 11 States Are Keeping Kids Home Due to Epidemic (Read at The74million.org)
SPENDING — Will Spending on Things Like Schools Match the Pentagon's Budget? (Read at Politics K-12)
UNIONS — Janus, We Hardly Knew You: Rank-and-File Union Members Remain in the Dark About a Pivotal Dues Case Headed to the Supreme Court (Read at The74Million.org)
RURAL SCHOOLS — With just 3 students, small-town high school closing down (Read at ABC News)
SOCIAL-EMOTIONAL LEARNING — Experts Agree Social-Emotional Learning Matters, and Are Plotting Roadmap on How to Do It (Read at Education Week)
District and State News
NEW YORK — Opinion: Mayor de Blasio's schools-chief search is shrouded in secrecy — but it doesn't have to be (Read at Chalkbeat)
CALIFORNIA — LA's choice: In charter wars, board members say they will seek bridge builder as next schools chief (Read at EdSource)
TEXAS — New panel launching effort to identify Texas school finance fix (Read at the Austin American-Statesman)
NEW YORK — After Cuomo calls for belt-tightening, New York's Board of Regents looks to lawmakers for more school aid (Read at Chalkbeat)
PENNSYLVANIA — Philly schools can't hire enough plumbers. So they're growing their own (Read at The Philadelphia Inquirer)
CALIFORNIA — Opinion: 3 tips for Gov. Brown on how to close California's pervasive achievement gaps (Read at LA School Report)
ILLINOIS — School funding tops Illinois's agenda for new legislative session (Read at WQAD)
NEVADA — Public Invited to Give Input on a New CCSD Superintendent (Read at CBS Las Vegas)
Think Pieces
TECHNOLOGY — Dealing with digital distraction (Read at Hechinger Report)
INTEGRATION — Why Boston's Most Racially Diverse School Could Also Be the Country's Most Interesting School Integration Story (Read at The74Million.org)
SEX ED — We Need a Place to Start Teaching Kids About Sexual Consent. And School Can Be It (Read at Education Post)
CIVICS — Public Schools Can Revive Citizenship — If We Let Them (Read at Real Clear Policy)
Quote of the Day
"The charter school issue is the elephant in the room. I think the board will want to know if a candidate has a commitment for or against charter schools; but I don't believe the issue will be a litmus test for who is to be considered." —Raphael Sonenshein, executive director of the Pat Brown Institute for Public Affairs at Cal State Los Angeles, on L.A.'s search for a new superintendent. (Read at EdSource)
Want the day's top school and policy news delivered straight to your inbox — for free? Sign up for the TopSheet Daybreak Education Newsletter.
Get stories like these delivered straight to your inbox. Sign up for The 74 Newsletter