When Class Is Cancelled Due to the Flu: Schools Across at Least 12 States Are Keeping Kids Home Due to Epidemic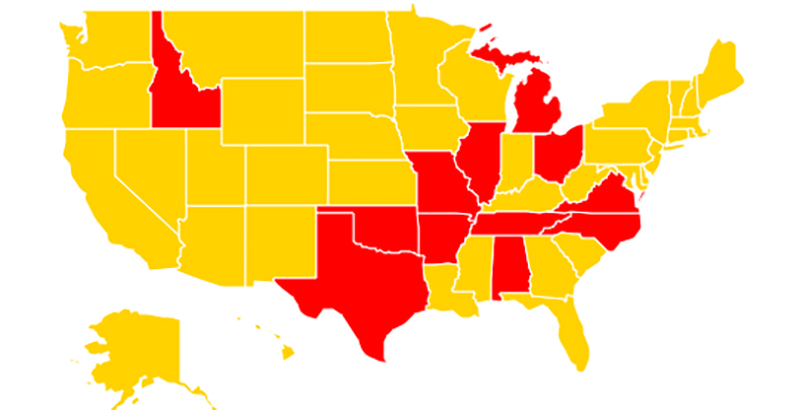 Flu season is here, and the virus is officially "widespread" in 49 states, overwhelming hospitals and keeping thousands of students home sick from school.
Although there is no official count of school closings for flu-related concerns, The 74 has tallied at least 11 districts and nine scattered individual schools across 12 states that have closed for a full day or longer because of excessive absences and concerns about the virus. Thirty children have died, and the governor of Alabama has declared a state of emergency due to the flu.
The Russellville School District in Arkansas closed all 10 of its schools Friday after seeing 17 to 20 percent of students absent each day since returning from the Martin Luther King Jr. holiday, a "dramatic uptick" from the usual absentee rate of 5 to 7 percent, Ashley Snellenberger, the district's communication coordinator, told The 74. In addition to preventing the spread of germs, the closure will also allow the custodial staff to thoroughly clean the building and give sick students time to recover over the extended weekend.
Experts are calling this flu season "moderately severe," roughly comparable to the 2014–15 outbreak, but more severe than last year. The vaccine is less effective than usual because the flu is largely being caused by a virus called H3N2, which is harder to prevent with vaccines and causes a more severe illness. Despite the decreased effectiveness, doctors still recommend that people get vaccinated, even this late in the season, as the shot can still prevent the illness or decrease its severity.
Reported flu activity increased in the first two weeks of January, according to Centers for Disease Control and Prevention data. Most school closings have occurred this month, but some happened in December.
At least three districts in Texas closed this flu season, as did three in Tennessee. Additionally, schools in Alabama, Arkansas, Idaho, Illinois, Michigan, Missouri, North Carolina, Ohio, Oklahoma, and Virginia closed for "sick days" because of rampant flu.
Three elementary schools in Swampscott, Massachusetts, were closed Friday so students and staff could attend the funeral of a music teacher who died of flu complications; the buildings also received a special cleaning when leaders discovered her death was flu-related.
A study of flu-related school closures in Japan released in 2009 found that the optimal time to close a school was when the flu-related absentee rate hits 5 percent for one day or 3 to 4 percent for two or more days. However, researchers noted that school leaders in the U.S. often do not rely on quantitative data for school-closing decisions and instead make "a political or fear-based decision rather than a data-based one."
Support The 74's year-end campaign. Make a tax-exempt donation now.