SCOTUS 'Pissed Off the Wrong Generation': Gen Z Activists Protest Threat to Abortion Rights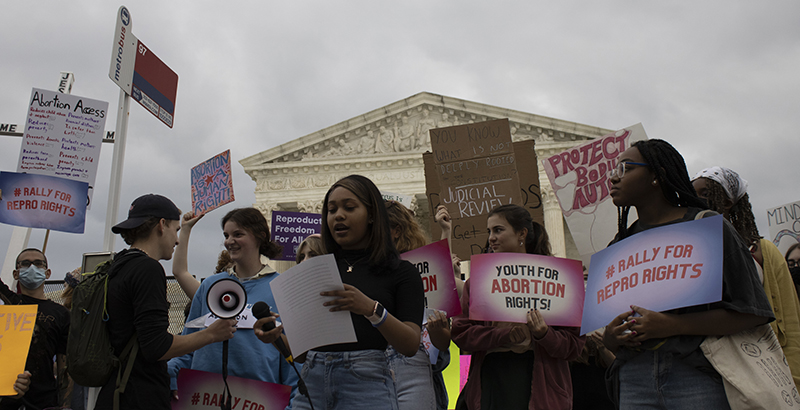 Get stories like these delivered straight to your inbox. Sign up for The 74 Newsletter
Youth across the country are organizing for abortion rights in response to the leaked draft Supreme Court opinion showing that a majority of justices are ready to overturn Roe v. Wade.
"This Supreme Court does not represent Gen Z or the future we imagine for our country," Voters of Tomorrow, the youth-led organization behind the protest, wrote in a press release signed by several other youth-powered groups including March for Our Lives and the Sunrise Movement.
"Young people are appalled and horrified by the leaked Supreme Court decision to strip all people who can become pregnant of their basic right to choose."
Hundreds of youth activists rallied outside the U.S. Supreme Court Thursday evening denouncing the leaked majority opinion set to overturn the landmark 1973 decision, which guarantees federal constitutional protection of abortion rights. More protests are planned in cities across the country in the coming weeks, organizers said.
Eve Levenson, who emceed the Thursday event and is a senior at George Washington University, said the rally was meant to send a message to elected officials.
"It was really about making it clear to those in power … how much Generation Z cares about this issue," she told The 74.
Generation Z includes individuals roughly born between 1997 to 2012, or those currently ages 10 to 25. A majority of abortion patients nationwide are in their 20s, and 37% are 24 or younger.
Organizers estimate that there may have been nearly 1,000 young protesters outside the Supreme Court, Levenson said, some who traveled from as far as New York state. Another 40,000 viewers watched the stream on Twitter and 80,000 watched on TikTok. Many youth who could not make the trek to the nation's capital are now planning their own local demonstrations, she said.
The rally was "100% Gen Z led," Levenson explained, including many high school-age organizers. On the evening of May 2, when the leaked draft majority opinion published by Politico revealed that the Supreme Court appears poised to reverse Roe, her group chat of youth organizers exploded, she said. Someone suggested the idea of a rally in front of the Supreme Court and "it kind of just came together really quickly from there," said the college senior.
"We all felt so galvanized," added Levenson. "[Young people] are for bodily autonomy, we are for access to abortion, we are for reproductive health care and people are really pissed off to see those things taken away."
Speaker Soraya Bata, a student at Georgetown University, pointed out that over a dozen states have trigger laws set to immediately ban abortions should Roe fall. Her home state of Florida in April passed a law banning the medical procedures just 15 weeks into pregnancy, replacing a previous rule that allowed abortions within the first 24 weeks. States including Oklahoma and Texas have recently passed similar restrictions.
"Some people won't even know that they are pregnant at that stage," said the young leader. "These laws mean that the only people who will have access to abortions are wealthy Americans who can afford to travel out of state."
Nearly half, 49%, of those who had abortions in 2014, the most recent year for which data are available, were below the federal poverty line. Another 26% made less than twice the level, meaning 3 in 4 people seeking abortions had little, if any, disposable income.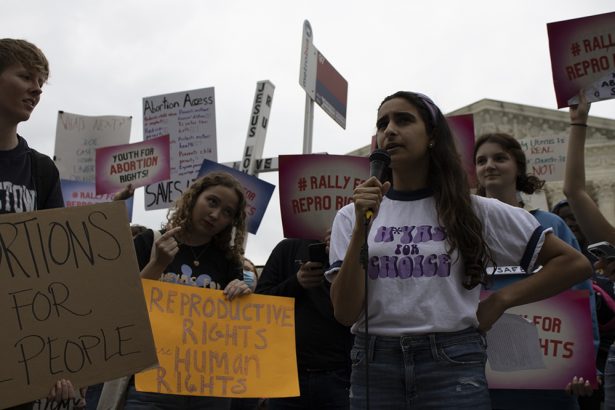 Addressing the crowd Thursday, Sofia Ongele, a youth activist with Gen Z for Change, took aim at the underlying logic put forward in the leaked Supreme Court draft.
"Justice Alito's core argument is that abortion is 'not deeply rooted in this nation's history and traditions,'" she said. "Our nation's history is marked by genocide, slavery [and] classism. … We owe it to our ancestors to fight for a better world than they had."
Contraception, the young speaker explained, saved her life. In 2018, she received an emergency blood transfusion after her periods caused extreme anemia. Since then, she has used hormonal birth control to regulate her cycle.
"To stay alive, I had to have complete control over my body," said Ongele. "Should anyone infringe on those rights, my health and safety would immediately be threatened."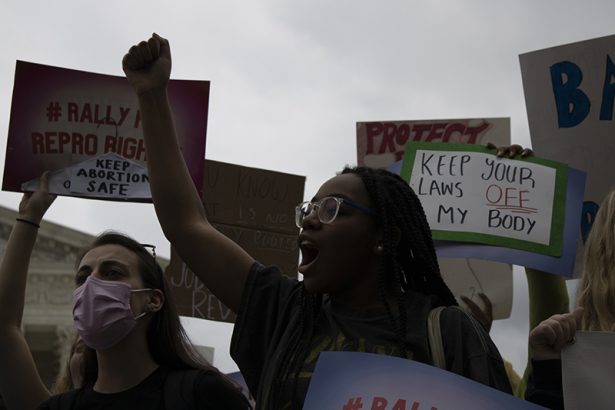 Though many of the organizations behind the rally self-identify as nonpartisan, several speakers implied there would be political ramifications for officials who oppose policy measures to protect reproductive rights, along with other issues such as addressing climate change, LBGTQ rights and health equity. The young protesters were joined by Democratic U.S. Sen. Raphael Warnock, who ​​is running for re-election in a Georgia race that could determine whether Democrats maintain control of the Senate.
"Our politicians work for us," said Melissa Altschiller, an organizer with March for Our Lives. "If they continue to make decisions about our bodies, we will continue to make decisions about their jobs."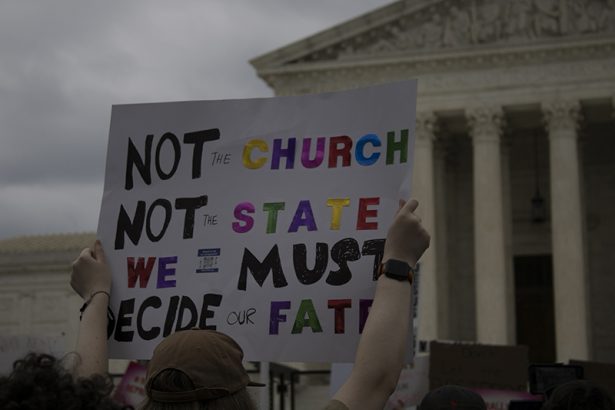 Roughly two-thirds of 18- to 24-year old voters in the 2020 presidential election voted for Joe Biden, NBC exit polling revealed — 11 percentage points more than any other age group. Between Generation Z and Millennials, who poll similarly on many social issues, 65 million young people are eligible to vote in the 2022 election cycle. 
"I think we're going to see young people continuing to organize around this going forward," said Levenson.
Get stories like these delivered straight to your inbox. Sign up for The 74 Newsletter