SCOTUS Nominee Plans to Recuse Herself from Harvard Admissions Case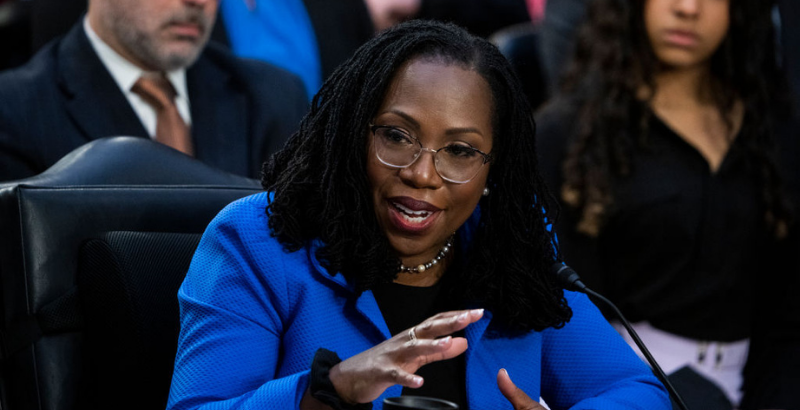 Support The 74's year-end campaign. Make a tax-exempt donation now.
Updated April 7
The Senate on Wednesday confirmed Judge Ketanji Brown Jackson to replace retiring Justice Stephen Breyer on the U.S. Supreme Court. With a vote of 53 to 47, Jackson picked up support from three Republicans — Sens. Susan Collins of Maine, Lisa Murkowski of Alaska and Mitt Romney of Utah.
According to the White House, Jackson, who will be the first Black woman on the court, watched the vote with President Joe Biden. 
Ketanji Brown Jackson, President Joe Biden's nominee for the U.S. Supreme Court, said Wednesday that if confirmed, she would recuse herself from an upcoming case focusing on race-conscious college admissions involving Harvard University. 
Jackson is currently on the Harvard Board of Overseers. Her term runs through June.
"Your and my alma mater, Harvard, is currently being sued for its explicitly and, in my view, egregious policy of discriminating against Asian Americans," Republican Sen. Ted Cruz of Texas said during Jackson's second full day of hearing before the Senate Judiciary Committee. "If you're confirmed, do you intend to recuse from this lawsuit?"
Jackson responded, "That is my plan, senator."
The case, which combines challenges to race-based admissions decisions at both Harvard and the University of North Carolina, is considered the most significant case involving both race and education in several years. The plaintiffs argue that the admission policies discriminate against Asian applicants. The debate is taking place in K-12 as well with a recent federal judge's decision against the Fairfax County Public Schools regarding its so-called "racial balancing" practice at a selective science and technology school. Observers speculate that the court, with a 6-3 conservative majority, would rule in favor of the plaintiffs. But if Jackson is confirmed, which appears likely, her recusal would create the potential for a 4-4 tie.
If that's the case, the "lower court decision would remain intact," explained Cedric Powell, law professor at the University of Louisville. That means both Harvard and the University of North Carolina could keep in place their current practices of considering underrepresented groups when making admissions decisions.
Edward Blum, president of Students for Fair Admissions, the plaintiff in both cases, said in response to Jackson's statement that, "as a litigant, it would be improper for us to comment."
The case, which is scheduled to be heard in the court's next term, starting in October, would typically be scheduled for one hour of oral argument. It's possible the court could allot one hour for each petition, in which case Jackson could participate in the case against the University of North Carolina.
Support The 74's year-end campaign. Make a tax-exempt donation now.