NewsfeedSchools Set to Close Thursday for More Than 200,000 Students in and Around Philadelphia as Super Bowl Celebration Marks 'Chance to Witness History'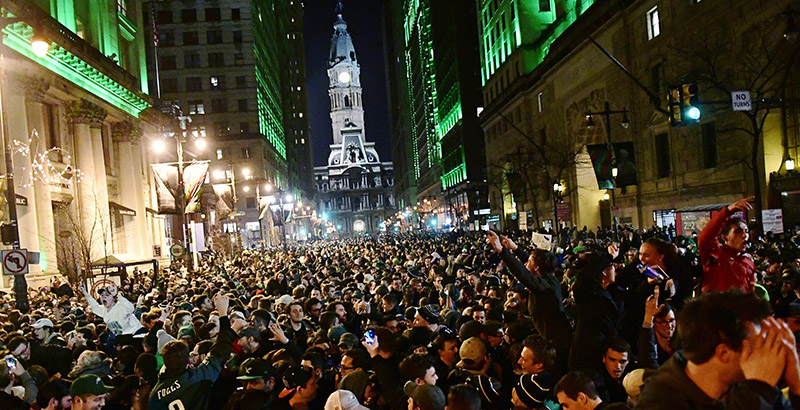 You might have heard that Philadelphians are pretty excited about the Eagles' Super Bowl victory. Now, the School District of Philadelphia is getting in on the fun.
The district announced Monday that schools will close Thursday when the city celebrates with a parade:
The excitement of the Eagles' first Super Bowl victory is a once in a lifetime event. For this reason we have decided to give our students, teachers and their families the chance to witness history. All School District of Philadelphia schools and administrative offices will be closed this Thursday, February 8, 2018.
Superintendent William Hite emphasized that he expects students to be back in class — "on time and ready to learn" — Friday morning.
Even though we will be closed on Thursday, I want to remind every student, parent and guardian that attending school is absolutely essential. Just like the Eagles were football heroes on Sunday, I want all of our students to be attendance heroes everyday.

Enjoy the parade! https://t.co/3WU27MXSm2

— Dr. William Hite (@SDPHite) February 5, 2018
The Catholic Archdiocese of Philadelphia also announced that its 141 parochial schools — which include a number of schools outside the city itself — will close Thursday "in order to permit members of all our school communities to participate in this celebration." The statement also noted public transportation changes and road closures as reasons to cancel.
Some schools in the Archdiocese stayed open for the 2008 parade celebrating the Philadelphia Phillies' World Series victory, but attendance was "very low," Chief Communications Officer Kenneth A. Gavin told The 74 in an email.
"Closing city and suburban schools made sense based on logistical limitations and past historical experience," Gavin said of Thursday's festivities. "It also provides an opportunity for all those who wish to take part in the celebration."
In total, more than 200,000 students across the region will be out of school because of the parade.
Some districts in surrounding counties, including in South Jersey, followed suit. City courthouses and local institutions like the Philadelphia Museum of Art and the the Please Touch Museum have also announced closures on Thursday.
One teacher shared that her students could sign up for a babysitting list if they were not planning to attend the parade.
CHS STUDENTS- check your email! If you don't plan on going to the parade Thursday, consider adding your name/info to the babysitters list. Here's an opportunity to make some money and play with kids all day! #collsedu #bekind

— Ms. Elisabeth Yucis (@MsYucis) February 6, 2018
But at least one parent was looking for a more, er, popular babysitter.
Dear @Eagles, Because of the parade on Thursday, my daughter's preschool is closed and my wife and I have to work. Is Wentz available to babysit?

— Adam Benforado (@Benforado) February 6, 2018
At least one student in Ohio was wishing for a day off, too, and asked for help from some Philadelphia sportscasters.
@975TheFanatic I'm 17 and from Ohio, I've been an eagles fan since I was 9. But I can't convince my old man to take me to the parade can I get your guys help?

— Mike Trexler (@ImMrMackeyMkay) February 6, 2018
(For the record, Boston schools were in session last year for the Patriots' celebratory parade.)
One concern expressed by multiple school officials was public transportation, notoriously horrendous during the 2008 parade. City officials have planned a longer parade route this time around, and they are expecting a larger crowd, which could disrupt logistics for other school services, such as food preparation.
For the 2008 Phillies' parade, only 10 Philadelphia district schools — those along the parade route — closed for the parade. A city spokesperson estimated that 2 million people attended that parade, but some questioned that number.
On Thursday, the five-mile parade route will run from the Eagles' stadium, Lincoln Financial Field, to the Philadelphia Art Museum, ending with a ceremony on the iconic museum steps of Rocky fame, Philly.com reported.
This time, it might really be 2 million people celebrating.
Submit a Letter to the Editor