WATCH: Minneapolis Middle Schoolers' Super Bowl Video Tells Fans How to Dress for the Big Game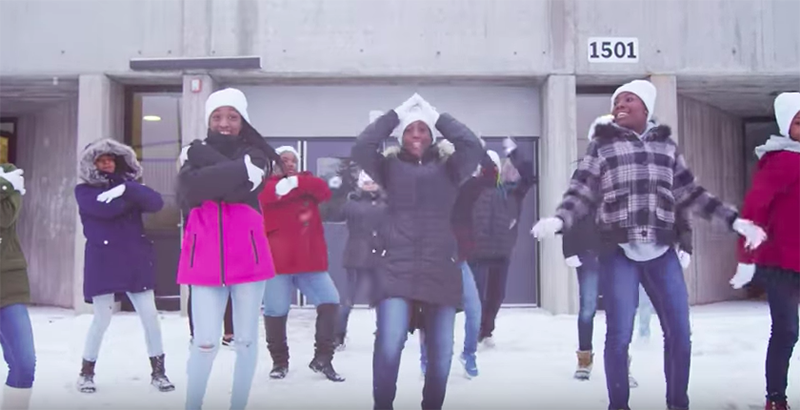 This article is one in a series at The 74 that profiles the heroes, victories, success stories, and random acts of kindness to be found at schools all across America. Read more of our recent inspiring profiles at The74million.org/series/inspiring.
It's a ditty that will get stuck in your head — and just might save some football fans from frostbite.
Students at Franklin Middle School in Minneapolis have made a video to remind people headed to this weekend's Super Bowl festivities to pack for temperatures that may not break the single digits.
"Oh my gosh, it's so cold!" students whine at the start. "Why do we live here??!!"
"When you come to Minnesota then you'd better be ready," a narrator intones over a funk-rock beat as students stride down the school's hallway.
Ready with what?
"Coats, hats, and gloves," the students chant. "In Minnesota you need coats, hats, and gloves!"
Some Minneapolis middle schoolers have a big hit on their hands with their #SB52 welcome video. @BoydHuppert reports on their viral song… and the teacher behind it.https://t.co/Oi68jgUUXz pic.twitter.com/WdqMPbXicP

— KARE 11 (@kare11) January 29, 2018
In one scene, they run to the rescue of a coatless man stepping out of a car. In others, they go sledding and play touch football in the schoolyard. Mother Nature gives an assist by supplying a perfectly timed snowstorm.
A Super Bowl welcome music video from Franklin Middle School in Minneapolis has already been viewed more than 200,000 times online. Now it's time to meet the students and teachers behind "Coats, Hats and Gloves." Tonite at 10 on KARE #land10kstories pic.twitter.com/U8pCJCCErw

— Boyd Huppert (@BoydHuppert) January 28, 2018
Despite the cold temperatures, "This is a great state to live in, and this is our way of showing it," teacher Michael Bratsch, a former music producer, told KARE-TV. He put the video together with the help of the school's dance teacher, Karrie Puckett, and students from the Futureboys and Futuregirls after-school leadership club, which Bratsch founded.
"We kind of all wrote it," seventh-grader Jordan Kueng told the station. "We all threw in some lyrics; we all, like, pitched in some ideas."
The video has gone viral, earning the students appearances on television and radio, including ABC's Good Morning America.
Did you catch @TheFBFG @MPS_Franklin students on @GMA this morning to talk about Coats, Hats and Gloves? If you missed it, here they are! https://t.co/ipgsBg7cuZ

— Minneapolis Public Schools (@MPS_News) January 30, 2018
It also got a shout-out from the official Minnesota Super Bowl host committee — which is optimistically embracing the hashtag and slogan #BoldNorth to make the most of the state's chillier attributes.
The kids from @MPS_News want to make sure you know what to pack before you head to the #BoldNorth! https://t.co/5Pclfk02p7

— Minnesota Super Bowl (@MNSuperBowl2018) January 18, 2018
Music producer Terry Lewis, who helped put Minneapolis's music scene on the map, was also impressed. He tweeted: "These kids from @MPS_Franklin are doing it! #JimmyJam turned me on to them. Love the video and the music! 😉 I got my coat, hat, and gloves!"
These kids from @MPS_Franklin are doing it! #JimmyJam turned me on to them. Love the video and the music! 😉 I got my coat, hat and gloves! #ComingHome Hope you all will join me and @flytetymejam at the #SuperBowlLive shows. #Minneapolis #SBLII #sblive #BoldNorth @TheFBFG https://t.co/OTfWvGjrLI

— TERRY LEWIS (@TLSOUNDOFF) January 22, 2018
(The students tweeted back, offering the duo school hoodies.)
@flytetymejam @TLSOUNDOFF We have two hoodies ready to go when you get into town with your #CoatsHatsAndGloves! pic.twitter.com/6nRe5fUcrz

— The Futureboys & Girls (@TheFBFG) January 25, 2018
The video ends with the students tossing their hats in the air, just like Mary Tyler Moore — but inside the warm school cafeteria.
"Time for the big game!" they shout. "See you soon!"
Submit a Letter to the Editor