Do State Takeovers of School Districts Boost Student Learning? It Depends on Where They're Tried, Research Suggests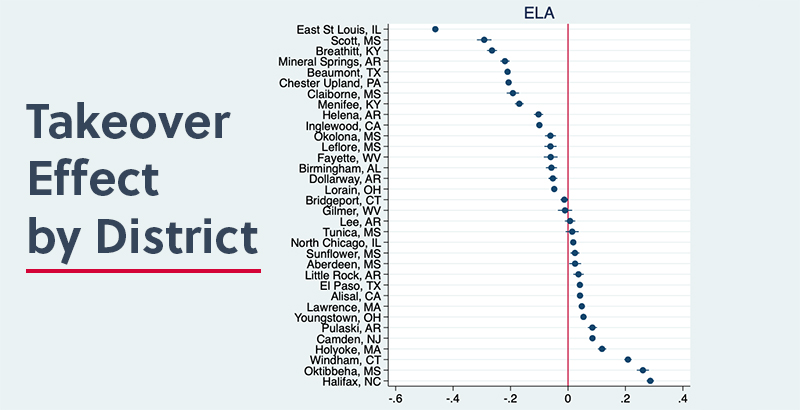 Get stories like these delivered straight to your inbox. Sign up for The 74 Newsletter
State takeovers of school districts are perhaps the most loathed strategy in education policy. Other K-12 reforms, from school choice to mayoral control, often generate controversy by diluting the power of elected school boards; takeovers dispense with them altogether, replacing community leaders with emergency managers appointed by outside bureaucrats.
The upside to these shake-ups, which have been implemented in high-profile districts like Detroit and Philadelphia, is that they can lead to better schools by elevating big problems over the heads of local figures who have failed to solve them. But research released this spring raises questions over whether those purported benefits are actually being realized.
The study, circulated as a working paper through Brown University's Annenberg Institute for School Reform, detects no evidence that takeovers improve student test scores on average, though its authors point to a wide range of other academic effects resulting from them. Co-author Beth Schueler, a professor of education and public policy at the University of Virginia's Curry School of Education, said in an interview that the varying outcomes serve as a warning to state authorities considering takeovers.
"I don't think anything about this study suggests that takeover cannot ever improve a district," Schueler said. "I think it just means that leaders should be super-cautious about doing it."
The substance of the paper focuses on academic indicators, but some sections address the arguments leveled against takeovers on democratic grounds, most vocally by Rutgers University political scientist Domingo Morel. Morel's own work has shown that in areas where takeovers have been aggressively implemented, such as in New Orleans after Hurricane Katrina, they have sometimes alienated residents and disempowered non-white politicians. In spite of those ill effects, a flood of research has shown improved school performance in the city, including higher college attendance.
The case of New Orleans is notably absent from the set of 35 districts studied by Schueler and co-author Joshua Bleiberg, a postdoctoral researcher at Brown. That group is restricted to districts that were subject to takeover between 2011 and 2016, which similarly excludes famous — and famously contentious — instances in Detroit, Philadelphia, and Newark, New Jersey. The districts that were subsumed within state control during that period were small by comparison, enrolling an average of just under 4,000 students (though this figure is itself over twice the size of the average non-takeover district).
To compare the results of takeovers in different states Schueler and Bleiberg used the Stanford Education Data Archive, a research tool that indexes all state test scores to the National Assessment of Educational Progress. Changes to scores in each of the 35 takeover districts were then measured against those in similar districts in their respective states that weren't under state control.
Their analysis shows that, on average, districts that underwent takeovers did not see improvements on either math or English scores. In fact, scores in a number of districts declined over the first few takeover years, particularly in English. But as the authors argue, that average includes hugely different results from one district to another. Some districts made significant gains after being taken over, others experienced dramatic declines in achievement, and many clustered somewhere in the middle. A few districts saw progress in one subject but not the other.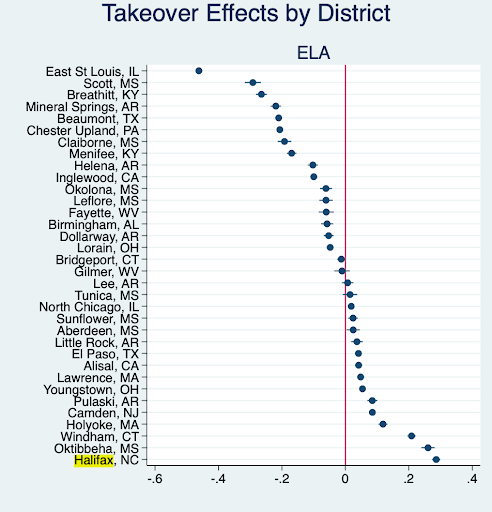 Even in places where takeovers clearly lifted test scores, Schueler said, radically divergent local environments make it critical to study their lessons individually. Comparing the case of Lawrence, Massachusetts, a majority-Hispanic district whose successes have spawned case studies, with New Orleans, an overwhelmingly African American district roughly three times its size, she pointed to major distinctions in state approaches: After the ravages of Katrina, the Recovery School District fired most New Orleans teachers and turned over school management to independent charter organizations. Lawrence did neither but still benefited in the years following its takeover.
"There are big differences across context and big differences in terms of what leaders did," Schueler said. "They took two very different routes, and both were able to make big improvements, at least in terms of test score outcomes. So it's very hard to see patterns in the literature like that."
'Be in the arena'
Kenneth Wong, a Brown political scientist who has studied state takeovers for decades, said that specificity was key to understanding what choices and contingencies shape them. Calling the new working paper "really helpful in showing the landscape," he said the next step for students of education reform was to conduct more qualitative examinations of individual districts, which would allow politicians to compare their own school communities to places where takeovers led to improvement.
"For researchers, we kind of bundle everything — this is a condensed index of takeovers," Wong said. "But for policymakers to really benefit from the research, we need to deconstruct that broad bundle of 'state takeover' and try to identify the potential effects of certain local conditions."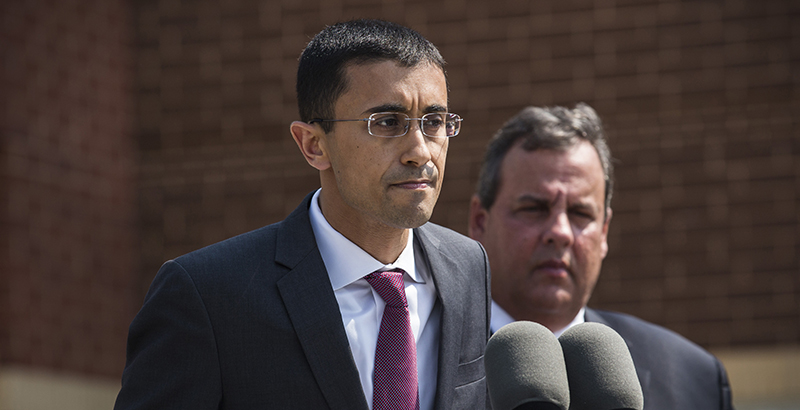 Paymon Rouhanifard, who served as superintendent in Camden, New Jersey, after the district was brought under state control in 2013, agreed that takeovers exist on a "pretty broad continuum" in different legal and political environments. Among the ingredients for success, he argued, was clarity about when and under what conditions the intervention would end.
"I think minimally you need 5-8 years, but from the very jump, there has to be transparency around what the road back to local control looks like," Rouhanifard said. "I don't believe in interventions that have no end in sight, that are about the intervention and just the intervention itself."
In time, many more examples will be available for study: As Schueler and Bleiberg note, there was an average of roughly six takeovers per year in the period between 2011 and 2016, compared with about four per year in the two decades that preceded it. The most publicized recent takeover has occurred in Wong's home city of Providence, which was placed under state control in 2019 after years of academic failure and safety problems. Its initial phases have been rocky, with COVID interrupting its first year and brand-new governors and superintendents taking office since January. Wong predicted that the progress of the effort will become an inescapable factor in the 2022 governor's race.
Even while acknowledging the increasing political complexities of takeovers, Wong said that their appeal would likely only grow with time.
"This shift toward a more executive-oriented reform agenda is not going to go away," he argued. "And takeover is part of that because it…offers more direct access [to schools]," he said. "Politicians can leverage their political capital, political will, to use this instrument because it legitimizes their involvement to address a particular set of problems."
That makes it important for takeover superintendents to engage constructively with schools and families, Rouhanifard argued. Asked to offer advice to someone leading a school district under state control, he said they should think of themselves as "the mayors of their districts."
"Be in the arena — the political arena, the community — and be a face of the work, because the distrust runs centuries deep," Rouhanifard counseled. "So don't be some technocratic, policy-oriented solution that is happening behind closed doors. You have to humanize it and meet people where they are."
Get stories like these delivered straight to your inbox. Sign up for The 74 Newsletter