School Lockdown Credited with Saving Children's Lives During California Shooting Rampage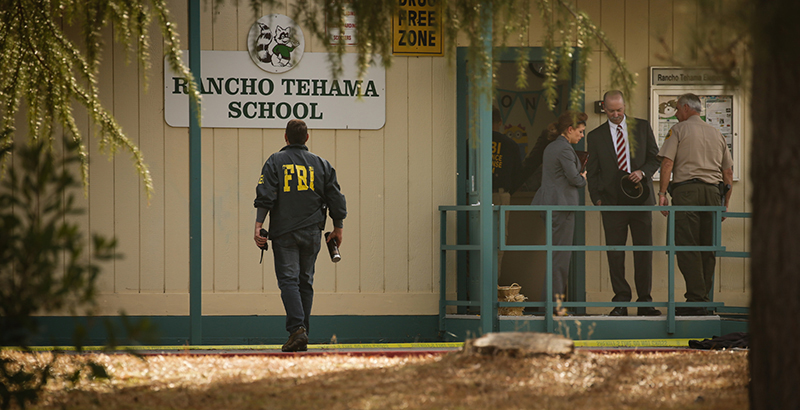 A school lockdown appears to have saved the lives of numerous students during Tuesday's deadly shooting rampage in northern California.
Tehama County Assistant Sheriff Phil Johnston said the staff took "monumental" action that saved children's lives.
"This incident, as tragic and as bad as it is, could have been so much worse if it wasn't for the quick thinking and staff at our elementary school," he said.
Safety experts have advocated lockdowns, which involve securing and sometimes barricading classroom doors, since the 1999 massacre at Colorado's Columbine High School.
Police could find no motive for the Tuesday's school attack, part of a larger shooting spree that left five dead, including the gunman. One child was injured at the Rancho Tehama Elementary, a small K-5 school in Corning, California, two hours north of Sacramento that employs only four teachers, according to its website.
Within minutes of hearing gunshots around 8 a.m., staff put the school on lockdown. The gunman, wielding a semiautomatic weapon, entered the building and tried to get into classrooms, but locked doors kept him out. A witness said the school secretary yelled for everyone to get inside and students "cowered under desks" to stay safe.Thwarted, the gunman returned to a stolen car and drove away until police found and killed him in an exchange of gunfire.
The superintendent of the school district, Richard Fitzpatrick, called the response of his staff "absolutely heroic." The school was on lockdown within two minutes of the first gunshots, he said.
Here's what we know about the shooting so far:
1 Five are dead, including the shooter, identified as Kevin Janson Neal, 44, The New York Times reported. Two children were wounded, one in the school and the other in a vehicle, but none were killed. At least 8 others were injured.
2 The gunman began shooting just before 8 a.m. Tuesday in the neighborhood near his home in remote Rancho Tehama Reserve, killing two there, authorities said. Witnesses said he drove away in a stolen pickup truck, continuing to shoot from inside the vehicle. He got out of the truck and fired several rounds at the school, authorities said. He entered the building, but when he found his entrance to classrooms blocked, got into a vehicle and continued shooting as he drove away. Police pursued him, pushing his vehicle off the road and exchanging gunfire, ultimately killing him. — KCRTV
3 The victims appear to have been selected at random. Assistant Sheriff Johnston said authorities had not found a connection between the gunman and anyone at the school. The rampage may have begun with a neighborhood dispute. Neighbors told reporters the gunman was known to fire off gunshots near his home and allegedly stabbed a neighbor in the past.
4 Authorities recovered a semi-automatic rifle and two handguns believed to have been used by the gunman.
5 Rancho Tehama Elementary School is closed until further notice, according to a statement on the district website. "The District will make alternate arrangements for student instruction," the statement says.
The shooter fired into a classroom window, hitting a child in the chest and foot, a parent who was in the room at the time told KCRTV.
"Within a minute, we were all buckled in our classrooms and all of a sudden there were gunshots going for a good 20-25 minutes. My window was hit by a few shots and a student was injured in my classroom. He got nailed somehow, it happened all so fast," the parent, Coy Ferreira. He said 14 children were in the room at the time.
Get stories like these delivered straight to your inbox. Sign up for The 74 Newsletter