School Choice of the Future: Jeb Bush Says Education Savings Accounts Can Empower Parents To Customize Their Children's Schooling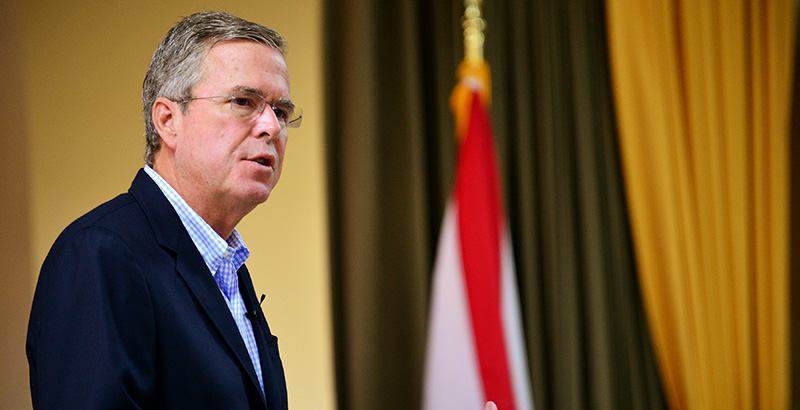 Former Florida Gov. Jeb Bush envisioned Education Savings Accounts as the driver behind school choice of the future during an event Friday at the American Enterprise Institute in Washington, D.C.
Traditional school districts don't allow for the customization needed to prepare students for the future economy, Bush said in his keynote address, adding that parents should be the drivers of education for their children.
"The new system should be parent-driven, should be totally transparent, should be focused on as many choices as possible, where we customize the learning experience for this unique group of people that are emerging into our world," he said. "Empowered with the proper information, parents are the best school district that exists in this country."
Five states allow for Education Savings Accounts: Florida, Mississippi, North Carolina, Arizona, and Tennessee. Commonly referred to as ESAs, they are funds set aside by the state for families — usually from low-income backgrounds — to spend on options like private school, tutoring, textbooks, or special education services. ESAs differ from vouchers, which can be spent only on private school tuition, and tax-credit scholarships, which involve money raised from corporate tax breaks.
The panelists at the event envisioned a future where education services become "unbundled." For example, a student might spend half the day at a traditional school and then take music and calculus courses online, followed by private Spanish lessons from a retired teacher, Bush said — all paid for through ESAs. He compared school choice to the options in the milk aisle of a grocery store.
"The whole world is alive when you're given options and you are an informed consumer, and that's what parents should be. They should be given information to make the best choices for themselves, and whether it's private or public or something in between, it doesn't matter," he said.
Education savings accounts have proven controversial. Nevada has had a law for three years allowing ESAs, but legal challenges have kept it from operating. Opponents argue that ESAs send public dollars, which should be used for struggling public schools, to private organizations that are outside government accountability, including religious institutions that may defy anti-discrimination laws against groups like LGBT communities.
Bush and other panelists acknowledged that one challenge of the ESA model is trying to find an accountability system for what could become a very scattered marketplace of education options. Several suggested an online review platform similar to Yelp that is driven by parent feedback.
"I think ESAs can push to the next generation of accountability," said Adam Peshek, director of education choice at the Foundation for Excellence in Education.
Lindsey Burke, director for the Center for Education Policy at the Heritage Foundation, looked at whether parents were really using the accounts to customize their children's education. She studied ESAs in Florida, where the Gardiner Scholarship Program has provided $10,000 to thousands of families who have students with disabilities. After the first two years of the program, she said, 40 percent of families had become "customizers," meaning they spent the money on more than one educational option, such as curriculum, therapies, or private tutoring. Half of those customizers didn't even set foot in a school building, preferring private personalized options instead.
Burke found a similar pattern in Arizona, where one-third of families were spending state money on multiple education options.
While Bush complimented Education Secretary Betsy DeVos on her support of choice options, calling her an "ally," he and other panelists cautioned that the battle for ESAs should be fought in the states, rather than at the federal level.
But Burke pointed out several areas where federal oversight would be useful for Education Savings Accounts: providing options for military families, Native Americans in poor-performing Bureau of Indian Education schools, and students in Washington, D.C., who fall under federal governance.
"That's why this is important. Education is the chance to be able to have the skills to live a life of purpose and meaning, plain and simple," Bush said.
Support The 74's year-end campaign. Make a tax-exempt donation now.