Sanders Pulls Out of Campaign Doldrums With a Huge Fundraising Quarter — and Lots of Support From Teachers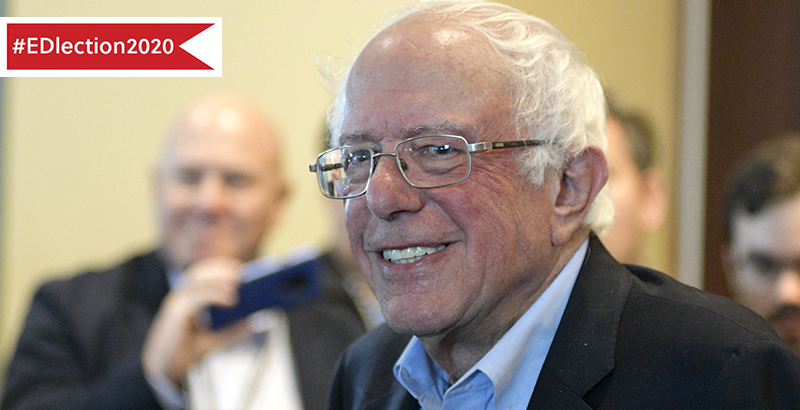 September wasn't a great month for Bernie Sanders's presidential prospects. As students and teachers headed back to school, chatter around the progressive icon's Democratic primary campaign warned of stagnation: He began to fall behind rival Elizabeth Warren in both national and state polls, leading some Sanders loyalists to begin training their Twitter guns on the Massachusetts senator. Staff shake-ups followed in some early primary states.
But the arrival of October has brought encouraging news for the Vermont senator: In a release of third-quarter fundraising numbers, Sanders's campaign revealed that it had raised $25 million since the beginning of July. That figure represents nearly a 40 percent bump over his second-quarter haul — and according to the campaign, the most commonly cited occupation among the more than 1 million donors was "teacher."
The windfall makes clear that, whatever the near-term polling situation, Sanders will have the means to prolong his run well into 2020. It also demonstrates his early strength among educators, one of the groups whose support will be indispensable if he secures the Democratic nomination.
Since coming up short behind Hillary Clinton three years ago, Sanders has made a concerted effort to attract the support of teachers unions for a possible second presidential run. By this stage in the 2016 primary, Clinton had already won the endorsement of the American Federation of Teachers. While that nod was a milestone in her White House bid, it was disappointing to some activists, many of whom favored Sanders's candidacy.
The backlash rippled even further after President Donald Trump — who was favored by 20 percent of AFT members — took office. At last year's union convention, delegates unanimously adopted a proposal demanding that any presidential candidate endorsed by the union support a slate of specific policy recommendations — among them, free child care, subsidized tuition at state colleges and universities, and full funding of the Individuals with Disabilities in Education Act.
Sanders checks those boxes. He has also called for starting salaries for all teachers to be fixed at $60,000. (Since teacher pay is set at the state and local levels, it's unclear how a President Sanders would achieve this.)
And as organized teachers have grown more militant in the past year, including the Red for Ed strikes, he hasn't been shy about wading in. Sanders — a longtime advocate for organized labor — recently made an appearance at the headquarters of the Chicago Teachers Union as its members weighed the possibility of a walkout. His campaign also promoted an ad last month extolling the 2018 strikes and calling for better working conditions for teachers.
Get stories like these delivered straight to your inbox. Sign up for The 74 Newsletter