'We Just Haven't Seen a Race Like This': How Education — and Differing Visions of School Reform — Has Become a Key Issue for Democrats in Colorado's Governor Primary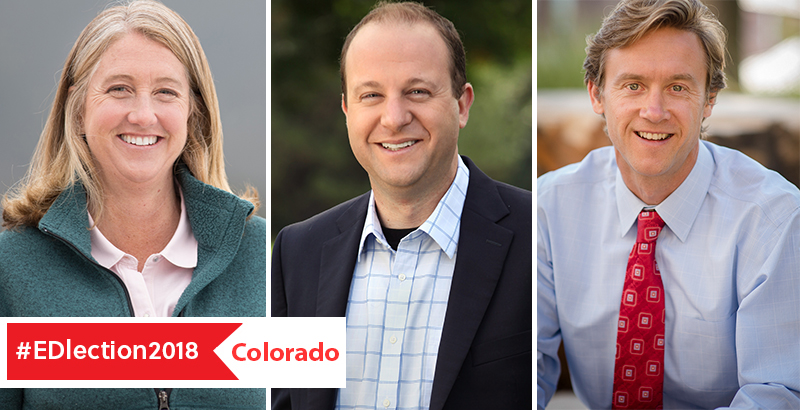 EDlection 2018: From coast to coast, The 74 is profiling a new education-oriented campaign each week. See all our recent profiles, previews, and reactions at The74Million.org/Election (and watch for our Election Night liveblog Nov. 6).
Colorado has, for the past decade, been an exemplar for progressive education reform: a robust, high-quality charter sector, particularly in Denver, got top results, and a teacher evaluation law represented the start of a national shift on the way the country rates classroom educators.
Now, that record is at the center of a split among the state's Democrats as they vote to nominate a candidate Tuesday to succeed Democratic Gov. John Hickenlooper, who is barred by term limits from running again.
Paul Teske, dean of the school of public affairs at the University of Colorado Denver, can see the shift happening.
"I would've said for the last, probably, almost 10 years, that the [reform-aligned] left of center, but fairly centrist, approach to education policy and education reform has been mostly what key politicians and actors have supported, but it seems like … the pendulum has been moving to the left, to the point where the teachers unions are stronger," Teske told The 74.
The rift is visible across the country, as education reforms such as growing high-quality charter schools and evaluating teachers based on student test scores, once the bailiwick of Democrats like President Barack Obama and Education Secretary Arne Duncan, are spurned by an increasingly liberal and union-aligned Democratic party. Charter advocates, in particular, have raised concerns about tying the movement to the current and sharply unpopular education secretary, Betsy DeVos.
In Colorado's Democratic primary, three more reform-aligned candidates are battling a fourth backed by the state teachers union.
● U.S. Rep. Jared Polis founded two charter schools, served on the Colorado State Board of Education, and has promoted charter schools during his decade in Congress.
● Former state treasurer Cary Kennedy was endorsed in January by the Colorado Education Association, which said she was going to "make public education our state's top priority."
● Former state senator Mike Johnston is a teacher and principal who worked with Teach for America and who authored the teacher evaluation law.
● Lt. Gov. Donna Lynne co-founded a business group that has focused on education reform and served on the board of Teach for America.
Among Republicans, the leading contender is Walker Stapleton, the current state treasurer and scion of a prominent Colorado political family. The independent Cook Political Report rates the general election as "lean Democratic," meaning the race is considered competitive, but Democrats have an advantage.
The issue of education is particularly prominent this cycle because the Democratic contest is "fairly open" and without an heir apparent, as it was when Hickenlooper ran, said Seth Masket, a political science professor at the University of Denver.
"Education is one of those issues that actually does split the Democratic party, where you really have both a strong union force and a strong reform voice in there that have never really seen eye to eye. We just haven't seen a race like this in a while," he told The 74.
The contest has big money behind it, with Polis, who made millions in the tech industry before entering politics, so far blowing away his competitors. He had raised $11.5 million (nearly all of which came from his own pocket) and spent $10.8 million as of a June 13 campaign finance report. His Democratic opponents raised far less: about $2 million each for Johnston and Kennedy, and $1 million for Lynne.
An independent super PAC supporting Johnston received a $1 million donation from former New York City mayor Michael Bloomberg in March. In addition to sharing a reform-oriented approach toward education, both men have worked to strengthen gun control laws.
Polis, who besides his vast personal fortune has strong name recognition throughout the state, was up about 13 points over Kennedy in one late May poll, though nearly 40 percent of those surveyed were undecided, and the particulars of the election also make the outcome a little less assured.
Colorado runs its elections by mail, so voters may make up their minds and cast ballots well before Election Day. This is also the first year that unaffiliated voters — about a third of all registered voters in the state — can participate in the primary election.
If the union-backed Kennedy wins, "that will show some validation of the pendulum swinging to the teachers unions within the Democratic party," Teske said. If Polis wins, "it's hard to say" if his victory represents anything more broad about the party and its attitude toward education, given his inherent advantages, Teske added.
There will be plenty of education issues facing the next governor.
State lawmakers passed a pension reform plan to try to close a persistent funding gap; new rules limit cost-of-living increases for retirees and require greater contributions from state workers and government employers, but experts say more changes may be needed.
Teachers staged a walkout in April to call for more school funding, tricky given the requirement that tax hikes get voter approval.
And though Colorado has one of the lowest unemployment rates in the country, under 3 percent, business groups say they're desperate to better train Colorado students, who lag behind in high school graduation rates and college completion, rather than rely on out-of-staters to move in and fill gaps in the workforce.
Democratic divide and (not so) clean campaigns
The reformer-union divide first created fireworks in April at a state Democratic party meeting, where delegates adopted a resolution calling on the Colorado chapter of Democrats for Education Reform to stop using "Democrats" in its name, and booed down the group's director, Chalkbeat Colorado reported.
DFER President Shavar Jeffries later wrote that DFER "isn't going anywhere" and, when necessary, will have a "family fight" on education without personal insults while also warning of a bigger threat to all Democrats.
"Some in the party do not offer us the same courtesy, and that is unfortunate, as our disunity only empowers Trump Republicans," Jeffries wrote. "Trump is president to a large degree because progressives and liberals engaged in a civil war over the 10 percent of policies where we might disagree, as opposed to uniting around the 90 percent where we agree."
The friction again came to the fore in May, when the Teachers for Kennedy, a union-aligned independent expenditure committee, ran an ad accusing Polis of supporting vouchers and Johnston of "pushing conservative anti-teacher laws."
Polis and Johnston immediately said the ad violated the pledge against negative campaigning all the Democrats had signed.
Mara Sheldon, a spokesperson for Polis's campaign, told The 74 it's "disappointing" that Kennedy has defended the ad while also encouraging the super PAC to make what Sheldon deemed false claims.
"Jared believes that diverting funding from public to private schools, especially when public schools are already underfunded, is a terrible idea," Sheldon said in an email. Polis has voted against vouchers every single time they've come up in Congress and has backed candidates at the local level who oppose vouchers, she added.
Kennedy, in a statement to The Denver Post at the time, said that she cannot legally coordinate with an independent expenditure committee, but that she kept her campaign positive and urged her supporters to do the same.
It wasn't long before Polis fired back with his own ad, showing teachers saying they're "disappointed" in Kennedy's "false attacks" and discussing Polis's extensive education résumé.
"Our rebuttal ad was effective in conveying how cynical it is to attack Jared Polis on his lifelong dedication to public education and supporting our teachers. Colorado voters deserve to know the truth about Jared's strong education record," Sheldon said.
The ad from the union group has been pulled from TV. Polis should do the same with his ad, Kennedy's campaign said.
"Jared Polis pledged to take responsibility for statements made in his name. He should follow through on his promise and take down the personal and false attack that he is running against Cary Kennedy," Deputy Campaign Manager Serena Woods told The 74 in an email.
Johnston has kept his promise to run a clean campaign, even though "two of Mike's opponents" have not, Grace Hanover, his campaign communications director, said in an email.
"We believe Colorado voters are taking notice of the dynamic and will cast their ballots for the candidate who keeps his promises and inspires others to be their best," she wrote.
In reality, the Democratic candidates have few policy differences. They all want more school funding, including expanded preschool programs and full-day kindergarten, they told Chalkbeat Colorado, and none supports vouchers for private schools.
It's perhaps not a surprise that some of the candidates have latched on to what are actually very subtle differences in their positions in this negative turn, Michele Ames, spokesperson for Lynne's campaign, told The 74.
"We signed the clean campaign pledge and we intend to honor it all the way through the vote," Ames said.
The tenor has caught the attention of Hickenlooper, who bemoaned the negative ads. The governor, a disciple of clean campaigning, famously ran an ad showing him showering in a series of different outfits, saying he felt like he needed to take a shower every time he saw a negative ad.
Hickenlooper hasn't formally endorsed anyone, but he has made supportive comments about Lynne.
Among Republicans, "education is not as big an issue for them," Teske said.
Stapleton and his opponents — Greg Lopez, a former mayor of Parker; former state representative Victor Mitchell; and businessman Doug Robinson — all told Chalkbeat they're more skeptical of additional funding and have concerns about administrative bloat. They're also more supportive of expanded choice, including vouchers.
EDlection 2018: From coast to coast, The 74 is profiling a new education-oriented campaign each week. See all our recent profiles, previews, and reactions at The74Million.org/Election.
Get stories like these delivered straight to your inbox. Sign up for The 74 Newsletter