Raw Video: Alaskan Students Take to Social Media to Share Real-Time Footage of Friday's Terrifying 7.0 Earthquake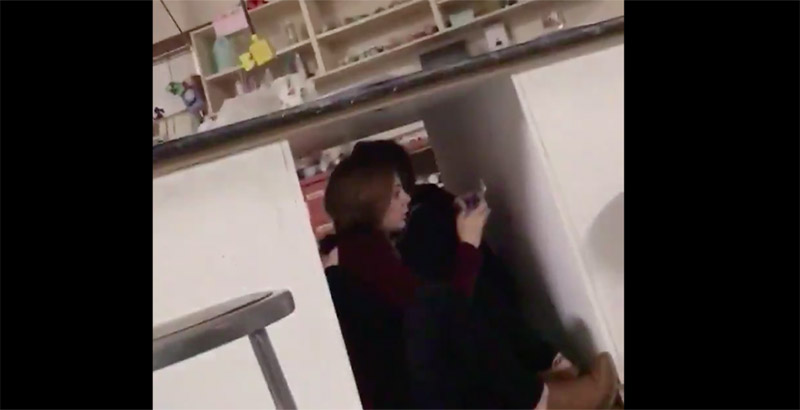 As a 7.0 earthquake rolled across Alaska on Friday, students cowered under desks and took to social media to share their experiences in real time.
Alyson Petrie of Colony High School posted a video to Twitter while she and her classmates took cover under tables in an art classroom. At least eight aftershocks followed the initial quake, one as strong as 5.7, CNN reported. The quake hit around 8:30 a.m. local time near Anchorage.
I'm shaking and out teachers are keeping us under our tables and telling us that there will be an after shocking maybe in 5 minutes or tomorrow we don't know I'm in the art classroom and everything is literally destroyed pic.twitter.com/i9akuWoVwD

— Alyson Petrie (@AlysonPetrie7) November 30, 2018
Earthquake just happened right now i 'm actually shaking pic.twitter.com/PoZGOlJGWS

— Alyson Petrie (@AlysonPetrie7) November 30, 2018
Some students surfaced fears about whether a tsunami could be coming. A tsunami warning was briefly in effect but was later canceled.
UPDATE: US National Tsunami Warning Center says Tsunami Warning is canceled after Anchorage area quake. https://t.co/YhstmJ9N9P

— NBC News (@NBCNews) November 30, 2018
Petrie's school posted a message on its website alerting parents that they could pick up students "whenever possible" but that students were "otherwise warm and safe."
Here's what it looked like inside some schools during the quake.
Insane footage inside a school during the massive Alaska earthquake. pic.twitter.com/ERePRcImKO

— WeatherNation (@WeatherNation) November 30, 2018
BREAKING: a Magnitude 6.7 earthquake has just been felt in Anchorage Alaska. No reports of injuries as of now, but here is a video:pic.twitter.com/AdZc4R2ff7

— Brian Krassenstein (@krassenstein) November 30, 2018
Another student who appeared to be standing outside his school during the earthquake posted an image of the damage, saying the quake "straight cracked my school in half."
— Josh Bierma (@jlennyb) November 30, 2018
Teachers and parents also shared updates as the morning unfolded.
Rattled by the 7.2 #earthquake near #anchorage but our school is fine, high and dry from #tsunami danger. Worried about Anchorage peeps. #nikolaevsk #alaska #akedchat

— Mrs. Stading (@tchlrn_ak) November 30, 2018
Update from my kids' school! #Alaska #earthquake #AlaskaEarthquake #akleg #AKQuake pic.twitter.com/KMP227vGj6

— Krazy Karyn (@gomer2323) November 30, 2018
Classroom in Palmer, AK ? #earthquake #Alaska pic.twitter.com/YJC1oZEKYg

— Liz? (@Lizbe503) November 30, 2018
The Anchorage school district instructed parents to pick up their children when they felt it was safe to do so. Some students were evacuated to other schools to wait for their parents.
We hope that everyone is safe after the earthquake. We are assessing building safety and damages now. We will update the community as new information comes in. In the meantime, parents and guardians, when you feel it is safe to do so, please pick your children up from school.

— ASD Information (@ASD_Info) November 30, 2018
Dramatic images also showed roads torn apart as well as homes and workplaces thrown into chaos.
The power of the earthquake destroyed several roads in Alaska. pic.twitter.com/VkFo73OwZK

— WeatherNation (@WeatherNation) November 30, 2018
KTVA's newsroom felt the blow of the earthquake this morning. #anchorage #alaska #earthquake #weather pic.twitter.com/d1SaxriGw9

— Cassie Schirm (@cassieschirmtv) November 30, 2018
No injuries or deaths have been reported, but the earthquake did damage many buildings and other infrastructure, according to local media reports. Alaska governor Bill Walker has declared a state of emergency.
Almost exactly 24 hours earlier, another earthquake struck the Pacific rim of the U.S., this time at the furthest point south. Thursday's 3.9-magnitude quake near San Diego was felt as far as Mexicali, Mexico, but no injuries or damage were reported.
Support The 74's year-end campaign. Make a tax-exempt donation now.