Private School Advantages Overhyped, Study Says, Offering Fodder to Vouchers' Critics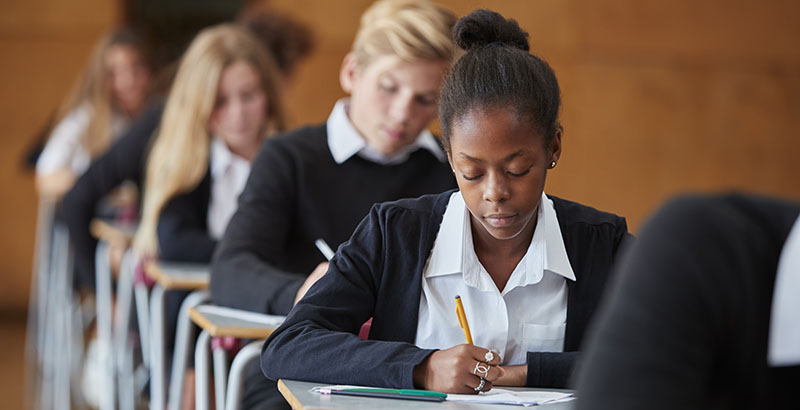 This is the latest article in The 74's ongoing 'Big Picture' series, bringing American education into sharper focus through new numbers, research, and reporting. Go Deeper: See our full series.
Popular depictions of private schools vary in tone, but audiences tend to get a uniform picture of glamorous institutions that kids would be lucky to attend. From the supernatural instruction of the Harry Potter books to the wan posing of Dead Poets Society, there's always something attractive about the hijinks that unfold on a private school campus.
But the advantages of attending private school are overhyped, according to new research. Once family and socioeconomic circumstances are accounted for, the authors found that private school students realize virtually no special benefits in comparison with those enrolled in traditional public schools.
Published in the journal Educational Researcher, the study was co-authored by Robert Pianta, dean of the University of Virginia's Curry School of Education, along with research associate Arya Ansari. Pianta has previously written in favor of public education's benefits in comparison with private alternatives, arguing that the Trump administration's "fixation on vouchers" represents an abandonment of the ideal of egalitarian schools.
The findings add another data point to the long-running discussion among researchers about the effectiveness of vouchers. Studies of the rare — and still mostly new — private school choice programs in a handful of cities and states around the country have shown that students receiving vouchers actually performed worse in standardized tests than they might have otherwise, though parents of those students are more likely to report satisfaction in their new schools. Other research suggests that, after initial losses, voucher students in Louisiana typically made up ground in later years.
Pianta and Ansari employed a large federal data set, the Study of Early Child Care and Youth Development, to identify more than 1,000 K-12 students born in 1991. Participating families from nine states — Arkansas, California, Kansas, Massachusetts, North Carolina, Pennsylvania, Virginia, Washington, and Wisconsin — were recruited shortly after childbirth and tracked, through both interviews and observations in home and at school, until children completed ninth grade.
About one-third of all children completed at least one year of private school; among those students, the average duration of private school attendance was 5.73 years, or about half of all their K-9 schooling.
In a simple, apples-to-apples comparison of children in each sector, private school students demonstrated a remarkable edge in a range of outcomes including math and English performance, working memory, grade point average, and social skills. They were also more likely to say they intended to attend and finish college, and less likely to say they had taken part in risky behaviors like drinking, smoking, or having sex.
But while those initial results would seem to validate conventional wisdom around the superiority of private academies, the authors find that they are almost entirely the product of environmental influences having nothing to do with the quality of education children received. That is, the types of families who are likely to send their kids to private school are more likely to earn higher incomes, include two parents, and reside in more affluent neighborhoods.
Specifically, Pianta and Ansari controlled for a panoply of variables specific to the individual child (gender, race, birth weight, birth order, temperament observed at 36 months of age), family (a mother's age and educational attainment at childbirth, her psychological adjustment six months after childbirth, whether she was employed), and neighborhood (number of households in poverty and receiving government assistance, number of single-parent households, and number of households in which parents had less than a high school diploma or were unemployed). In general, these factors were found to be much more predictive of later outcomes than private school attendance.
"The apparent 'advantages' of private school education … were almost entirely due to the socioeconomic advantages that selected families into these types of schools and were not attributed to private school education itself," they write.
While voucher programs are sometimes touted as a solution for disadvantaged kids in inner-city or rural environments, where school systems can struggle to provide high-quality educational options, the authors find no intrinsic benefit to either low-income, urban, or rural students from attending private school.
That makes the study relevant to the growing research literature on vouchers, which has stoked public debate. In another recent release, researchers from Notre Dame and the University of Kentucky found that students in Indiana's voucher program, the largest in the country, saw significant declines in math performance that they have yet to recover from.
Pianta and Ansari note in their study that the lack of clear-cut advantages associated with private education could be evidence of the wide-ranging variety in terms of school design and quality; though many envision private schools as elite institutions situated on bucolic campuses, the sector includes programs both urban and suburban, religious and secular, with differing requirements around staffing and curricula.
"I think one of the things people miss is the stunning heterogeneity of private education," Pianta said in a recent interview with a Boston public radio station. "We all have this idea of what private education looks like: It's like a prep school. But private education on average is very, very heterogeneous."
Get stories like these delivered straight to your inbox. Sign up for The 74 Newsletter