D.C. High Schools Come Under Fire After Report Confirms Widespread Graduation Scandal at Ballou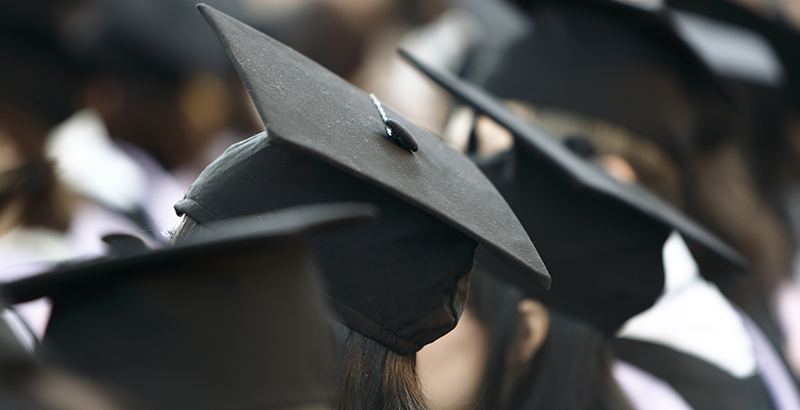 Ballou Senior High School in Washington, D.C., was once lauded for its ability to propel low-income students to the graduation stage and beyond. But on Tuesday, the government released a report confirming a widespread graduation scandal at the school.
Ballou officials engaged in a pattern of graduating students with extreme numbers of course absences and pressuring teachers to pass students despite poor performance, according to the report, released by the Office of the State Superintendent of Education. The school also inappropriately used district recovery courses — designed to give students a second chance to pass required coursework — to push students to the finish line.
The results of the investigation largely back up an in-depth report by WAMU and NPR alleging the school was graduating students despite high rates of unexcused absences. But now, attendance and graduation policies at all D.C. schools are under a microscope.
Districtwide, the rate of student absences has gone up over the past three years, and public high schools are increasingly graduating students who miss large chunks of class, according to the report released Tuesday. In 2017, more than 11 percent of graduates missed more than 50 percent of school days. Under district policy, students are supposed to fail courses if they're absent more than 30 times.
Tuesday's findings are most prevalent in traditional public schools, while selective high schools and charter schools have lower levels of absenteeism and fewer students with extreme absences who are receiving diplomas.
"The investigation found numerous issues that are extremely troubling to me," D.C. Public Schools Chancellor Antwan Wilson said during a press conference Tuesday. "We see that, at Ballou and also other high schools, that they did not fully implement our policies as it relates to grading, as it relates to attendance, as it relates to credit recovery. Teachers did not receive proper training in our policies, and as a district we failed to provide sufficient accountability to assure our policies are implemented appropriately."
Though Tuesday's report largely focuses on practices at Ballou, Mayor Muriel Bowser said an in-depth analysis of all district high school practices will be released later this month.
The laundry list of district policy violations at Ballou helped 64 percent of the school's 177 seniors receive diplomas in 2017, according to the report.
Among the findings against Ballou specifically, the report identified that district policy violations helped 64 percent of the school's 177 seniors receive diplomas in 2017. While 43 percent of students passed required courses despite excessive absences, investigators also found that more than a quarter of students improperly used credit recovery courses to secure diplomas. The school allowed some students to take credit recovery courses though they hadn't yet failed the original course. In fact, more than 13 percent of graduates took credit recovery courses concurrent with the original class.
On Tuesday, Bowser confirmed that Ballou principal Yetunde Reeves is on administrative leave and could face termination. Meanwhile, Bowser said school officials are working to ensure attendance and graduation problems don't persist.
"We know that we, the school district and the government, can't do it alone," Bowser said. "We are calling, of course, on our students to understand what their job is. Their job is to go to school, to be there every single day, to show up ready to learn."
Support The 74's year-end campaign. Make a tax-exempt donation now.