Pencils, Notebooks — and Flu Shots? After Last Year's Deadly Flu Outbreak, Many Schools Are Building the Flu Vaccine Into Their Back-to-Class Routine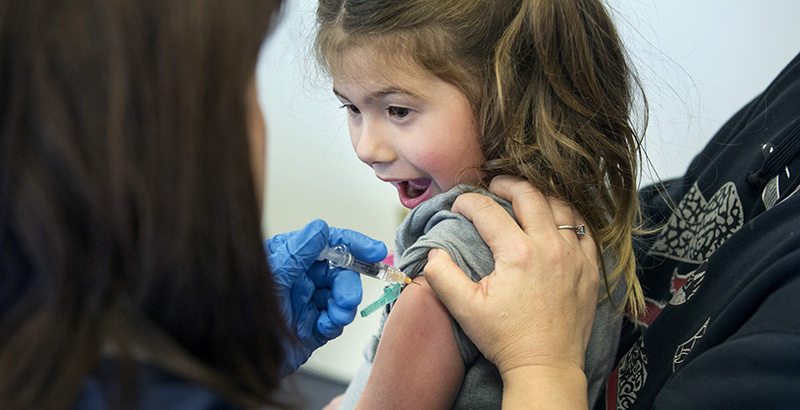 Last year, a Houston principal told Gwendolyn Johnson, the district's director of health and medical services, that he had a "project" for her.
"I want you to bring flu vaccines to my students," the principal told her. The flu season had been tough on his family and the students in his care. More than 2,150 people died of flu-related causes in the Houston area last year, including 15 children, the Houston Chronicle reported.
Johnson made it happen. This fall, for the first time, the Houston Independent School District will give every student in the district the opportunity to get a free flu shot, regardless of whether they have insurance. The program is part of a partnership with Healthy Schools, a company that facilitates school-based healthcare.
After last year's severe flu season, school districts around the country are taking steps to guard against the virus before it arrives in their classrooms. In Houston, for example, parents can sign their children up to get a free flu vaccine between the end of October and the beginning of December. Districts in Florida, Louisiana, Ohio, Tennessee, and elsewhere have also put programs in place to facilitate vaccinations for students.
Last year, the Centers for Disease Control and Prevention recorded 171 pediatric deaths resulting from the flu. Of those who were eligible to be vaccinated, 80 children who died were not, and 30 had received only one of the two recommended doses of the vaccine. Since pediatric deaths became a separately reported category in 2004, the annual number of pediatric flu deaths has ranged from 37 in 2011-12 to 358 during the 2009-10 flu pandemic. A 2017 study found that a vaccinated child who contracts the flu is less likely to die than one who did not receive the vaccine.
Johnson said she is happy Houston has "the opportunity to provide equitable access to vaccines for all of our children and provide them all the opportunity to be protected, regardless of where they live in the district and their ability to pay." Additionally, she noted that flu can be more dangerous for children who have asthma, the most common chronic illness among students in her district. A separate program already provides flu shots to teachers and staff, Johnson said.
In addition to preventing absences and individual illnesses, vaccinating children against the flu helps the whole community by preventing the virus from spreading to those who might be in more danger if they get sick, such as infants, pregnant women, and the elderly, said Jennifer Dillaha, medical director for immunizations at the Arkansas Department of Health.
"From a general point of view, it's really schoolchildren [who] are the most efficient transmitters of influenza in the community, so when schoolchildren are vaccinated, the whole community benefits," Dillaha said.
In Arkansas, the state health department provides free flu shots at school-based clinics for students and staff, if schools opt in to the program. The program effectively decreases the number of student absences, according to a study of the program in 2012-2013 published in the Journal of School Health.
The Food and Drug Administration has already released this year's flu vaccines, and the CDC recommends people get immunized before flu starts spreading in their communities — definitely before the end of October — as the vaccination takes about two weeks to start working.
The CDC urges almost everyone 6 months and older to get vaccinated each year. Flu season typically peaks between December and March, but high flu activity can last from October to May. Children between 6 months and 8 years old need two doses of the flu vaccine, given four weeks apart, making it even more important to act early, according to the CDC.
The importance of vaccines is underscored by a recent measles outbreak that has affected more than 100 people in 21 states; measles is easily prevented with a vaccine the CDC recommends for all children. Moreover, a 2017 Harvard School of Public Health study found that an increase in voluntary vaccination exemptions — allowing parents to forego vaccinations for their kids without a medical reason to do so — was linked to an increase in cases of pertussis, also known as whooping cough, a disease that can be deadly for children.
Support The 74's year-end campaign. Make a tax-exempt donation now.