After Four Days, West Virginia Teachers Settle Strike for a 5% Raise and a Promise to Evaluate Benefits Plan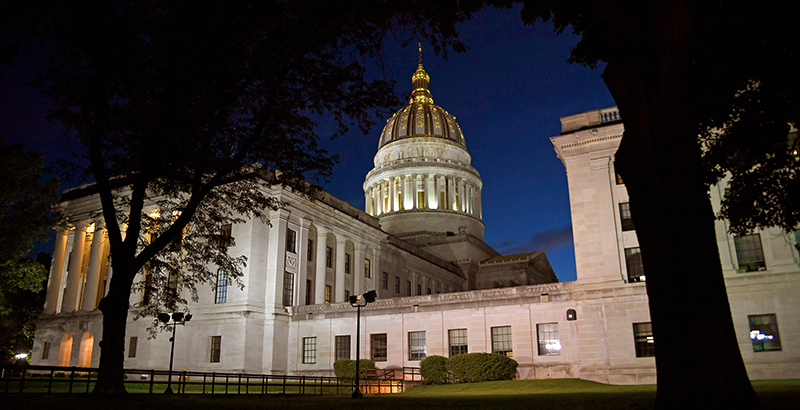 Update: At a press conference Tuesday night, West Virginia Gov. Jim Justice announced an end to the four-day teachers' strike that had closed schools across the state. Teachers and school personnel will receive a 5 percent raise next year, he said, and all other state employees will get a 3 percent increase.
Schools will be back in session Thursday; Wednesday will be a "cooling-off day," because some schools had already canceled class. Justice also said he will create a task force to evaluate the teachers' insurance program, which, in addition to low pay, was a cause of the walkout. Union leaders said they reserve the right to pull teachers out of class again if the state legislature does not sign on to the plan. 
U.S. Education Secretary Betsy DeVos has chimed in on the West Virginia teachers' strike on its fourth day, saying that good teachers "deserve better pay" but students should not miss school due to adult disagreements.
In a series of tweets, she also called on "both sides" to negotiate a compromise soon.
Across the state, teachers had refused to work since Thursday, affecting about 270,000 students.
Teachers called for higher pay and better benefits, NPR reported. The teachers also oppose laws they say would make it harder for the state to hire good teachers. Teachers have rallied at the capitol in Charleston, West Virginia, and at their schools.
Union leaders demanded to meet with the governor and legislative leaders to discuss the teachers' concerns. The state's two teachers unions had rejected a proposed 2 percent pay raise with further 1 percent increases for the next two years, calling it insufficient when health care costs for teachers are on the rise.
"Our issues are clear — our commitment to finding a solution has been consistent; we stand together for our students, our community, and our state," Christine Campbell, president of the West Virginia chapter of the American Federation of Teachers, said at the rally. "We challenge the House leader, the Senate leader, and the governor, to bring us to the table today."
The strike, which some called a "work stoppage," could be against the law. State Attorney General Patrick Morrisey tweeted last week that the work stoppage is "unlawful and should come to an end." (Politifact verified this statement based on legal precedent in the state.)
Average teacher pay in West Virginia ranks near the bottom nationally, at $44,701, according to the West Virginia Education Association.
Get stories like these delivered straight to your inbox. Sign up for The 74 Newsletter