Union Report: In West Virginia, 15,000 Teachers Are Planning a Walkout. The Strike Is Illegal — but It Shouldn't Be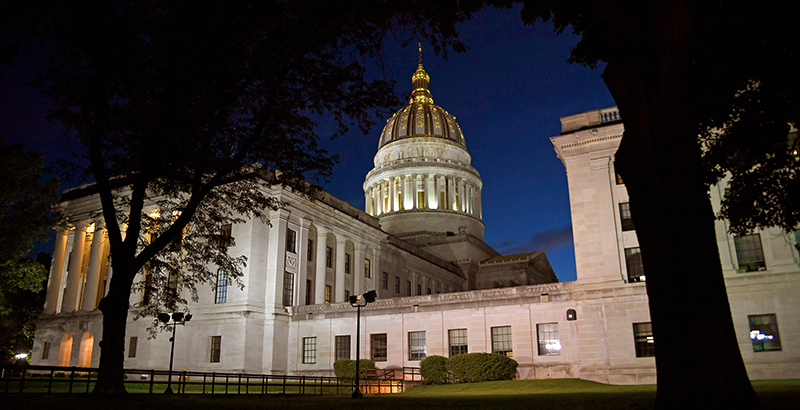 Mike Antonucci's Union Report appears Wednesdays; see the full archive
Three unions representing public school employees in West Virginia announced a two-day walkout this Thursday and Friday to protest low pay and health insurance benefits.
Solidarity among the three is significant, given that they have been at one another's throats for years. AFT West Virginia and the West Virginia Education Association continued to battle for members and influence long after National Education Association and American Federation of Teachers affiliates in other states called a cease-fire. And the independent West Virginia School Service Personnel Association once belonged to AFT but disaffiliated in 2015.
The unions stated that an "overwhelming" majority of school employees across the state authorized the job action, though it failed to release numbers on votes or turnout.
There are several issues and complications for all involved.
1 West Virginia is a right-to-work state.
Where this specifically comes into play for the walkout is that — by my calculation — no more than half the public school employees in the state actually belong to any of the three unions. Nonmember support, or apathy, about the unions' campaign is critical to its success or failure.
2 Two days.
A two-day walkout sends a serious message to state lawmakers, but it's not likely to result in any lasting harm to the school schedule or anyone's wallet. Positioning the event on Thursday and Friday was a calculation to ensure lots of participation in the walkout, but I suspect the protests may suffer as many sign in and then opt for a long weekend.
3 Probably no loss of pay.
This can get awfully tricky and litigious. If the schools close, employees will expect pay, as if it were a natural disaster or a snow day. You might think this is ridiculous, but how can school officials tell if any individual teacher was planning to go to work Thursday and Friday, and couldn't because schools were closed? Besides, there are sick days and personal days. It's not a simple matter for an administrator to deny sick days to an employee, particularly if he or she has a doctor's note.
4 Public employee strikes are illegal in West Virginia.
Union officials have been dancing around this problem all week. "We prefer [to call it] a work stoppage," said Monongalia County AFT chapter president Sam Brunett. When asked about the legality of the job action, West Virginia Education Association president Dale Lee said, "What are they going to do, fire 15,000 people?"
Now we come to the crux of the matter. Lee is right. There is zero chance that the state and local governments of West Virginia will fire 15,000 public school employees. So why have a no-strike law at all?
Some of you may be old enough to remember President Ronald Reagan firing some 11,000 air traffic controllers for an illegal strike in 1981. Even today, the decision is considered controversial, but at least Reagan had the argument of public safety to use, as any elected official would if police or firefighters were to attempt an illegal strike.
We have learned yet again this week that schools can end up being dangerous places, but they are not made appreciably more dangerous by labor strikes. There is no good justification to ban teacher strikes.
Put it this way: If public employees go on strike and you need the National Guard to replace them, their strikes should be illegal. Otherwise, no.
I am reminded of what might be the most embarrassing instance of an illegal teacher strike and the response to it in U.S. history.
In 2001, teachers in Middletown, New Jersey, held an illegal strike over paying an additional $600 annually in health insurance premiums. They and their union defied a court order to return to work.
Teacher after teacher told Judge Clarkson Fisher verbatim: "I won't go back until we have a fair, equitable, signed contract."
So Fisher started throwing them in jail for contempt of court — 228 teachers in all.
Many stood on principle and accepted the ruling, while others made excuses about why they couldn't go to jail and pleaded to be excused. About 25 percent of them were.
Fisher made the truly bizarre decision to imprison teachers in alphabetical order. Each day, teachers with last names starting with the next letter headed to jail.
"There's not a chance we're going to give up," shouted union president Diane Swaim at a rally when the first four teachers were put behind bars. "There's not a chance we're going to give in. There's not a chance we're going back to work without a contract."
Except: The teachers did go back to work without a contract, accepting nonbinding arbitration in lieu of a settlement. Coincidentally, Swaim announced the end of the strike just before the S's were jailed.
The teachers were released, life went on pretty much as before, and no one tried that nonsense again, despite a raft of illegal teacher strikes since then in many other states.
Let the West Virginia school employees have their walkout. Should they attempt something lengthier in the future, there should be a different calculus. Illegal or not, teacher strikes are always decided the same way. Who can hold out longer? The school district, with parents breathing down their necks to get the kids back to school, or the teachers, once they start missing paychecks?
No matter who blinks first, both sides will declare victory.
Get stories like these delivered straight to your inbox. Sign up for The 74 Newsletter