On Social Media, School Choice Advocates Celebrate Janus Ruling, While Critics Blame 'Stolen' Supreme Court Seat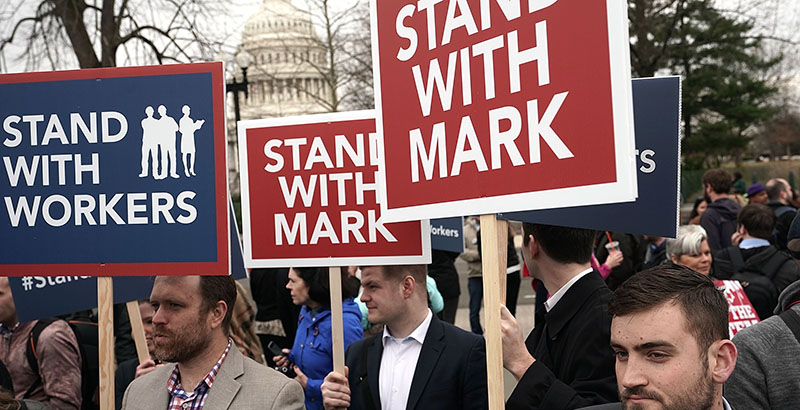 Advocates, union leaders, and politicians on all sides of the Janus v. AFSCME debate wasted no time jumping in after the Supreme Court ruled Wednesday morning that teachers and other public-sector employees who disagree with their unions no longer have to pay fees that support those policies.
President Donald Trump tweeted that the court "rules in favor of non-union workers who are now, as an example, able to support a candidate of his or her choice" and called the ruling a loss for Democrats. While the question of public-sector unions using agency fees to endorse specific candidates was not at stake in the Janus case, the arguments did raise the question of whether all issues that unions negotiate are inherently political.
Many charter school and school choice advocates joined conservatives in celebrating the ruling, which they say could open the door to more school reforms. (See the full text of the decision.)
One of the first to respond to the announcement, Sen. Elizabeth Warren of Massachusetts, posted a video featuring teachers union leaders Lily Eskelsen García and Randi Weingarten that argued that "corporate interests have been rigging the system against workers."
Former education secretary John King tweeted an article written by Weingarten, the American Federation of Teachers president, that said teachers want their voices heard.
Weingarten tweeted that the union will remain strong despite the ruling.
Erika Sanzi, a parent advocate and visiting fellow at the Thomas B. Fordham Institute, a conservative think tank, responded, noting that polls indicate that a majority of Americans believe union members should not have to pay mandatory dues.
Many Democrats took the opportunity to express their support for unions overall.
Other critics charged that the case was bankrolled by wealthy conservative donors and the result of a "stolen" Supreme Court seat, a reference to Senate Republicans' refusal to confirm President Barack Obama's nominee in 2016, holding the slot open for a conservative justice.
Then, to cap off the final day of the court's current session, Justice Anthony Kennedy, who sided with the majority in the Janus ruling, announced that he will retire effective July 31.
Get stories like these delivered straight to your inbox. Sign up for The 74 Newsletter