NewsfeedOn Social Media, School Choice Advocates Celebrate Janus Ruling, While Critics Blame 'Stolen' Supreme Court Seat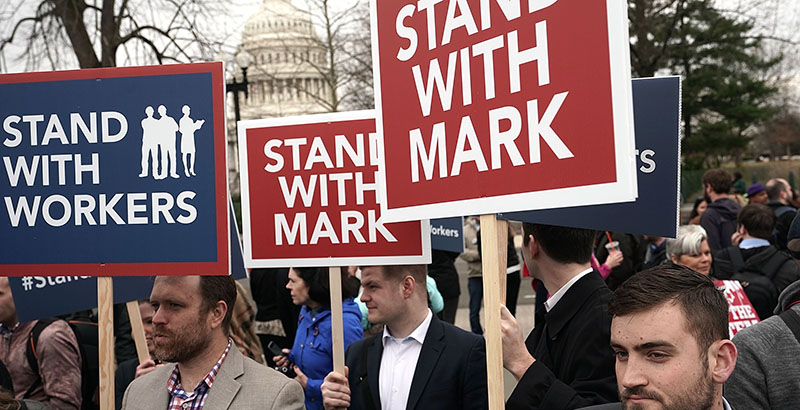 Advocates, union leaders, and politicians on all sides of the Janus v. AFSCME debate wasted no time jumping in after the Supreme Court ruled Wednesday morning that teachers and other public-sector employees who disagree with their unions no longer have to pay fees that support those policies.
President Donald Trump tweeted that the court "rules in favor of non-union workers who are now, as an example, able to support a candidate of his or her choice" and called the ruling a loss for Democrats. While the question of public-sector unions using agency fees to endorse specific candidates was not at stake in the Janus case, the arguments did raise the question of whether all issues that unions negotiate are inherently political.
Supreme Court rules in favor of non-union workers who are now, as an example, able to support a candidate of his or her choice without having those who control the Union deciding for them. Big loss for the coffers of the Democrats!

— Donald J. Trump (@realDonaldTrump) June 27, 2018
Many charter school and school choice advocates joined conservatives in celebrating the ruling, which they say could open the door to more school reforms. (See the full text of the decision.)
I am hopeful that the era of teachers union bosses playing politics w/ our schools will give way to a 21st-century model of education that focuses on students, not adults. Today's decision ushers in a real opportunity to transform education in America. https://t.co/4bMNZpDgOQ

— Jeb Bush (@JebBush) June 27, 2018
As we fight to give families options for every child's K-12 education, we believe this #Janus decision will empower educators with political choice and will allow for more student-centered reforms, like educational choice, in our K-12 education system. https://t.co/yRjwEXSFWs

— Am Fed for Children (@SchoolChoiceNow) June 27, 2018
Justice was served with #JanusvAFSCME ruling. If you want support for your speech, it must come voluntarily. Simple principle, needed to be upheld.

— Neal McCluskey (@NealMcCluskey) June 27, 2018
The Janus decision is good news for the nation and for thousands of educators who have long been exploited by the teachers unions. #JanusvAFSCME #SCOTUS

— Center for Ed Reform (@edreform) June 27, 2018
One of the first to respond to the announcement, Sen. Elizabeth Warren of Massachusetts, posted a video featuring teachers union leaders Lily Eskelsen García and Randi Weingarten that argued that "corporate interests have been rigging the system against workers."
Corporate interests have been rigging the system against workers for decades – and the Supreme Court just handed those interests a huge victory in #Janus v. AFSCME. But I've got news for the billionaires behind this case: we're not going anywhere. #Union pic.twitter.com/LAxpB1k3iY

— Elizabeth Warren (@SenWarren) June 27, 2018
Former education secretary John King tweeted an article written by Weingarten, the American Federation of Teachers president, that said teachers want their voices heard.
1/2 Important msg from @rweingarten of @AFTunion & @EvanRStone of @Ed4Excellence from last week worth re-reading in light of today's misguided Supreme Court decision undermining labor voice: "A simple plea: 'Educators want their voices heard'" https://t.co/YkWqh9E3e8

— John King (@JohnBKing) June 27, 2018
Weingarten tweeted that the union will remain strong despite the ruling.
No surprise w/ #JanusvAFSCME "Don't count us out. While today the thirst for power trumped the aspirations and needs of communities and the people who serve them, workers are sticking with the union because unions are still the best vehicle working people have to get ahead

— Randi Weingarten (@rweingarten) June 27, 2018
Erika Sanzi, a parent advocate and visiting fellow at the Thomas B. Fordham Institute, a conservative think tank, responded, noting that polls indicate that a majority of Americans believe union members should not have to pay mandatory dues.
Randi, 2/3 of the country oppose mandatory dues and 50% of Democrats do. This isn't a "right wing" anything. #Janus #JanusvAfscme

— Erika Sanzi (@esanzi) June 21, 2018
With its Janus v AFSCME decision, the Supreme Court today turned its back on American workers—the educators, nurses, firefighters, police officers, and public servants who make our communities strong and safe. But this is not defeat. #UnionStrong https://t.co/w9tREGlbqB (Thread)

— Lily Eskelsen García (@Lily_NEA) June 27, 2018
The #Janus decision reflects years of scheming by forces desperate to destroy workers' rights and to undermine public education.https://t.co/UxflgTHu7e

— UFT (@UFT) June 27, 2018
Many Democrats took the opportunity to express their support for unions overall.
#Janus is a travesty. The Trump administration is driving the labor movement backwards. In NY, it's a different story. We know that working men and women need the power to organize and bargain to ensure they get a fair shake against the strength of corporate and wealthy interests https://t.co/tBTV770IEU

— Andrew Cuomo (@andrewcuomo) June 27, 2018
President Eisenhower, a Republican, said back in 1952: "Only a fool would try to deprive working men and women of the right to join the union of their choice."

To those who think they can divide us: You are the fools. We will stick together & we will win. #Janus #UnionStrong pic.twitter.com/kO3e7wJIBg

— Conor Lamb (@ConorLambPA) June 27, 2018
The Supreme Court decision in #Janus is a major step backward for working families and the middle class. For generations, unions have fought for protections we all enjoy, including a 40-hour work week, weekends, and paid time off. #Union https://t.co/xv720qk0xZ

— Governor Tom Wolf (@GovernorTomWolf) June 27, 2018
In yet another 5-4 ruling due to a stolen seat, SCOTUS just ruled against workers and in favor of billionaires. The #Janus ruling is a setback, but it is not a defeat. Keep organizing, mobilizing, and demanding more good paying #union jobs.

— Donna E. Shalala (@DonnaShalala) June 27, 2018
As a lifelong #union member and school teacher for over 20 years, I know firsthand how public employee unions protect the livelihoods of working families. #WeRise #Janus pic.twitter.com/IyiLLLaqow

— Tim Walz (@Tim_Walz) June 27, 2018
Other critics charged that the case was bankrolled by wealthy conservative donors and the result of a "stolen" Supreme Court seat, a reference to Senate Republicans' refusal to confirm President Barack Obama's nominee in 2016, holding the slot open for a conservative justice.
The decision in #Janus is the result of a years-long campaign by powerful corporate interests to undercut working people. Read more: https://t.co/sixKl1Yu6V

— Economic Policy Institute (@EconomicPolicy) June 27, 2018
For the fourth time this week, the stolen Supreme Court seat has swung a crucial case. Here's why #Janus matters: https://t.co/jhnAZVeUPC @thedailybeast

— Jay Michaelson (@jaymichaelson) June 27, 2018
SCOTUS shamefully decided to side with anti-worker billionaires over working families today.

I will not stand idly by while conservatives, through a stolen Supreme Court seat, attack the rights of the middle class. #Janus https://t.co/t5CrgT86Sx

— Raul M. Grijalva (@RepRaulGrijalva) June 27, 2018
Then, to cap off the final day of the court's current session, Justice Anthony Kennedy, who sided with the majority in the Janus ruling, announced that he will retire effective July 31.
Here is his letter to the president, in full pic.twitter.com/m7DWYTxFGA

— Nina Totenberg (@NinaTotenberg) June 27, 2018
Submit a Letter to the Editor