On Al Franken's Last Day in the Senate, Remembering His Quiet Role as Education Gadfly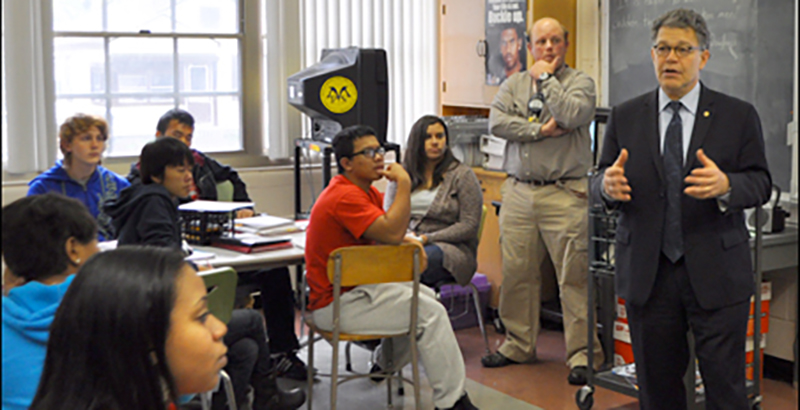 Deep into his first term in the U.S. Senate, Al Franken took over Ryan Voeks's class at Minneapolis's Patrick Henry High School, determined to execute the Pythagorean theorem on the whiteboard. His drawing skills were terrible, however, and so as students called out elements of the mathematical statement, the endeavor devolved into a bit of sketch comedy.
"Let's say this is actually a square."
"Imagine this is better than it is."
"See, that's how you get to be a senator, you figure out that calculus follows precalculus."
The year was 2011 and Franken was stumping for a bipartisan compromise bill to replace No Child Left Behind. Among other reasons, he picked Patrick Henry for the symbolic tour because it was an undersung success story in an arena Franken was passionate about: science, technology, engineering, and math instruction, known in education argot as STEM.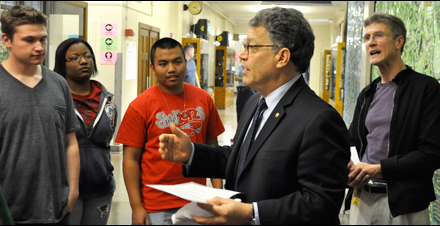 Tuesday Franken tendered his resignation from the Senate in the wake of sexual harassment allegations. Wednesday, his successor, Minnesota Lieutenant Governor Tina Smith, will be sworn in to fill the seat pending next fall's special election. She has pledged to run in that race. Former U.S. representative Michele Bachmann, a Republican, has said she is considering running as well.
Smith is something of a cipher, politically. She's widely respected but has spent most of her career as a woman behind the curtains, running campaigns for Democratic-Farmer-Labor Party candidates and serving as chief of staff first for Minneapolis's former mayor and then for Gov. Mark Dayton.
Her views regarding education policy are little known, with the exception of her role as chief champion of Dayton's controversial effort to win universal preschool for Minnesota 4-year-olds. (Early childhood education advocates opposed the move, asking that the state instead fund scholarships for impoverished children ages 0–4.)
Opaque as Smith might be, few of Franken's constituents likely know how much energy he put into trying to push an education agenda in a deadlocked Congress. The NCLB overhaul he was supposed to be promoting during his 2011 visit to Patrick Henry bore a remarkable resemblance to the Every Student Succeeds Act of 2015, which maintains test-based accountability but hands most of the responsibility for school oversight to states.
Though his education advocacy rarely made headlines at home, Franken pushed for protections for LGBT students, for stronger STEM programming, for the expansion of early ed, and to overhaul mold- and rodent-infested school buildings, often literally crumbling, on Native American reservations.
Long before his marquee moment during U.S. Education Secretary Betsy DeVos's dramatic confirmation hearing, Franken held forth to anyone who would listen about the difference between measuring student proficiency and academic growth. When his questioning revealed that DeVos did not know the difference, Americans who hadn't realized there was a distinction got a crash course in one of education's hottest policy debates.
"It was a deeply upsetting moment, not just because of what it revealed about Mrs. DeVos or the president who had picked her to be in charge of our nation's education system, but because these are the kinds of problems we should be able to solve," Franken said in a speech about education delivered to the Senate shortly before the holidays.
In his remarks, Franken called on his soon-to-be former colleagues to hold DeVos's office accountable. "Secretary DeVos is a serious threat to our public school system, and a threat to the quality of education in this country overall," he said. "I've pushed as hard as I could to protect our students from what this administration has been trying to do. I've sent the secretary over a dozen letters this year on protecting students from harassment, helping defrauded students, and holding for-profit schools accountable.
"It is my hope that my colleagues will continue to be vigilant in overseeing the Department of Education and in making sure our public education system is not dismantled."
In the end, Franken's staff had to physically usher him out of Patrick Henry's math class, reminding him that he had a bill to promote. The senator grumbled but stepped away from the whiteboard, confiding: "I've got a secret thing for second-year algebra."
Get stories like these delivered straight to your inbox. Sign up for The 74 Newsletter