No Deal? Teacher Strike in West Virginia Stretches Into Seventh Day, as Agreement Faces Resistance From Legislature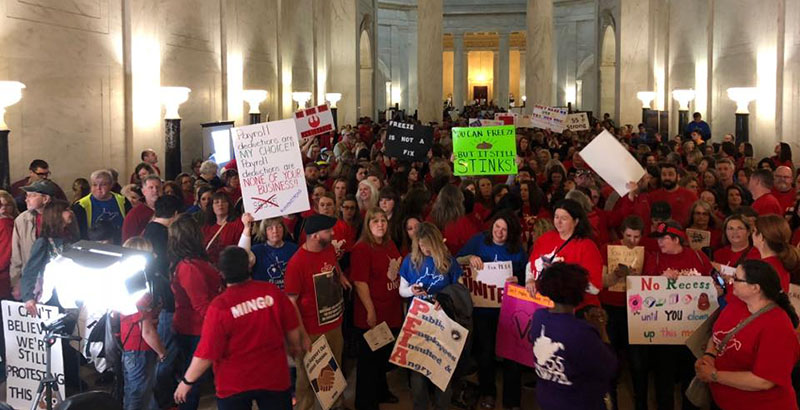 Students in West Virginia are out of school for the seventh straight day after a Tuesday agreement between the governor and teachers to end a strike hit resistance among conservatives in the state Senate.
Public schools in all 55 counties in the state, which serve about 270,000 students, have been closed since last Thursday as public school employees and legislators go head to head over pay and benefits. The governor and union leaders reached a tentative agreement Tuesday night, but the state Senate has stalled progress, causing workers to continue the strike.
After meeting Tuesday afternoon, union leaders and Gov. Jim Justice, a Republican, announced a 5 percent raise for all teachers and other school employees and the creation of a task force to examine the Public Employees Insurance Agency, or PEIA, which provides teachers' health care. They said school would resume Thursday, but legislative leaders had not yet confirmed their support for the plan.
The House of Delegates voted 98–1 to pass a bill approving the agreement Wednesday after fast-tracking it to the House floor. On Thursday, senators voted against a motion to bring the plan to a vote immediately. Senate President Mitch Carmichael, a Republican, sent the bill to the Senate Finance Committee after concerns were raised about the funding for the proposal. The committee is expected to meet Friday afternoon.
Average teacher pay in West Virginia ranked 48th nationally in 2016, at $44,701, according to the West Virginia Education Association. Carmichael said he does not trust that the state will have enough revenue to fund the plan and that the money allotted for the teachers' raises should go toward the PEIA program instead.
At least two district superintendents have said they think the strike will end if the Senate approves the pay raise, the Charleston Gazette Mail reported Friday.
"They are telling us that PEIA cannot be fixed overnight," one teacher told The New York Times. "While we understand that, simply saying there will be a task force is not enough. We need to know who is going to be on this task force. We need specific details about how this is going to be fixed."
Get stories like these delivered straight to your inbox. Sign up for The 74 Newsletter