New Study: More Than 300,000 Children Have 'Vanished' From Schools After Local Police Formed Partnerships With ICE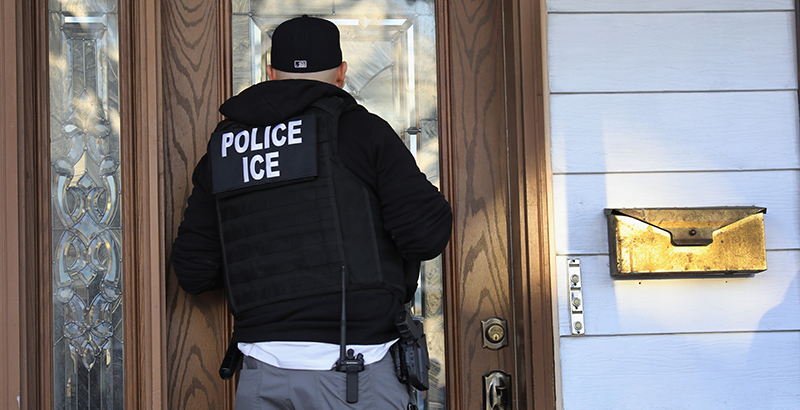 As the Trump administration continues its crackdown on undocumented immigrants, school officials across the country report that the heightened enforcement has caused widespread turbulence. Students express fear that schools are cooperating with immigration authorities, and educators have noted an increase in emotional and behavioral problems.
A recent survey of K-12 educators conducted by the University of California, Los Angeles, highlighted the phenomenon with harrowing examples. In California, a high school teacher observed a girl who refused to eat or talk. The teacher later learned the girl was at a school prom when her mother was deported. A Texas art teacher reported students were drawing images "about people stalking/hunting their family." And in Maryland, a teacher told of a student who attempted to slit her wrists after her mother was deported.
Now, a new study by one of the nation's preeminent education researchers is putting hard numbers on the school effects of one controversial immigration enforcement tactic: partnerships between federal immigration agents and local police. In counties that adopted enforcement partnerships, Hispanic student enrollment dropped by an average of nearly 10 percent within two years of the partnerships being adopted, according to the report. While the study, released this month, did not examine President Donald Trump's tenure — it analyzed data from 2000 through 2011 — it homes in on a policy that has been embraced and amplified by his administration.
Most of the affected students are U.S. citizens.
"Our evidence suggests we're driving students away, compelling them to undertake reactive moves under duress, and that kind of stress and dislocation can be developmentally harmful," said Thomas Dee, a Stanford University professor who wrote the report with doctoral student Mark Murphy. Meanwhile, he said, the agreements could scare families away from moving to a community, "and that could also be potentially harmful."
The report estimates that the voluntary partnerships with U.S. Immigration and Customs Enforcement (ICE) across 55 counties displaced more than 300,000 children during the 12-year period. In those counties, the decline in Hispanic students wasn't observed until after the agreements were implemented, with the most affected being elementary school students. The non-Hispanic student population didn't change over that time period, researchers found, and enrollment wasn't impacted in similar counties where local officials applied for ICE agreements but were not accepted.
Dee said the data didn't touch on the extent to which displaced students were affected by deportations.
"Someone might look at the results and say, 'Well OK, it drove undocumented people away. Maybe it kept them from coming to the community. Wasn't that at some level the intent of the policy?'" Dee said.
But that's not what they found.
Researchers found that the partnerships didn't produce any tangible benefits, like a reduction in crime or more favorable student-teacher ratios. The number of students eligible for free or reduced-price lunch — a common barometer of poverty — wasn't affected. Beyond adverse effects on displaced students, evidence suggests the enforcement agreements corrode trust in local police and are economically harmful.
Federal immigration officials have been partnering with local law enforcement agencies for decades. Created under the Clinton administration in 1996 and named 287(g) for the section of the law that authorizes them, the partnerships provide training to local police officers and empower them with immigration enforcement authority. Some agreements allowed officials to check for immigration violations in jails, while others emboldened police on the streets — raising concerns of racial profiling. Both agreements had similar effects on Hispanic student displacement, researchers found.
Immigration enforcement has also had a profound effect on student academic performance, according to a 2017 report published in the Southern Economic Journal. That report focused on the effects of immigration enforcement on the school performance of Hispanic children with likely undocumented parents. Using data from 2000 through 2013, researchers found that children ages 6 to 13 were 14 percent more likely to repeat a grade, and youth 14 to 17 years old were 18 percent more likely to drop out of school.
Under President Barack Obama, enforcement partnerships were scaled back, and agreements that delegated authority to patrol officers were discontinued. Under Trump, the program has rebounded, with more partnerships than ever before. Currently, ICE has agreements with 78 local law enforcement agencies in 20 states, including Arizona, Georgia, Massachusetts, and Texas.
Even as the number of agreements grow, a new report by the Department of Homeland Security's Office of Inspector General found that the program lacks adequate oversight. The office found that ICE may not be efficiently training local law enforcement officers and is not ensuring they complete training requirements.
"It's hard for us to see any clear benefits of adopting these policies, so the move of the Trump administration to expand them just doesn't appear to have any sound basis in policy research," Dee said. "My best guess is it has more of a political than a policy motivation." Although the Trump administration received swift pushback on a "zero tolerance" policy that separated children from their parents at the border, Dee said the enforcement agreements are also harmful to children and have "been happening on an incredibly large scale for over a decade."
While the Stanford report offers new data on one immigration enforcement mechanism, school officials across the country — including in counties without federal agreements — say heightened enforcement under the Trump administration has taken a toll on their schools, evidenced by, among other things, an increase in student absenteeism.
In the recent survey of more than 5,400 educators by the Civil Rights Project at the University of California, Los Angeles, 84 percent said they observed students who were concerned about immigration enforcement. Additionally, 90 percent of administrators reported a spike in emotional and behavioral problems, and 68 percent reported issues with absenteeism likely related to concerns about immigration enforcement. Respondents included officials from 24 school districts across 12 states.
Patricia Gándara, a research professor and co-director of the Civil Rights Project, said their findings are particularly concerning since the majority of children with undocumented parents are U.S. citizens.
"Those kids have every right to be here, but they're going to be undereducated," she said. "That has an effect on the economy, that has an effect on everything. Anything we do that reduces the quality or quantity of education our students are getting comes back to bite the rest of society."
And while Dee acknowledged that heightened immigration enforcement may be affecting students across the country, he said that "there's reason to suspect that these ICE partnerships that are ramping up layer threats on top of that."
"I would advise local policymakers to think twice before engaging in these partnerships," Dee said, noting that the agreements are voluntary and are often costly for local taxpayers. "Given the evidence we've seen about a lack of benefits in terms of crime reduction and the harms to schools, communities, and economies, it's hard to see why they would want to do that."
Get stories like these delivered straight to your inbox. Sign up for The 74 Newsletter