Armored Vehicles & Grenade Launchers: Trump Revives Program That Gave Heavy Weaponry to School Cops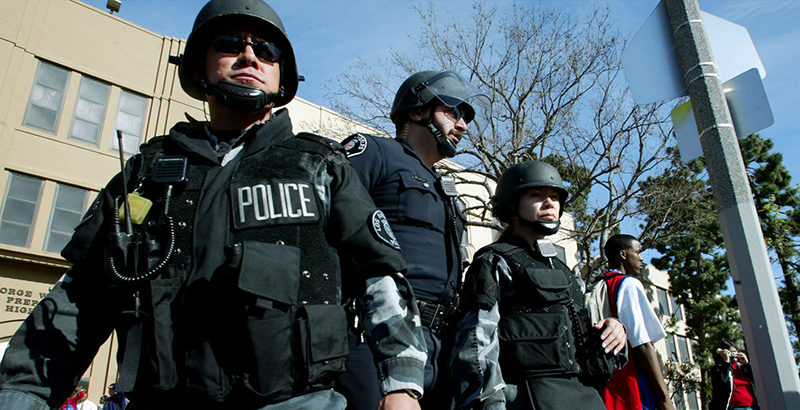 President Trump signed an executive order Monday that reverses Obama-era restrictions on transfers of military equipment — ranging from armored trucks to grenade launchers — to local police departments, including those operated by public school districts.
Signed into law in 1997, the federal "1033 Program" distributed surplus military equipment to civilian law enforcement agencies across the country, reportedly including at least 22 school districts. For example, public records revealed the Los Angeles Unified School District, America's second-largest public school system, used the program to obtain a mine-resistant vehicle, grenade launchers, and more than 60 M-16 rifles. In Detroit, school officials obtained six bomb disposal robots.
Following unrest in Ferguson, Missouri, then-President Barack Obama signed an executive order in 2015 that banned the federal distribution of some military-style equipment to local police, including armored vehicles and ammunition of .50 caliber or higher. That order blocked participation among police agencies "solely serving schools ranging from kindergarten through grade 12." That language didn't extend to districts that enter contracts with local police departments to place officers in schools.
Trump's order voids that Obama-era executive action.
Speaking to the Fraternal Order of Police on Monday in Nashville, Attorney General Jeff Sessions said Trump's order will ensure police departments have access to life-saving gear like Kevlar vests and helmets. The program's revival will also send a strong message, he said, that the federal government "will not allow criminal activity, violence, and lawlessness to become a new normal" and will save taxpayers money. The 1033 program, he said, "provided and recycled more than $5.4 billion in used gear and equipment that taxpayers had already purchased, and made it available to your agencies, to repurpose it in the fight against terrorism, crime, and for disaster relief."
Civil rights groups, however, have long accused the program of militarizing civilian police agencies. In 2014, the NAACP Legal Defense and Educational Fund and Texas Appleseed sent a letter to the Department of Defense's Defense Logistics Agency calling for a moratorium on the program, pointing to participation among school districts in Texas, California, Florida, Georgia, Kansas, Michigan, Nevada, and Utah. Janel George, the fund's education policy counsel, said in a 2014 statement that use of military equipment intensified interactions in Ferguson between community members and police.
"Those same tensions are playing out in our schools between students of color and school police where implicit bias, broad discretion, and little accountability are resulting in excessive use of force, expulsions, and suspensions for minor offenses, and referrals to the juvenile justice system," George said. "Adding military weapons will only exacerbate existing tensions and negatively impact students most vulnerable to overly punitive discipline — especially students of color."
Ahead of Monday's announcement, Janai Nelson, the fund's associate director-counsel, called reviving the program "exceptionally dangerous and irresponsible."
In a series of Tweets on Monday morning, Sen. Rand Paul, Republican from Kentucky, slammed Trump's order, calling the militarization of police "an unprecedented expansion of government power."
The Los Angeles district, which came under widespread scrutiny for its participation in the program, announced last year that it had returned its stockpile of military weapons to the federal government.
Get stories like these delivered straight to your inbox. Sign up for The 74 Newsletter