Nation's First Charter School Teacher Strike Shutters Class for 7,000 Students in Chicago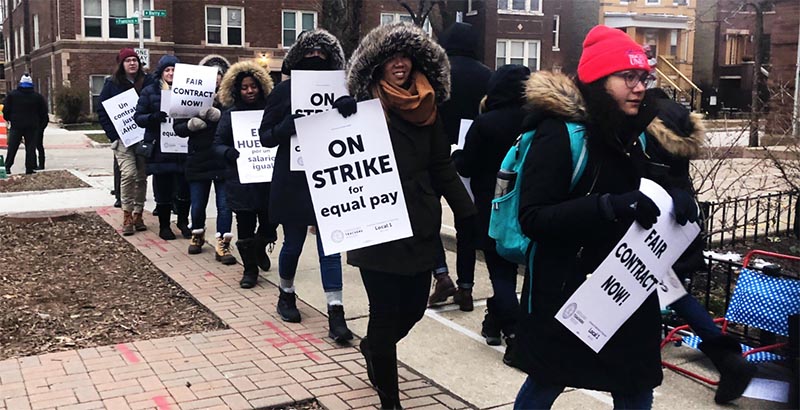 In the first strike of charter school teachers in the nation's history, 500 staff members walked off the job from Chicago's Acero Schools charter network Tuesday morning after negotiations broke down overnight.
The strike forced the network to cancel class for more than 7,000 students in its 15 schools across the city. The teachers' demands include higher pay, more teacher diversity, more special education staff, smaller class sizes, and a shorter school year.
They also want all 15 schools to be declared "sanctuary schools," which would prevent the network from sharing students' information with federal authorities and would bar federal agents from entering the schools without a warrant. More than 90 percent of Acero's students are Latino.
Kids Belong In Classrooms
Alumnos Pertencecen En Las Aulas pic.twitter.com/wOnxIFTqtS

— Acero Schools (@ACEROSCHOOLS) December 4, 2018
Critics have said teachers should be wary of aligning themselves with a union that has consistently fought against charter schools. Andrew Broy, president of the Illinois Network of Charter Schools, called the union's push for a strike a "bait and switch" and said charter teachers joining unions could lead to "the same restrictive contracts that prevent progress in public school generally." Research shows that Chicago's charter schools outperform the city's traditional district schools on several measures.
Although no classes were held Tuesday, the schools were open for students who needed somewhere to go during the day, and breakfast and lunch were served, according to the network's website.
"The sad fact is that interests from outside our community are using our students and our schools as a means to advance their national anti-charter school platform. They don't want our schools to succeed because it doesn't serve their agenda," Acero Schools CEO Richard Rodriguez said in a statement posted online.
Nationally, the vast majority of charter school educators do not belong to unions, but Acero teachers unionized in 2013, joining the Chicago Teachers Union, an American Federation of Teachers affiliate. AFT president Randi Weingarten joined the teachers on the picket line Tuesday.
.@AFTunion President @rweingarten joins striking @UEUChicago educators on the picket line this morning! #CTUACTSstrike #AceroStrike #UNOAcero #faircontractnow pic.twitter.com/SF8WtrBvem

— ChicagoTeachersUnion (@CTULocal1) December 4, 2018
The strike caps a year marked by statewide teacher walkouts in several states where, in many cases, teachers were demanding higher pay, more classroom resources and support staff, and more state funding for education overall.
"This activism is contagious," Weingarten said.
The Chicago Teachers Union president, Jesse Sharkey, said Tuesday morning the strike will continue until an agreement is reached.
Here's what the demonstrations looked like.
At Fuentes ACERO this am, supporting the first charter strike in history in the nation! Support charter teachers and paras fighting for the schools our students deserve! #ACEROstrike #FairContractNow @CTULocal1 pic.twitter.com/kvi8D6ix07

— Sarah Chambers (@Sarah4Justice) December 4, 2018
One of our Acero sisters speaking en Espanol on the importance of special education funding for our students most in need. #CTUACTSStrike #faircontractnow pic.twitter.com/TCAgTNqOCk

— ChicagoTeachersUnion (@CTULocal1) December 4, 2018
PHOTOS: First-ever charter school strike in nation begins as Acero teachers walk out. Read more @Suntimes here https://t.co/wLYi9dvTxg. #Chicago #CTUACTSstrike pic.twitter.com/owcENfYCoF

— Tyler LaRiviere (@TylerLaRiviere) December 4, 2018
#red4ed ⁦@CTULocal1⁩ pic.twitter.com/ZaYvcCGO50

— Richard Berg (@RichardBerg8) December 4, 2018
Lots of honking and support even on this side street!! @CTULocal1 @coreteachers @UEUChicago @ChiACTS pic.twitter.com/Zc0OopEQUR

— CTU Special Ed (@CTUSpecialEd) December 4, 2018
Parents of an Acero Santiago student come out to support their teachers ⁦@CTULocal1⁩ #faircontractnow #CTUACTSstrike pic.twitter.com/G1vLIm7M8Q

— Martin Ritter (@MartinLRitter) December 4, 2018
Acero teachers made history today with the first-ever charter school strike. It was a beautiful thing to see Chicago again writing a new chapter in the story of the labor movement. We stand w/ teachers fighting corporate interests that take money from the classrooms. #solidarity pic.twitter.com/ttrGEl2S7x

— Rossana Rodriguez-Sanchez (@RossanaFor33) December 4, 2018
Martha Baumgarten teaches reading, writing, and social studies to a total of 64 5th graders. She's joining @CTULocal1 on the picket line as negotiations crumbled with @ACEROSCHOOLS. @fox32news pic.twitter.com/xGjspYZ6kA

— Tia A. Ewing (@TIA_EWING) December 4, 2018
Across Chicago, 15 charter schools are on strike. Among their demands are equal pay for equal work, special ed resources, protection for immigrant students, and more. They're fighting for the needs of students. #FairContractNow #ctuactsstrike pic.twitter.com/Il40EGZH9g

— AFT (@AFTunion) December 4, 2018
Get stories like these delivered straight to your inbox. Sign up for The 74 Newsletter