National Trends Carry the Day in Idaho Governor's Race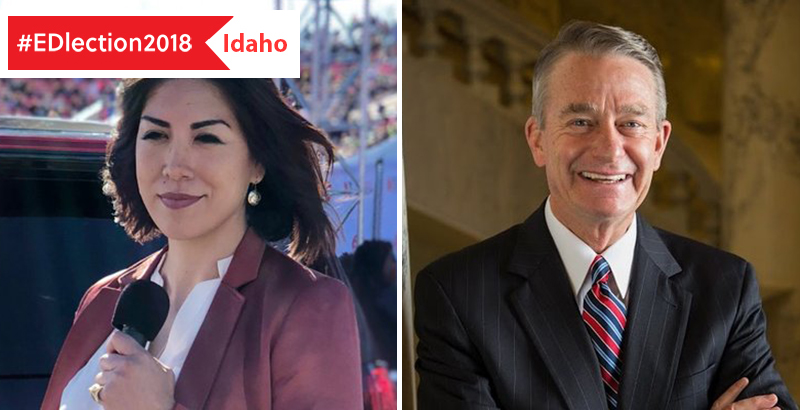 Corrected June 3, 2019
Tuesday's gubernatorial primaries in Idaho mirrored two nationwide trends. A female candidate, state Rep. Paulette Jordan, prevailed on the Democratic side. And Lt. Gov. Brad Little, the top choice of the state's Republican establishment, dispatched two insurgent rivals.
The end of primary season kicks off a general election that most observers expect to be one-sided, since Idaho is one of the most reliably Republican states in the country. In 2016, Donald Trump bested Hillary Clinton there by a 59–27 margin (the remaining votes went to conservative third-party candidates). The state GOP has controlled the governorship and both houses of the state legislature since 1995.
But Jordan's 60–38 victory over Boise businessman and 2014 Democratic nominee A.J. Balukoff — the latest in a string of successes by women candidates — is noteworthy in itself. Though the odds are against a Democratic wave crashing into Idaho, her campaign to become both the first female and the first Native American governor of Idaho has energized party activists both within the state and around the country. She has won favorable media coverage in The Atlantic and the Huffington Post, along with the endorsements of liberal groups like Indivisible and People for Bernie Sanders.
After meeting up at the Women's March in 2017, Jordan even gained the backing of pop icon Cher.
I Met & Talked With Paulette At LAS VEGAS WOMENS RALLY.I Believe The PPL Of IDAHO Would Be WELL SERVED With Paulette Jordan As Their Governor.She is a thoughtful, Caring,Intelligent,Woman,Who Would Work TIRELESSLY 2 BENEFIT"ALL THE PPL"Of IDAHO

— Cher (@cher) January 24, 2018
Jordan and Balukoff were largely in lockstep on education, both arguing for new revenue to lift Idaho's bottom-ranked school funding (48th in the U.S.) and teacher salaries (47th). The Democrats also agreed that the time had come for Idaho to develop a publicly funded preschool program (it is now one of just six states that don't fund early education).
Their one major difference was on the issue of school choice.
Balukoff, well-known to Idaho teachers as a longtime member of the Boise school board, has expressed great dissatisfaction with the state's charter schools, saying they hadn't fulfilled their promise to develop innovative new methods and programs. Jordan — rare among left-leaning challengers in Democratic primaries — came out in favor of charters, praising them as a worthy alternative for kids struggling in traditional schools. Both oppose a proposal passed in the state assembly to create tax-credit scholarships.
While Jordan's convincing win elevated a fresh face in local politics, Brad Little took the inside route to the Republican nomination. Benefiting from the endorsement of three-term governor Butch Otter, who chose not to run for re-election, Little won with 38 percent of the vote. His opponents, the flamboyantly conservative congressman Raul Labrador and real estate developer Tommy Ahlquist, took 32 percent and 27 percent respectively.
Little's win continues a Republican stretch of nominating establishment-friendly figures to seek higher office (the party tagged longtime office holder Mike DeWine to seek the governorship in Ohio and easily shook off the candidacy of ex-convict Don Blankenship in favor of Attorney General Patrick Morrisey in West Virginia). He is seen as close to Otter on education priorities, backing the recommendations of a special task force the governor convened in 2012 to turn around the state's underperforming public schools.
Perhaps the most controversial of these was to keep in place the Idaho Core academic standards, a local adaptation of the Common Core. Just as in national politics, where Common Core became a hated symbol of government overreach, the Idaho Core standards are lampooned from the right. (Labrador promised to scrap them, while Ahlquist's campaign said he "shares the frustrations of many parents" when it comes to the standards.)
Little has generally hewn close to the middle on education, saying in an interview that he was skeptical of private school choice schemes like the scholarship program passed in the state assembly.
"Anytime you do anything that moves the amount of money that's ready to go into the pool for K-12 spending, I've always had an issue with. And some of the voucher proposals I've seen are pretty significant."
Education funding, particularly for rural schools, has been a touchy subject in Idaho. Little has indicated that he would send more dollars to schools by increasing starting teacher salaries from $34,600 to $40,000. He has also said that teachers should receive a "signing bonus" for taking jobs in remote districts, where vacancies can be difficult to fill.
Finally, while both of Little's Republican opponents blanched at the idea of state-funded preschool, Little has said he's open to the idea of the state sending block grants to districts for early education initiatives of their choosing.
Correction: A previous version of this article incorrectly referred to Don Blankenship as a "felon." Blankenship was convicted of a misdemeanor; he was found not guilty of felony charges.
Support The 74's year-end campaign. Make a tax-exempt donation now.