My School's Great, but American Education? Not So Much. New Poll on U.S. Attitudes Suggests Public Perception 'in a State of Flux'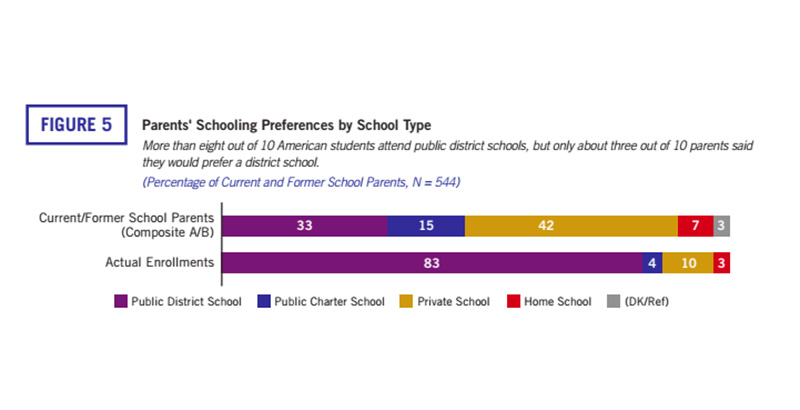 Americans remain as conflicted as ever on K-12 schooling and the proper role of the federal government in it, according to a new poll from the research and advocacy group EdChoice. Respondents generally saw the nation's education system as being on the wrong course and were skeptical of the government's capacity to correct it — but parents also gave high marks to their local schools and approved many federal education initiatives, such as those aimed at students with disabilities.
At a panel discussion of the findings Wednesday at the conservative American Enterprise Institute in Washington, D.C., experts said that the public's mix of pessimism, satisfaction, and uncertainty likely reflects a moment of transition in national policy. With states reclaiming power from Washington under the Every Student Succeeds Act (ESSA) and parents pushing for greater influence in their children's schooling, consensus could remain elusive for some time.
Given the ascent of a new president who has publicly backed the radical expansion of school choice programs nationwide, as well as uncertainty closer to home as states begin to implement their accountability plans under ESSA, Bellwether Education analyst Juliet Squire argued that the national education conversation could be driving some of the public's ambivalence.
"The dialogue on public education is in a state of flux. There's a lot happening, and it's fairly opaque," she said.
The poll is the fifth annual survey conducted by EdChoice, an Indianapolis-based organization that supports school choice policies such as private school vouchers, charter schools, and education savings accounts. Together with similar surveys published by the magazine Education Next and the teachers professional group Phi Delta Kappan, it serves as a barometer of public attitudes on overall school quality and individual education initiatives.
As with those polls, the EdChoice survey often reveals confusion from respondents on important policy details, as well as contradictory views that may hinge more on how questions are ordered or phrased than actual substance.
Fifty-five percent of respondents said that American K-12 education was headed on the wrong track — down from 62 percent last year. By comparison, 27 percent said that it was going in the right direction. As is often the case in polls on education, however, healthy majorities of parents approved of public, private, and charter schools. Ninety-three percent of parents said they were satisfied with their local private schools, and nearly 80 percent said they were satisfied with district schools.

Panel member Marc Porter Magee, CEO of education reform group 50CAN, cautioned against drawing sweeping conclusions based on such widely voiced pessimism.
"I think it would be a mistake to overinterpret a general response like that: 'Education is on the wrong track,' " he said.
Porter Magee pointed instead to parents' stated preferences for schooling options for their kids, which indicate a huge mismatch. While 83 percent of parents reported that their children were enrolled in district schools, just 33 percent said they would explicitly select that option if given choices. Forty-two percent said they would opt for private schools, though only 10 percent said their children were currently enrolled in them.

"Parents don't care about the politics or your party; parents just want what's best for their children," said Gwen Samuel, a public school parent and head of the Connecticut Parents Union. Lamenting the state of education politics, she repeatedly argued that parents wanted greater power and more choice.
Samuel went on to compare the work of the U.S. government in desegregating schools during the civil rights movement to its role overseeing them today. Although minority parents like her had become accustomed to accepting direction from the government, she said, the time for passive acceptance was over.
"Parents can no longer blindly trust systems," she said.
Judging from polling responses, that opinion seems to be widely shared. While 47 percent of EdChoice's sample said that the federal government should take a major role in education, 48 percent said that it should have a minor role, or none at all. Just 42 percent said they could trust the federal government some or most of the time, compared with 53 percent who said they trusted it occasionally or never.
And yet, in another apparent contradiction, strong majorities said that they favored federal funding for disabled or low-income students, as well as federal support for state and local education agencies and federal protection enforcement of civil rights statutes in schools.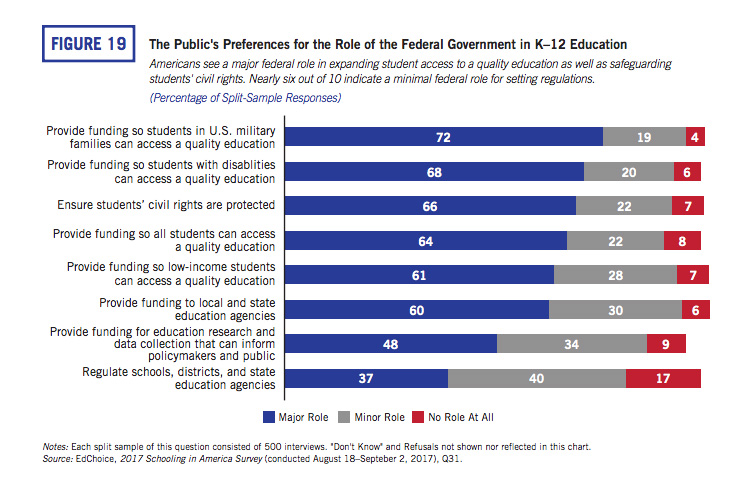 Get stories like these delivered straight to your inbox. Sign up for The 74 Newsletter