Moderna to Seek FDA Authorization for 2-Dose Toddler Vaccine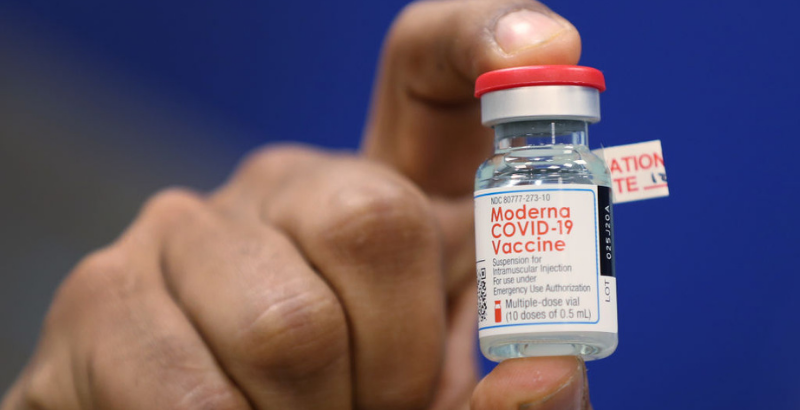 Support The 74's year-end campaign. Make a tax-exempt donation now.
Moderna is requesting that the U.S. Food and Drug Administration authorize a smaller dose of its coronavirus vaccine for children 6 months to under 6 years old, the company announced Wednesday morning.
Their shots, delivered as two 25-microgram doses spaced four weeks apart, produced a similar immune response in young children as two larger doses did in adults. In a 6,700-participant randomized trial the vaccines triggered no safety concerns such as myocarditis or multisystem inflammatory syndrome, the company said in a news release.
"We now have clinical data on the performance of our vaccine from infants six months of age through older adults," said Moderna CEO Stéphane Bancel. "Given the need for a vaccine against COVID-19 in infants and young children we are working with the U.S. FDA and regulators globally to submit these data as soon as possible."
The update offers a glimmer of hope to many parents frustrated that their young children remain ineligible for immunizations more than two years into the pandemic, and who expressed dismay following a dramatic reversal last month from Pfizer-BioNTech, which withdrew its request for FDA approval of shots for children under 5 just days after submission. 
"As an [infectious disease] doc and dad, I've been eagerly awaiting these data for 15 months now — sounds like we'll see them soon. Fingers firmly crossed," wrote Roby Battacharyya on Twitter.
Trial data show shots were 43.7% and 37.5% effective in preventing illness among children 6 months to 2 years old and 2 years to under 6 years old, respectively. No immunized children in the study suffered severe disease or death, but neither did any youngsters in the control group who received no vaccine doses. 
Jacqueline Miller, Moderna's senior vice president for infectious diseases, hypothesized that the lower efficacy reflected the Omicron variant's ability to evade immune defenses. Regardless, she said, the shots convey a level of protection.
"What I will say is 37.5% and 43.7% are higher than zero,", told the New York Times. "If I were the parent of a young child, I would want there to be some protection on board, especially if we see another wave of infections."
The news comes as school mask mandates continue to drop across the country. Some 92% of the largest 500 school districts did not require face coverings as of March 23 compared to only 58% at the beginning of the month and 35% at the beginning of February, according to the data service Burbio.
On Tuesday, New York City Mayor Eric Adams announced that on April 4 the nation's largest school district will be dropping its mask rule for toddlers 2- to 4-years old, which had stayed in place even after the city lifted its K-12 mandate.
Meanwhile, COVID cases in Europe are rising sharply, fueled by the more transmissible Omicron subvariant BA.2. Even as infections continue to drop across the U.S., many experts warn that the increases across the pond could foreshadow a coming wave in America.
As of March 16, 27% of children 5- to 11-year old and 57% of children 12- to 17-years old had completed their two-dose vaccine series, according to the American Academy of Pediatrics.
Support The 74's year-end campaign. Make a tax-exempt donation now.