Michael Bloomberg Pledges $375 Million to Help Prepare Students for College and Careers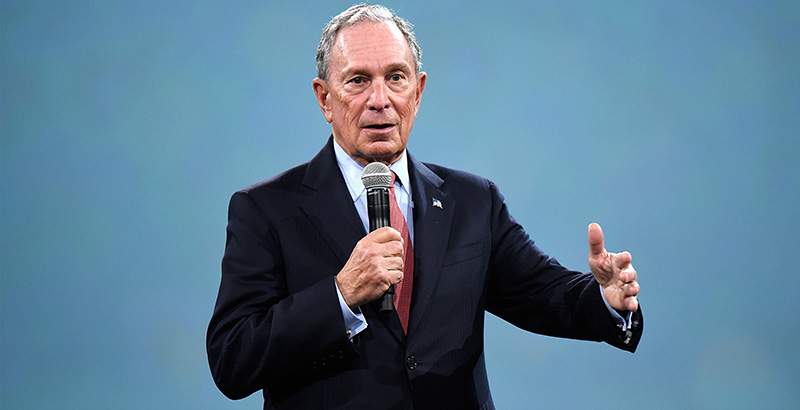 Michael Bloomberg will donate $375 million to education initiatives in the United States over the next five years, he announced at a New York Times event Thursday. The former New York City mayor said he wants to "focus on what works," especially when preparing students for college and careers.
The pledged money will support a range of projects, including the Bloomberg-backed American Talent Initiative and CollegePoint, as well as some career-training programs, and will be geared toward cities and states that are "taking innovative approaches to improving and reforming K-12 education," a Bloomberg Philanthropies spokesperson said in an email to The 74.
Here are three things to know about the announcement:
1 The focus is on higher education and career prep
Bloomberg said there is a "false choice" between making it possible for all students to receive four-year college degrees and preparing students for well-paying careers that don't require going to a four-year college. Right now, he said, some schools are not preparing students for either.
"On the one hand, as evidenced by the low college graduation rate, we are not preparing high school graduates for success in college, and on the other, we effectively treat non-college-bound students as second-class citizens, giving them no preparation for their next steps in life," he said during the announcement.
Currently, career and technical education programs are outdated and stigmatized when they should provide a viable option for students who do not want to pursue an academic degree, he added. Bloomberg pointed to new vocational and skills-training programs implemented in New York City during his mayoral tenure that helped improve the graduation rate.
2 This builds on Bloomberg's existing philanthropic priorities.
Bloomberg has long made education a priority of his philanthropy, and this pledge will benefit at least two initiatives his foundation already supports, CollegePoint and the American Talent Initiative. Bloomberg sees education as a pathway out of poverty. One of the goals of Bloomberg Philanthropies is to "close the growing wage gap between high school and college graduates" by improving education through advocacy and policy change.
"If we want to stop intergenerational poverty, we have to start by helping more of those deserving kids go to good colleges. The better the college, the better the education students receive. And the better the education, the better the opportunities they will have," Bloomberg said in his remarks.
CollegePoint provides free mentoring and support for students from low- and middle-income backgrounds during the college application and selection process. The American Talent Initiative is a collaboration between Bloomberg Philanthropies, the Aspen Institute, research firm Ithaka S+R, and 100 colleges and universities that works to attract, enroll, and graduate high-achieving, low- and moderate-income college students.
3 Some organizations have already set specific goals.
The American Talent Initiative has set a goal for 50,000 lower-income students to enroll at affiliated colleges by 2025. The goal of CollegePoint, the mentoring organization, is for more than half of high-achieving, lower-income students to enroll in top colleges by 2020.
Bloomberg also emphasized that cities and states should be setting ambitious goals related to career and college readiness — and sharing them publicly for the sake of accountability. Some of the pledged funding will support leaders working on innovative approaches to both college and career preparation for K-12 students.
See Bloomberg's full remarks here.
Disclosure: Bloomberg Philanthropies provides financial support to The 74.
Get stories like these delivered straight to your inbox. Sign up for The 74 Newsletter