As Biden Signs Anti-Lynching Bill Into Law, a Mother Reflects on Taking Her Preschooler to Alabama's New Memorial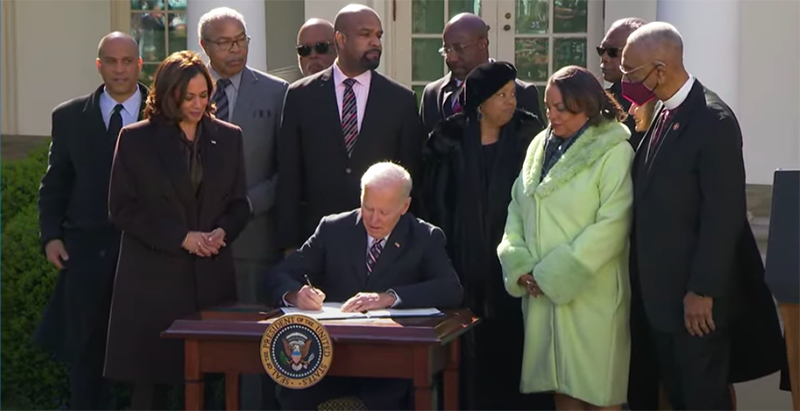 Support The 74's year-end campaign. Make a tax-exempt donation now.
Last month, the U.S. House of Representatives overwhelmingly approved a bill that would establish lynching as a federal hate crime. In a Feb. 28 vote, the House passed HR 55, the "Emmett Till Antilynching Act," by a margin of 422-3.
President Biden signed that act Tuesday afternoon. Watch a replay of the official White House ceremony right here:
With the passage of the new law, we thought it would be the right moment to revive our 2018 essay from contributor Bekah McNeel, about taking a 4-year-old to see the new National Memorial for Peace and Justice in Montgomery, Alabama.
Writing in September of 2018, McNeel noted that: "the first word my 4-year-old learned this summer was 'lynching.'
"I took her on a road trip from our home in San Antonio, Texas, to Montgomery, Alabama, to see the Memorial for Peace and Justice. It's a stunning, six-acre immersive memorial dedicated to the 4,400-plus victims of lynching in the United States. Since it opened in April, I had been trying to find a few days to escape and see it. The opportunity presented itself, and there was an extra seat in the car. So I took my daughter.
"There were a lot of reasons not to take her along on my trip. Thirteen hours in the car. The insane heat wave rolling through the South. The likelihood that she would see or hear something too macabre for her tender psyche, never recover, and live out her days resenting me. Or worse, spend the next year sleeping in my bed. There was also the white anxiety to contend with. Because I'm a journalist, I can usually see a comment section in my head. The terms 'inappropriate,' 'values signaling,' 'white guilt,' 'bad parent,' 'irresponsible,' and about 100 other criticisms roiled in my brain as we packed the car.
"But there was one important reason to make the trip, and that reason won out. It's the same reason we take our kids to aquariums, to natural history museums, and to church: to engage their minds and souls in things that matter, and to show them the truth.
"My kids' family tree is speckled with white, Southern landowners. Some were slave owners. Some were members of the KKK. Many were genuinely good folks, but all were part of a system of racial oppression that lingers today. If we never tell our children this part of their story, if we continue the tradition of glorifying our ancestors and their order, we do them a disservice. We leave them to get 'woke,' without a guarantee that it will happen or do any good.
"So I got over myself and hopped in the car."
Support The 74's year-end campaign. Make a tax-exempt donation now.