NewsfeedLouisiana Teacher Deyshia Hargrave Speaks Out for the First Time Since Being Handcuffed Monday; School Chief Takes Part of the Blame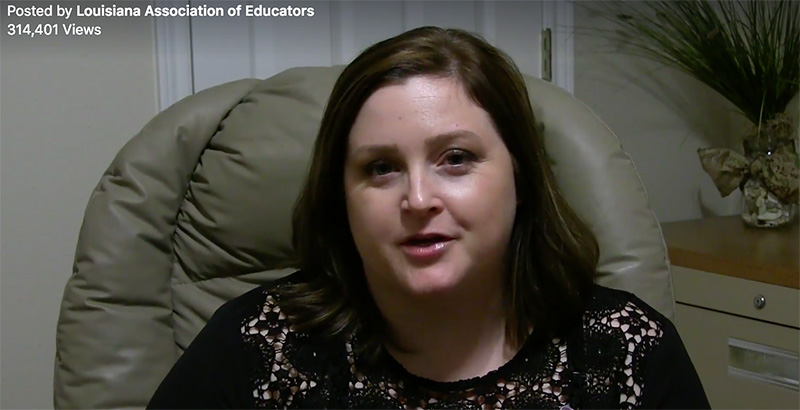 The teacher who garnered national attention for her dramatic arrest outside a school board meeting in Louisiana Monday has spoken out for the first time since the incident, saying she was "appalled" at her treatment and refuses to be "silenced."
Deyshia Hargrave, a middle school English language arts teacher at Rene A. Rost Middle School in Kaplan, Louisiana, first talked about the incident in a video shared on the Facebook page of the state teachers union, the Louisiana Association of Educators, emphasizing the free speech rights of teachers. The union also released a statement in support of Hargrave.
"I'm appalled at this, and you should be too," she said.
Vermilion Parish Teacher Responds to Worldwide Reaction to Arrest

Deyshia Hargrave was taken from a school board meeting in handcuffs this week after questioning a raise given to the Vermilion Parish Schools Superintendent, despite years of stagnant wages for educators that have made it difficult to retain the educators Vermilion students deserve.We #standbydeyshia! Join teachers, education support professionals, parents, students, and public education supporters from around our state in saying: Every educator must be able to speak out without fear or retaliation on the issues that matter to educators, their students, and their communities. Vermilion Association of Educators

Posted by Louisiana Association of Educators on Wednesday, January 10, 2018
Hargrave spoke with the Today show Thursday morning, as did Jerome Puyau, the district superintendent whose pay raise was the source of Hargrave's protest.
"I don't support our people getting arrested. I do not," the superintendent said. "However, a person has to follow the rules."
But Puyau defended his raise. He told KATC that it was his first pay increase in his five years, and that the district has experienced significant improvement under his watch.
"You can always use more money in the classroom," he told NBC. "But when is a good time for the superintendent to get a raise?"
The incident at the meeting began when Hargrave questioned the superintendent and the school board about a performance-based raise of about $30,000 for Puyau. A city marshal asked Hargrave to leave the meeting after she was ruled "out of order" and then arrested her in a dramatic confrontation in the hallway for "remaining after being forbidden" and resisting an officer. News cameras captured the whole thing, and videos quickly went viral and sparked an outpouring of support for Hargrave.
The superintendent's new contract will increase his salary from $110,130 to $140,811, KATC reported. The board voted 5–3 Monday to approve the new contract. The average teacher salary in the district is $47,522. Teachers in Vermilion Parish haven't had a salary increase in almost 10 years.
Puyau said his staff and family have received death threats and obscene messages since the meeting. He told NBC that many of his relatives are educators and "it is not fair" that they are being hurt by the negative publicity.
Video credit: NBC News / TODAY
In an interview with CBS, Puyau, who was at the meeting, took the blame for the backlash over Hargrave's treatment, saying he should have stood up for the teacher's right to speak.
"I'm the superintendent, I'm to blame. I should have stood up, okay? That's what you want to hear and it's the truth, I should have stood her speak." – Jerome Puyau says following the arrest of Deyshia Hargrave in Abbeville https://t.co/56n601Hhht

— KATC TV3 (@KATCTV3) January 11, 2018
Puyau did not respond to The 74's requests for comment.
The city attorney and prosecutor have said Hargrave will not face charges in the case. The school board has indicated it does not wish to press charges either.
School board president Anthony Fontana said in a radio interview that the teacher needed to be escorted out because she was not following meeting rules and that the officer who arrested her was just doing his job.
"This is not about the board, it's about the teacher, and everybody wants to side on the poor little woman who got thrown out," he said. "Well, she made a choice. She could have walked out and nothing would have happened."
Fontana's law office said Thursday he would not answer questions about the incident.
KATC reported that the officer in question, who is a city marshal and serves as a school resource officer in the parish, was previously accused of using excessive force on the job. Shortly after a 2011 incident that involved accusations that he and another officer slammed a man into a building and against a slab of concrete, he was terminated from the Scott Police Department. The lawsuit was settled in 2016.
Submit a Letter to the Editor