Kentucky Governor Says He'll Veto Budget Bill That Ignores Charter Funding While Teachers Are Again Poised to Ramp Up Protests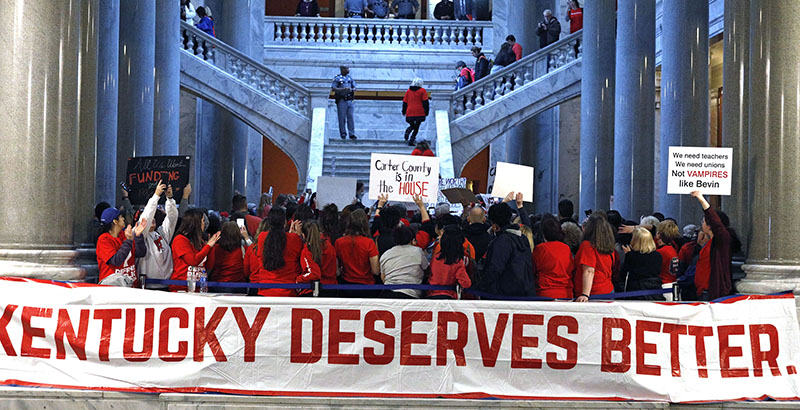 As Kentucky public school teachers rallied at the Capitol and threatened to stage widespread walkouts, lawmakers passed a two-year budget and tax reform bill last week that does not create a funding stream for charter schools in the commonwealth.
Republican Gov. Matt Bevin said Monday he will veto the budget and tax bill. After previously expressing concern that the budget was not fiscally responsible, Bevin said Monday the spending plan includes revenue miscalculations and more expenditures than he recommended, according to the Louisville Courier-Journal.
It is unclear how lawmakers will respond when they reconvene Friday with two days remaining in this legislative session. To overturn the governor's veto, both the state House of Representatives and Senate need a simple majority to vote in favor of the bills. The initial bills were passed exclusively by Republicans in both houses. Legislative leaders from the state House and Senate, both Republicans, released a joint statement criticizing the governor's decision and calling on Bevin to meet with lawmakers before making the vetoes official.
Although the Republican-controlled legislature voted to allow charter schools in 2017 with the governor's support, no charter schools have opened yet. A permanent funding stream was not created when the charter law was passed because Kentucky uses a two-year budget system and it was an off-budget year.
As public school teachers throughout Kentucky staged sickouts and massive rallies in recent weeks to protest proposed changes to their pensions — and teacher strikes in West Virginia and Oklahoma made national news — pressure on lawmakers to meet their demands mounted. The statewide Kentucky Education Association called on the governor to veto a separate pension reform bill that would make teacher pensions more like the 401(k) tax-deferred savings accounts common in the private sector and make some other changes to teacher benefits. Bevin did not indicate Monday that he would veto the pension bill, according to the Courier Journal. He has until midnight Tuesday to act.
While the budget and tax reform process was far more complex than just the question of whether to create a funding stream for charter schools, the day-to-day decisions could have been influenced by teachers protesting and rallying at the Capitol, said Joel Adams, executive director of the Kentucky Public Charter Schools Association. The teachers union opposes charter schools.
"When you've got a whole lot of people standing around outside and yelling at you all day long, I think you're looking for ways not to make them angrier," Adams told The 74.
Adams said he was shocked lawmakers did not include charter funding in the revenue bill but was still hopeful there could be a fix before the legislative session ends on Saturday. Lawmakers are slated to be back in session April 13 for the remaining two days of the session, which is required by law to end by April 15.
When announcing his plans to veto the bills, Bevin discouraged teachers from participating in a strike, saying it would be "irresponsible" and illegal, the Courier Journal reported. The statewide union released a statement indicating it did not support a veto of the budget or the tax reform bill.
At least one local union, from Jefferson County, encouraged teachers to resume their protest at the state Capitol in Frankfort on Friday if they have personal days available.
In Oklahoma, schools were closed and teachers took over the Capitol for a sixth day in hopes of increasing funding for their schools. Because so many students are missing class during the ongoing protests, the state superintendent extended the window for students to take the state exam by one week. As of Monday afternoon, more than 20 districts had announced closures for Tuesday and Wednesday as well because of walkouts.
Education Secretary Betsy DeVos has also reacted to the strikes, saying adult disagreements should not keep students out of the classroom.
"I think we need to stay focused on what's right for kids. And I hope that adults would keep adult disagreements and disputes in a separate place and serve the students that are there to be served," she said, echoing her comments during the West Virginia teachers strike in February.
Get stories like these delivered straight to your inbox. Sign up for The 74 Newsletter