Gallup Poll: Most Educators Don't Want to Be Armed With Guns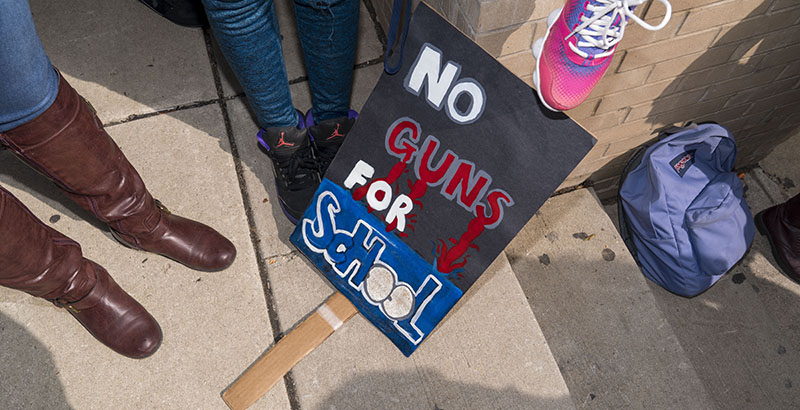 President Trump and U.S. Education Secretary Betsy DeVos may support arming teachers, but the majority of educators are opposed to the idea of their colleagues having guns in the classroom, saying it would make them feel less safe.
That's according to a new poll released Friday from Gallup, which surveyed 497 K-12 educators this month about their attitudes toward guns in schools. Surveyors found that 73 percent of teachers opposed being trained to use firearms while 20 percent favored it.
Meanwhile, 58 percent said arming educators would make schools less safe, even if teachers received firearm training. But 20 percent said it would make them more safe, and 22 percent didn't think it mattered.
Most teachers (71 percent) don't think adding guns to classrooms would reduce the number of victims in a school shooting, while 29 percent said armed educators could help reduce casualties.
But the general public is more supportive of these ideas, with 42 percent approving of training and arming teachers, according to another recent Gallup poll. The overwhelming majority of Americans approve of expanding background checks for gun buyers, more school officer training, and increased school security to help prevent gun violence.
Since the start of 2018, 27 people have been killed and 46 injured during school shootings, according to tracking from The 74.
Student activism after the February 14 Parkland shooting that killed 17 people has dramatically intensified the debate around preventing gun violence in schools. While White House officials and the National Rifle Association have said they would support giving guns to educators to prevent future shootings, student activists and teacher groups have made clear that they do not support these policies, instead advocating for expanding background checks for gun buyers and banning assault rifles.
"I think the idea of arming teachers is frankly one of the dumbest policy ideas I have heard recently," said Nate Bowling, Washington State's 2016 Teacher of the Year and a gun owner, in an interview with The 74.
An armed officer did little to assist during the Parkland school shooting, as reports revealed he stood outside while the massacre was taking place.
The findings of Gallup's poll are similar to those of a poll recently conducted by GBA Strategies for the NEA, the nation's largest teachers union. The majority of teacher respondents (74 percent) opposed arming teachers, with 64 percent saying they would feel less safe and 23 percent saying they would feel safer if educators had guns.
The nationally representative Gallup survey was conducted online March 5–12. The margin of error is ±7 percentage points.
Get stories like these delivered straight to your inbox. Sign up for The 74 Newsletter