From Noblesville to Parkland, These Classroom Heroes Saved Students' Lives During School Shootings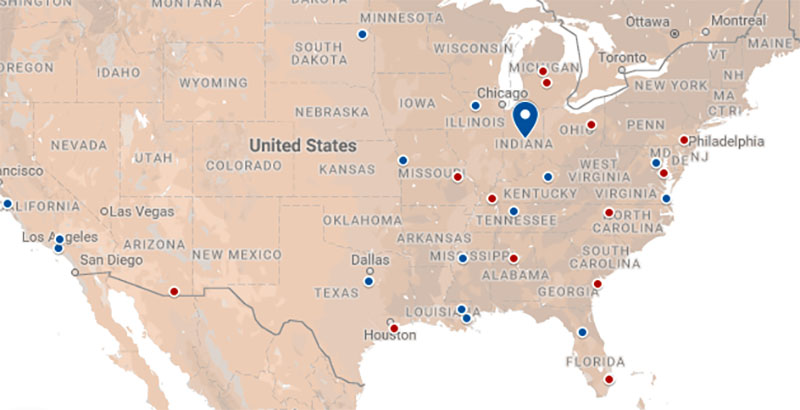 The 74 will be tracking gun-related injuries and deaths at schools throughout 2018. Bookmark this page for the latest reports, or sign up to receive updates straight to your inbox via The 74 Newsletter.
If not for the bravery of science teacher Jason Seaman, authorities say the school shooting at a middle school in Noblesville, Indiana, could have been much more grave.
On Friday morning, a male student walked into Seaman's classroom at Noblesville West Middle School near Indianapolis and opened fire. Springing to action, Seaman, a former college football player, tackled the shooter to the ground and halted the gunfire. Before subduing the suspect, Seaman was shot three times. Also injured in the shooting was 13-year-old student Ella Whistler, who was transported to a hospital in Indianapolis and remained in "critical yet stable" condition Tuesday, the girl's family told the Indianapolis Star.
Noblesville police say a student asked to leave the classroom and "returned armed with two handguns" before opening fire. Police say they received reports of the shooting just after 9 a.m., on Friday, and an officer stationed at the school responded quickly to detain the gunman. Authorities have not identified the suspected shooter.
"My actions on that day, in my mind, were the only acceptable actions I could have done given the circumstances," 29-year-old Seaman, a seventh-grade science teacher, said during a press conference on Monday. "I deeply care for my students and their well-being. That is why I did what I did."
Seaman is among several educators, school resource officers, and students who've taken bold actions in recent months to thwart shootings at schools. Here are several recent school shootings that could've been much worse without swift action from campus heroes:
Santa Fe, Texas
On May 18, a 17-year-old student opened fire at Santa Fe High School in Texas, fatally shooting 10 people and leaving another 13 injured. But John Barnes, a school resource officer who responded quickly to the incident, has been deemed a hero. Barnes and another officer quickly responded to reports of the attack and contained the shooter in a classroom, drawing his attention and gunfire away from other students. After being shot in the arm by a shotgun, which left him in critical condition, Barnes instructed the other officer to leave him behind to ensure students' safety.
"Officer Barnes is a hero," Sheriff Henry Trochesset said. "The two officers that engaged that individual within four minutes, or approximately four minutes — they're heroes. They contained him in that one area, isolated to them and engaging with them, so he did no more damage to other classes."
Dixon, Illinois
School resource officer Mark Dallas was deemed a hero after thwarting a school shooting in Illinois this month before the suspected gunman was able to injure any students.
Matthew Milby, a 19-year-old former student, is suspected of opening fire at Dixon High School near a school auditorium as students gathered to rehearse their graduation ceremony. After spotting the armed suspect at the school, Dallas reportedly confronted the former student, prompting a shoot-out between the officer and the suspect. Dallas shot Milby and took him into custody. Nobody else was injured in the shooting.
"I could not be more proud of the police officer and the way he responded to the situation. With shots ringing out through the hallways of the school, he charged towards the suspect and confronted him, head on," Police Chief Steven Howell said. "Because of his heroic actions, countless lives were saved. We are forever indebted to him for his service and his bravery."
Parkland, Florida
Seventeen people were killed in the February 14 school shooting at Marjory Stoneman Douglas High School in Parkland, Florida. Though it was among the deadliest school shootings in U.S. history, actions by several students and educators were credited for saving countless lives.
Among them is 15-year-old student Anthony Borges, who was shot five times as he used his body as a human shield to protect his classmates from gunfire.
Although Borges lived to tell his story, assistant football coach and security guard Aaron Feis did not. The 37-year-old used his body to shield students from gunfire, an act that cost him his life.
The Cut at New York magazine offers an extensive roundup of the educators, janitors, and students whose heroism helped save lives at Marjory Stoneman.
Behind the numbers:
In 2018, at least 41 people have been killed and 71 have been injured due to school shootings. Learn more about each incident with our interactive map:

This map includes school shootings that took place on campus where a person was injured or killed. Incidents resulting in injury are labeled blue, while incidents resulting in death are labeled red. The most recent incident is indicated with a larger icon. Click on the icons to see details about each incident.
Nationally, nearly 1,300 children (17 years old and younger) die from gunshot wounds each year and 5,790 are treated for injuries, according to a recent Centers for Disease Control and Prevention report. While unintentional firearm deaths and homicides of children have decreased in recent years, suicides have spiked.
Among child gun deaths between 2012 and 2014, 53 percent were homicides, 38 percent were suicides, and 6 percent were unintentional.
Less than 3 percent of youth homicides and less than 1 percent of youth suicides occur at school, according to a recent report by the National Center for Education Statistics.
If we've missed a school incident you think should be included in our coverage, please send an email to info@the74million.org, and bookmark this page for the latest reports of incidents involving the discharging of a firearm on school property that results in a wound or fatality.
Support The 74's year-end campaign. Make a tax-exempt donation now.