Former NEA Chief Eskelsen Garcia, Possible Education Secretary Pick, Under Scrutiny for Comments About Special-Needs Kids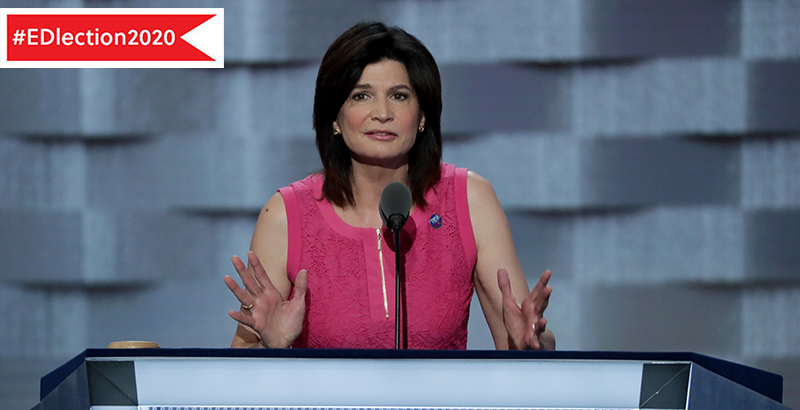 Updated December 18
On December 10, numerous disability rights groups co-signed and circulated a letter they had sent to the Biden transition team, expressing concerns about her track record on issues involving students with disabilities. Read the full letter.
Comments that Lily Eskelsen Garcia made five years ago in an address to a progressive advocacy organization have resurfaced this week as speculation continues over whether the former National Education Association chief will be President-elect Joe Biden's likely pick for education secretary.
In a list of students with diverse needs, such as the "hearing impaired" and "physically challenged" Eskelsen Garcia included "the chronically tarded and the medically annoying."
Eskelsen Garcia apologized, saying the first was a slip of the tongue — she had meant to say "tardy" — and the second was a reference to students who try to annoy their teachers when they have a bad day.
But the disability community didn't take it that way, and now, opponents of a union leader being named education secretary are putting a spotlight on her words.
"And you all were worried about @BetsyDeVosED?" Center for Education Reform CEO Jeanne Allen tweeted Monday. "Did you ever hear her say anything mean about a child?"
"She has a history of being incredibly caustic and negative about a lot of things," Allen said. "I think she's got a history of saying pejorative things."
Allen added that those who raised the issue are advocates for children with special needs. "These are not people who are particularly on one side or another," politically, she said.
The question is whether Eskelsen Garcia's comments — whether intentional, misunderstood or something else — could derail her chances at the nomination.
It's "hard to imagine that would be a deal-breaker for someone with her long public profile and bona fides," said Rick Hess, director of education policy studies at the American Enterprise Institute, a conservative think tank."But sensitivities are such that almost anything is possible."
Eskelsen Garcia, Utah's Teacher of the Year in 1989, served as NEA president from 2014 until earlier this year. In 2017, she led an effort to craft the union's policy statement on charter schools, saying it supports only those that are authorized and held accountable by school districts, not those that are managed by private organizations.
Joanne Cashman, an independent consultant, worked with Eskelsen Garcia on issues related to special education when Cashman directed the Individuals with Disabilities Act Partnership at the National Association of State Directors of Special Education. She said Eskelsen Garcia continued that work while she was president, after federal funding ended.
"She has supported that kind of relationship-building, and that idea that we have to learn by interacting with other people, not just at one-time events," Cashman said. "She has done what she could do to move [the work] through the channels at NEA so it had organizational support."
Leslie Finger, an assistant professor of political science at the University of North Texas, agreed that Eskelsen Garcia's comments likely wouldn't be enough to knock her off the top of a list of Biden nominees, especially since she has strong support among
Hispanic groups
.
But Finger doubted that someone with a more moderate stance toward charter schools and school choice would be getting the same treatment.
"I think that the education reform community doesn't want somebody so closely aligned to the teachers unions and has an incentive to discredit her," Finger said. "Prominent education reformers seem to have been broadcasting these comments."
The 74 reached out to the NEA for comment but did not receive a response.
Hess added there's a growing "real sense she could be the pick," and that Eskelsen Garcia "checks a lot of boxes for Biden and has a strong public presence."
If that is the case, and the Senate confirms her — which could hinge on the results of the Georgia runoff election next month — advocates for students with disabilities will be looking for how she'll approach issues related to special-needs children.
"The leader of the agency responsible for implementing the [Individuals with Disabilities Education Act] and enforcing protections through the Office for Civil Rights needs to be a leader in establishing that students of all abilities are valued and respected," said Lauren Morando Rhim, executive director and co-founder of the National Center for Special Education in Charter Schools.
The sentiments Eskelsen Garcia "has shared in the past reflect a sense of 'otherness' which is hugely problematic to everything we are trying to accomplish for students with disabilities," Morando Rhim added. "We would love to hear more about her plans to elevate students with disabilities and make that message of value and respect clear if she is selected for the role."

Support The 74's year-end campaign. Make a tax-exempt donation now.