For 36 Million Workers, a College Degree Was the Path to a Good Job. But That's Not the Only Way to Get One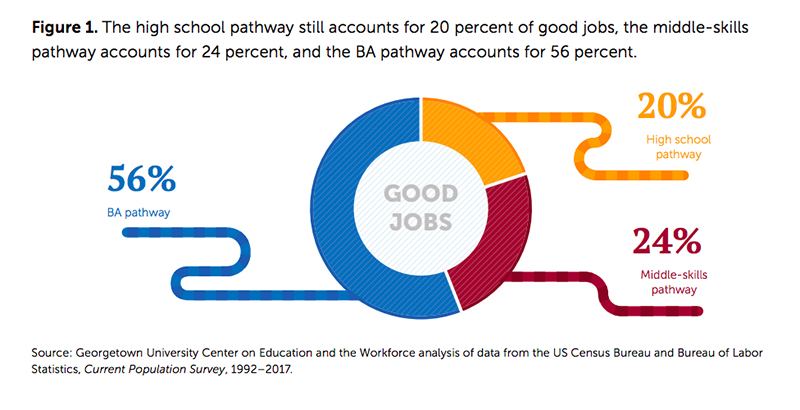 If you want a good job, getting a bachelor's degree is still your best bet.
More than half of good jobs — 56 percent — are held by those who have at least a four-year college degree, a number that's grown by 101 percent in the past 25 years.
But that's not the only way to get a good job. One-quarter of good jobs are held by those who have a middle-skills education, such as a certification or associate's degree. And 20 percent of workers with good jobs have just a high school diploma, though that number has declined over the past quarter-century.
That's according to a new report from Georgetown's Center on Education and the Workforce and JP Morgan Chase & Co., which analyzed data from the U.S. Census Bureau and Bureau of Labor Statistics from 1992 to 2017.
The researchers defined a "good job" as one that pays at least $35,000 for workers 25 to 44 and at least $45,000 for workers 45 to 64. As of 2016, median earnings for all workers with a good job were $65,000.
From about 1991 to 2016, the number of good jobs for people with at least a bachelor's degree doubled in size, jumping from 18 million to 36 million. Middle-skills-level jobs grew by 3 million, while high school jobs decreased by 2 million.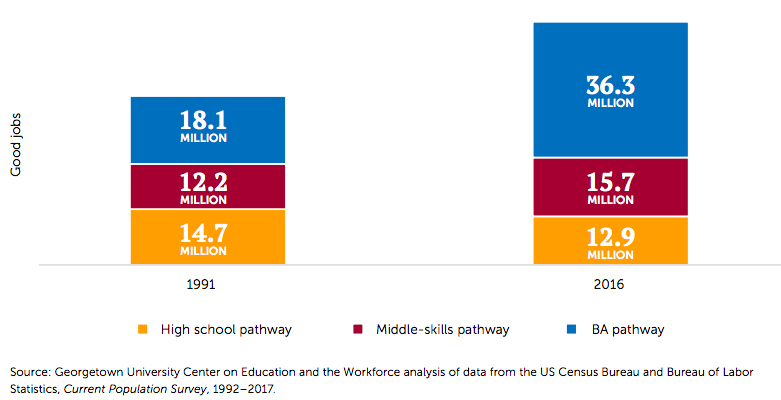 However, this doesn't mean that schools should solely focus on preparing students for bachelor's degrees, said Jeff Strohl, the center's director of research and a report co-author.
"I think that getting people as far along in their educational attainment as they feel is good for them is the right move," he said.
The number of good jobs held by those with associate's degrees has also increased over the past 25 years by more than 3 million, or 83 percent. Associate's degrees are part of this middle-skills educational pathway, which in 2000 surpassed the high school diploma in producing good jobs. However, the number of good middle-skills jobs — which range from firefighters to health care technologists and technicians — has remained well below those for bachelor's degree holders.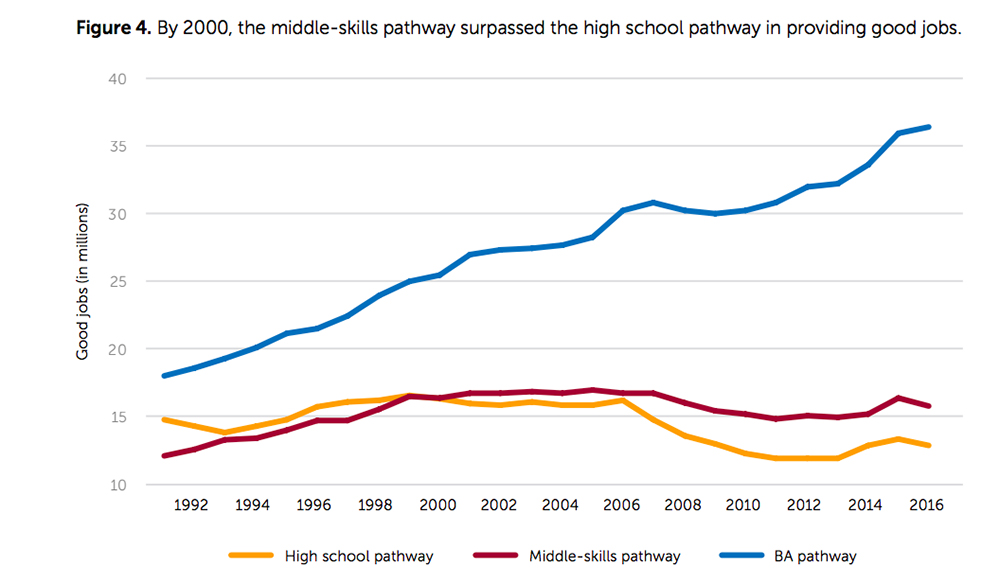 Globalization and automation have caused a decline in manufacturing jobs over the past few decades, which affected the number of good jobs available to workers with a high school diploma. Meanwhile, more good jobs today require workers to have a deeper skill set as machines take over repetitive tasks. But the report authors said there are still 13 million good jobs for this education level, including truck drivers, carpenters, and construction equipment operators. Most of these jobs are held by men.
A high school diploma was enough to launch many workers into the middle class in the 1980s, what the authors called "the pinnacle of the high school economy." In 1991, about half of workers ages 25 to 34 had a high school diploma or less, while 25 percent had at least a bachelor's degree. In 2016, the number of workers with only a high school diploma dropped to 30 percent, while those with at least a four-year degree rose to 40 percent.
For JP Morgan Chase & Co., this report emphasizes that "it's not bachelor's degree or bust," said Jennie Sparandara, the company's head of workforce initiatives. Sparandara said she hopes the report can show education leaders and policymakers that there are still multiple pathways to prepare students for a good job.
JP Morgan has invested $75 million in preparing students for these middle-skills jobs through its New Skills for Youth initiative. This is a competition that provides money to states to create or expand ways for high school students to prepare for careers through certification programs or apprenticeships. Ten states have received $2 million each to develop these plans: Delaware, Kentucky, Louisiana, Massachusetts, Nevada, Ohio, Oklahoma, Rhode Island, Tennessee, and Wisconsin.
"Many school systems are still lagging behind in terms of really thinking about how you prepare young people for college and career," Sparandara said. "We are supporting efforts whereby states are looking more closely at how they are coaching young people on what opportunities look like post-graduation, in addition to enrollment in a four-year degree."
Support The 74's year-end campaign. Make a tax-exempt donation now.