Feds Award $8 Million in Emergency Aid to Hurricane-Struck Districts — Puerto Rico Ed Secretary Says Recovery Will Cost $1 Billion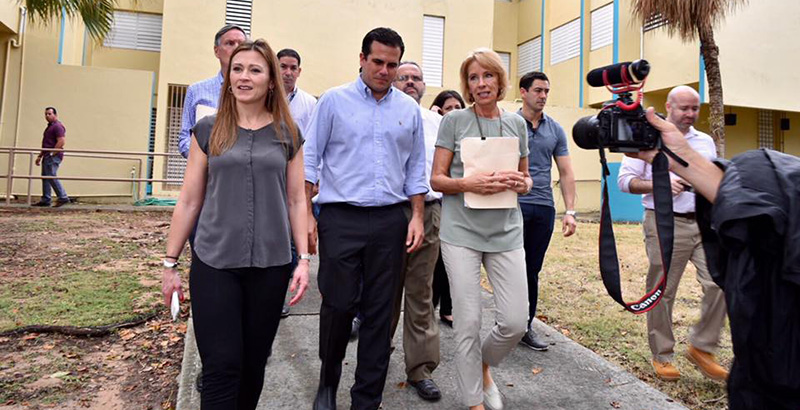 The U.S. Department of Education announced Thursday that it will dole out $8 million in federal emergency response money to the education departments in Texas, Florida, Puerto Rico, and the U.S. Virgin Islands, following hurricanes there this fall.
Puerto Rico Education Secretary Julia Keleher told The 74 she is grateful for the federal funds, but the island's battered education system will need at least $1 billion to rebound from Hurricane Maria.
A $2 million grant has already been awarded to the Texas Education Agency through the federal Project School Emergency Response to Violence program, commonly known as Project SERV. Plans to award $2 million grants each to Florida, Puerto Rico, and the Virgin Islands are in motion, according to an Education Department news release.
"The victims of these hurricanes remain in our constant thoughts and prayers, but as I continue to visit the many impacted schools, I am heartened and in awe of those who are working around the clock to ensure our nation's children are able to get back to class as quickly as possible," Education Secretary Betsy DeVos said in the release. "While Project SERV grants are but a small part of this administration's overall recovery and rebuilding efforts, they provide much-needed funds to help schools become operational again. As these funds are distributed, the Department of Education will remain a partner in the long road to recovery."
The announcement came a day after DeVos visited storm-battered schools in Puerto Rico and the Virgin Islands. While in San Juan, she met with Gov. Ricardo Rosselló and Keleher.
On Thursday, Keleher told The 74 the visit was productive.
"It was a packed visit, but it was time extremely well spent," Keleher said. "I got the sense that she is genuinely concerned about the welfare of public education in Puerto Rico."
Even though Florida and Texas schools were battered by Hurricanes Harvey and Irma, school officials there have embraced an influx of students from the Virgin Islands and Puerto Rico since Hurricane Maria devastated the U.S. territories in September. Figures released this week by Puerto Rico's Department of Education show that more than 6,400 Puerto Rican students have fled the island to schools on the U.S. mainland, primarily in Florida.
Officials at Orange County Public Schools, which serve Orlando, told The 74 earlier this week they've welcomed 1,530 hurricane evacuees to their campuses this fall.
Puerto Rico's 1,113 public schools were closed after Hurricane Maria struck the island Sept. 20 as a Category 4 storm. As of Thursday, 651 of those schools — more than half — had reopened, Keleher said.
The Project SERV grant program was created to help local education agencies recover from traumatic events that disrupt learning environments, including natural disasters and student homicides.
"Our goal is to just see that children can get back to school and get back to learning," DeVos told reporters in Puerto Rico on Wednesday. "We look forward to continuing to work with the superintendent and the governor in trying to facilitate that to the extent that we are able to. We are here as partners to do that."
Support The 74's year-end campaign. Make a tax-exempt donation now.