Florida Schools Ask for More Funds From State, Feds to Handle Influx of Displaced Students From Puerto Rico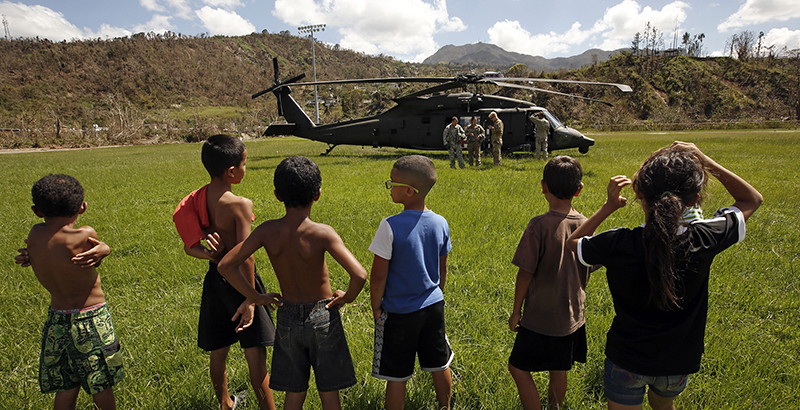 As Florida schools open their doors to hundreds of new students from storm-struck Puerto Rico — with even more expected to arrive in the weeks and months to come — district leaders are calling on state and federal lawmakers for help.
Educating children isn't cheap, especially those who may arrive at mainland schools with heightened needs for English language supports, counseling services, or special education accommodations. In order to handle this influx of children, lawmakers and district leaders say, schools will need more money.
"Many of these students will be English language learners, since the language of instruction in Puerto Rican public schools is Spanish," Rep. Stephanie Murphy, who represents part of Orlando in Congress, told The 74. "I want to make sure that these schools, given the infusion of the new students, can continue to accommodate for the English language learners without impacting the quality of education for their existing students."
Murphy sent a letter last week to the House Appropriations Committee, calling on Congress to provide emergency funds to school districts and colleges that enroll students displaced by the recent hurricanes, including those from Puerto Rico, the U.S. Virgin Islands, Texas, and South Florida. The letter was signed by 30 lawmakers, both Democrats and Republicans, from six states with large Puerto Rican populations where evacuees are expected to flock.
After Hurricane Katrina hit New Orleans in 2005, Congress shelled out $880 million to help districts that enrolled displaced students, distributing the money to schools in 49 states and the District of Columbia. "We're looking at something on the same order, if not larger, than the number of students displaced from Hurricane Katrina," Murphy said, noting that Hurricane Maria affected 3.4 million people in Puerto Rico alone. Weeks after the storm struck the island Sept. 20, most residents still lack running water and electricity, and its public schools have just begun to reopen.
On Thursday the House approved a $36.5 billion emergency relief package to fund recovery efforts in Puerto Rico and on the mainland. Although funding for schools wasn't included, Murphy said she expects additional aid for hurricane and fire relief. "The overarching goal is to get the funding to those individual schools and school districts that are enrolling the displaced students so that the funding is targeted specifically at those that need it most," she said.
On Oct. 6, Florida Gov. Rick Scott waived rules to make it easier for Puerto Rican students to enroll in Florida's schools. As of Thursday, 294 hurricane evacuees, including 266 students from Puerto Rico, had enrolled with Miami-Dade County Public Schools. Orange County Public Schools, which includes Orlando, has seen even more, with 680 hurricane evacuees enrolled as of Thursday, including 462 from Puerto Rico.
In a letter to Scott and Education Commissioner Pam Stewart on Monday, Florida PTA President Cindy Gerhardt said the state should provide additional funds for public school districts, which will absorb a majority of students who flee Puerto Rico to their state.
"We know that traditional public schools cannot and should not turn away any child, regardless of whether they are at or above capacity," Gerhardt wrote. "It is imperative that our schools are prepared to support each of these students where they are and to make certain they have a continued path to reach their potential."
Getting more state money to schools that accept these students, however, may be a stretch. Unless the Legislature grants districts additional funds, Orange County Public Schools spokesman Scott Howat said, the odds are zero.
This week, the state Education Department completed its twice-yearly survey of districts' enrollment, so any students who arrive after Monday will not be included in upcoming state appropriations. In a letter to districts, Stewart said districts that experience an influx may request an alternative student membership survey, administered in December, to receive per-pupil funding for new enrollees. But district leaders say it's unlikely the influx will meet the alternative survey's minimum requirements.
To qualify for additional state aid, total district enrollment must exceed 5 percent of its projected student count, or a specific school's enrollment must jump by 25 percent. But administrators in Orlando and Miami said new Puerto Rican students aren't concentrated in a handful of schools. In order to meet the 5 percent threshold, more than 10,000 students would have to enroll in Orlando schools between Monday and February. Miami's schools would have to see an influx of more than 17,500 kids.
"We have to have money in order to hire teachers, for example, or bring in additional facilities if we need to add portable classrooms in order to help the impact," Howat said. "Having such a wide range, to go literally from [680] that we have today to get to 10,000 is a huge number, but everywhere in between, anywhere you land, 5,000, 6,000, is significant."
Miami-Dade Superintendent Alberto Carvalho sent a letter Oct. 6 asking Stewart to conduct the alternative survey, even though the district doesn't expect to meet its threshold. Noting the increase the district has seen already, Carvalho said that "there does not appear to be any sign of abatement, given that flights from San Juan have not yet been normalized."
So far, 12 districts and 19 charter schools have requested alternative surveys, according to Politico Florida. Deputy Education Commissioner Linda Champion, in charge of finance and operations, told members of the House education committee on Wednesday that she has met with district finance officers and "we have not gotten the sense that they're anticipating being overwhelmed with numbers of students at this point."
Without assistance from the alternative survey, Miami officials are turning their attention to lawmakers in Tallahassee and Washington, D.C., said Iraida Mendez-Cartaya, the district's associate superintendent in charge of intergovernmental affairs.
"We are welcoming our sisters from the Caribbean, but we want to make sure that we are funded to meet their needs," she said. "We know that they're going to need social services, psychological services, there probably will be a need for more counselors in our schools, but we're working through that process."
Get stories like these delivered straight to your inbox. Sign up for The 74 Newsletter