Fears of a School Superintendent Exodus: With Data Revealing Massive Pandemic Turnover, New Survey Shows Another 1 in 4 Leaders Expect to 'Leave Soon'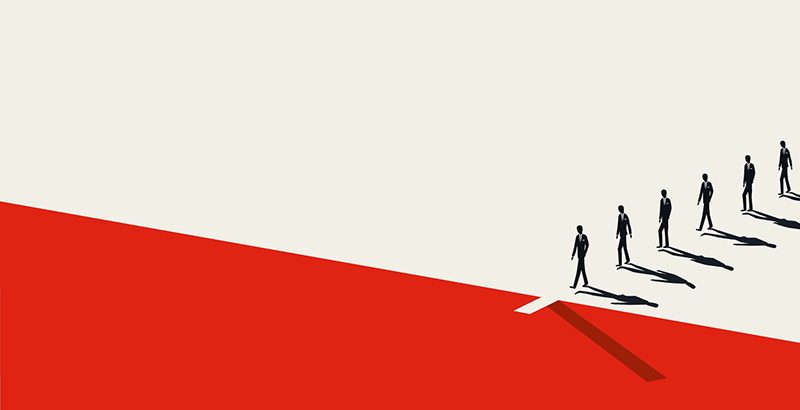 Support The 74's year-end campaign. Make a tax-exempt donation now.
More than a quarter of America's superintendents plan to leave their posts imminently — and hundreds more are unsure they want to keep balancing pandemic-era 67-hour work weeks and staffing challenges, a new RAND survey of over 350 district leaders has found.
While RAND's early look at 2021 departure rates suggests the "big quit" has yet to play out among superintendents, an emerging trend raised concern: Urban school district superintendents are leaving in higher numbers than their suburban and rural counterparts. And that churn could further damage the districts, composed predominantly of students of color who were disproportionately impacted by the pandemic.
At the same time data from ILO Group, an education strategy and policy firm, show about 37 percent of the nation's 500 largest school districts have experienced leadership turnover since the pandemic began.
"At a time when school systems and students most need steady leadership and stability, this level of turnover is likely to impact not just individual districts' pandemic recovery efforts, but our country's recovery as a whole," Dr. Julia Rafal-Baer, co-founder and managing partner of ILO Group, told The 74.
"We need all hands on deck right now to prevent a lost generation of students," Rafal-Baer added.
ILO Group's research also found the turnover in large districts exacerbated gender gaps: 70 percent of districts that have appointed permanent replacements have chosen men. And of the women superintendents who left since March 2020, 76 percent were replaced by men.
While an abundance of research analyzes staff, substitute and teacher shortages, the last national analysis of superintendent turnover was published more than 15 years ago.
In 2006, 12-14 percent of superintendents left their posts. The 2021 departure rate, gleaned from about 3,000 district leaders in RAND's latest American School District Panel survey, is right on par: 13 percent. But with the effects of the pandemic lingering, school district leadership change can affect progress.
Researchers say the trends bubbling underneath the average are worth a closer look, particularly as neither report analyzes the racial or ethnic backgrounds of leaders leaving.
Four important findings from the reports:
1 About 26 percent of current superintendents will likely "leave soon." Another quarter is still undecided.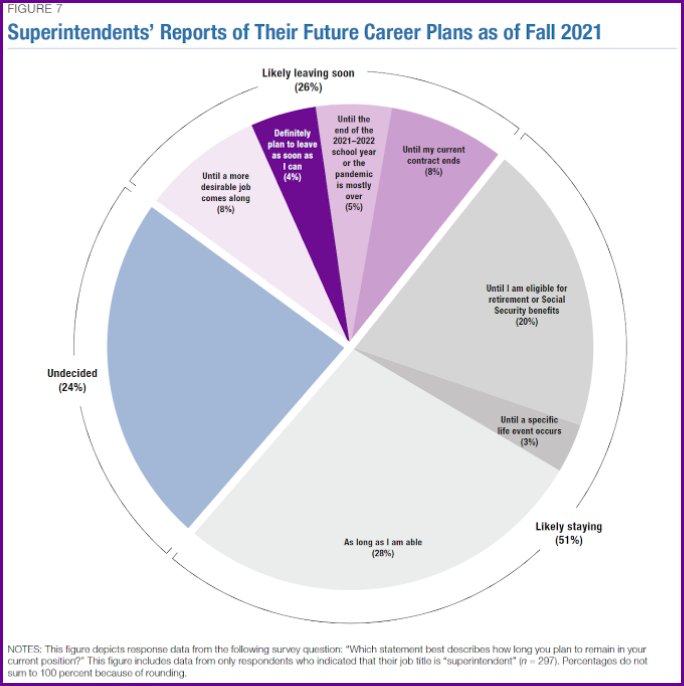 With little differences across urban, suburban and/or high poverty districts, superintendents are split on whether they want to continue leading school systems.
Projections could play out differently: some of the 20 percent who are "staying" until they're eligible for benefits, for instance, may be near retirement age and leave within a year.
Still, the uncertainty with which many approach their career is clear; likely the result of overwhelming workloads. Pre-pandemic, the average superintendent worked 59 hours a week; according to RAND's November survey, 67 is now the norm.
2 Urban superintendents left their jobs more often than suburban and rural district leaders.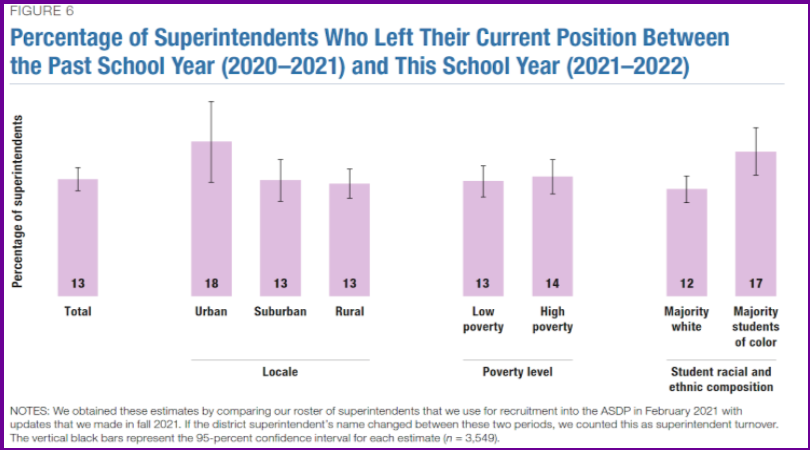 About 18 percent of urban superintendents left their position between spring and fall 2021, compared to about 13 percent of suburban and rural leaders. It is indicative of a persistent pattern that urban schools and districts experience higher teacher and staff turnover.
"We are noticing some worrying patterns about urban districts. The majority student of color districts in particular are expanding hiring at higher rates than other districts," suggesting they're more impacted by staff shortages, said Melissa Kay Diliberti, an assistant policy researcher at RAND.
In a previous survey, RAND found urban districts were more likely to face significant challenges like enrollment declines.
"When you put a lot of these patterns next to each other, it creates a more formidable work environment, which perhaps is related to superintendents' likelihood of leaving," Diliberti said.
3 The superintendent gender gap is getting worse in the country's largest districts.
ILO Group's analysis of the 500 largest American school systems found that of districts who have appointed permanent replacements since March 2020, 70 percent have chosen men. And of the 51 women who have left since March 2020, half of whom served schools in western states, 76 percent were replaced by men.
"Progress to close the gender gap in the leadership of our nation's public schools was already slow, and now it's gotten more severe," said Rafal-Baer. "Districts pledge diversity and inclusion, but the data from our research and AASA show that a majority of districts still consistently – and increasingly – hire white men for the top jobs. And far too often the white men have less experience than the women and leaders of color they compete against."
ILO Group recommended state education leaders close pay gaps; work with search firms and school boards to set goals for gender equity; build mentorship networks for women to enter education leadership; and support contracts with stronger family leave policies.
4 About 37 percent of the country's largest 500 districts have had a leadership change since March 2020.
With leadership turnover in large districts averaging 18.5 percent per school year, well beyond the national average, larger districts may be facing concentrated challenges: political polarization, unfinished pandemic learning, youth mental health crises, longer workdays, teacher shortages and enrollment challenges.
The disruption caused by these departures will disproportionately impact students of color, who predominantly attend larger districts.
In addition, by not making superintendent turnover and demographic data publicly available, federal agencies enable "inequities rooted in discrimination that historically exist in superintendent hiring practices to go largely unchecked," Rafal-Baer added.
Support The 74's year-end campaign. Make a tax-exempt donation now.