Exclusive: New National Initiative Pathway 2 Tomorrow Bestows $100,000 Innovation Award to Two Groups Promoting Student Voice in Iowa & Kentucky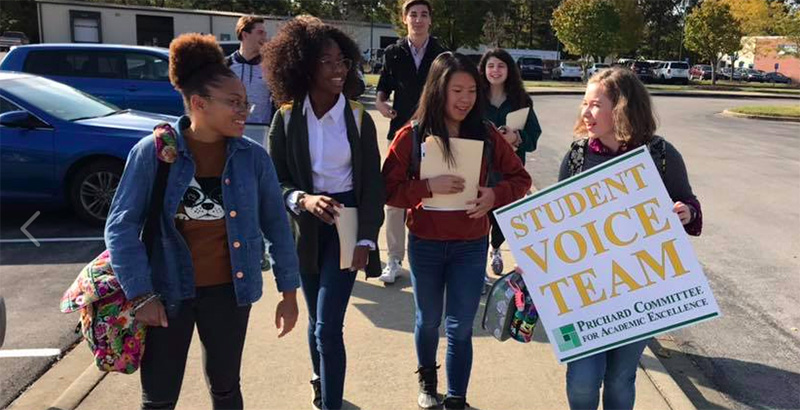 When Kay Augustine first heard about an opportunity to pitch local, innovative education ideas from underrepresented voices, her first thought went to the students in her home state of Iowa. Augustine, a project director for the Iowa Department of Education's School Climate Transformation Grant, wasn't sure if student voices qualified for this initiative, so she asked the organization spearheading it, Pathway 2 Tomorrow, if a student-centered proposal was OK.
Not only was it OK, but the Pathway 2 Tomorrow committee picked Augustine's proposal and another from a student voice group in Kentucky to share its first $100,000 innovation award.
Pathway 2 Tomorrow, led by former New Mexico secretary of education Hanna Skandera, was created last year to find and cultivate local education ideas from people who don't always get a chance to share them. The Iowa Department of Education and the Kentucky Prichard Committee Student Voice Team will each receive $50,000 and will eventually collaborate in their efforts to elevate student voice.
"To me, these proposals clearly articulate the value of student voice and action," Skandera said. "I think we've always said students matter, but I think we're getting past the 'Hey, we should have a student council' to 'Wait a minute, how do we actually empower our students to impact at scale their own education and the policy that shapes their education?'"
The winners will work with coaches from national education organizations that have partnered with Pathway 2 Tomorrow to give advice for shaping their ideas. They will also showcase their proposals in some way, such as a paper or presentation, to share what they've learned with others working on student voice.
In Kentucky, the Student Voice Team is run by the Prichard Committee for Academic Excellence, an advocacy nonprofit focused on improving education in the state. The organization will use the award to create a think tank that will train students in identifying and solving education problems they and their peers face. It will also help more students, especially those from low-income backgrounds, become involved in the group.
The committee already has a strong start: Over the past six years, the Student Voice Team has grown to involve 100 students across the state who conduct their own research on education, lead legislative campaigns, and write op-eds about issues like school safety. Recently, the team interviewed students to learn more about the challenges they faced in getting to and through college. Their work culminated in a book called Ready or Not. The students also helped lead a successful policy effort to fully fund Kentucky college scholarships for low-income students.
"Young people cannot wait until they turn 18 to pay attention to public life, because others are making decisions that will directly affect their lives right now," said Rachel Belin, the team's founding director. "To me, the Pathway award is recognizing student voice as a potential game-changer in our public schools."
In Iowa, the award will be used to give students a greater voice in their school climate. The state's Department of Education has made improving school climate a priority by administering annual student surveys that include in-person follow-up conversations to better understand the students' responses. Not all schools are able to have these follow-up discussions, though, so Augustine will use the award to help all schools participate.
"The visibility, credibility of having student voice [recognized] as a key part of education innovation from the national level with these partnership organizations, it just thrills me," Augustine said. "I've been so impressed by the capability, sincerity, and passion of students when they are empowered to help make a difference."
Student voice has been an emerging issue for a number of years, but it gained traction after the Parkland shooting nearly a year ago sparked a nationwide student walkout protesting gun violence. Young voter turnout was 10 percentage points higher in the 2018 midterm election than in 2014, showing increased interest in civic engagement.
Pathway 2 Tomorrow received 240 proposals from 39 states. In addition to the two winners of the $100,000 award, 22 organizations won $15,000 grants for their innovative ideas. All will receive coaching from national partner organizations and eventually share their ideas with policymakers and other education leaders.
Skandera also hopes the initiative can bring bipartisanship to education, an issue that is often politically divisive.
"Our country seems relatively divided at this point, not just on education, but across the board," she said. "We need a space where we can come together and cast a vision that's in the best interest of our kids and our communities."
Get stories like these delivered straight to your inbox. Sign up for The 74 Newsletter