EduClips: What's Holding Up Florida's ESSA Plan?; Las Vegas Schools See 7 Gun Incidents Since Start of Academic Year — and More Must-Reads From America's 15 Biggest School Districts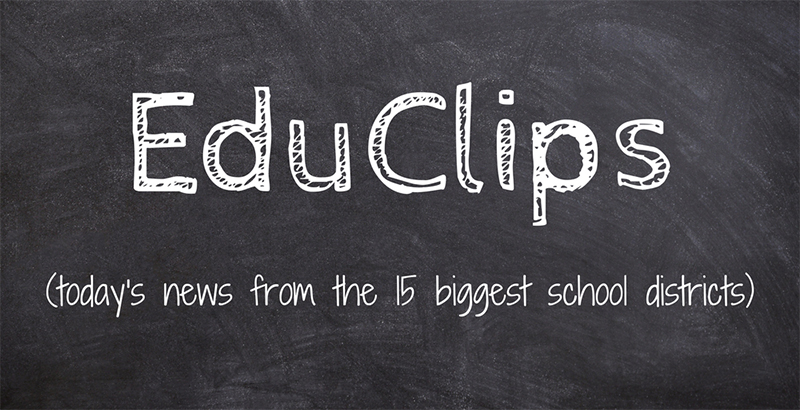 EduClips is a roundup of the day's top education headlines from America's largest school districts, where more than 4 million students across eight states attend class every day. Read previous EduClips installments here. Get the day's top school and policy news delivered straight to your inbox by signing up for the TopSheet Education Newsletter.
Top Story
GIFTED EDUCATION — It was a searing summer day before the start of the school year, but Julianni and Giselle Wyche, 10-year-old twins, were in a classroom, engineering mini rockets, writing in journals and learning words like "fluctuate" and "cognizant."
The sisters were among 1,000 children chosen for an enrichment course intended in part to prepare them for accelerated and gifted programs in Montgomery County, Maryland. All of the students were from schools that serve large numbers of low-income families.
The program is one element in a suite of sweeping changes meant to address a decades-old problem in these Washington suburbs, and one that is troubling educators across the nation: the underrepresentation of black, Hispanic, and low-income children in selective academic settings.
Amid deepening debate over the issue, sometimes referred to as "the excellence gap," school officials across the country and at all educational levels are wrestling with possible remedies. Montgomery County is one of several districts that is successfully diversifying its gifted programs, in part by overhauling the admissions process and rethinking the fundamental mission of such programs. This 160,000-student school system, one of the nation's highest-performing and most diverse, has provided a potential model — but not without creating anxiety and skepticism among some parents who feel their children have been hurt by the changes. (Read at The New York Times)
National News
HURRICANE — Nearly 1 Million Students in 3 States to Miss Class as Hurricane Florence Bears Down on the Carolina Coast (Read at The74Million.org)
#EDLECTION2018 — Education Is a Top Issue in the Midterms (Read at TIME)
NAACP — The War That Wasn't: A Year After Its Much-Hyped Launch, the NAACP's Push for a Charter School Moratorium Has Run Out of Steam (Read at The74Million.org)
SCHOOL SECURITY — School safety commission poised to oppose new age limits on gun buys (Read at The Washington Post)
GATES FOUNDATION — In latest move, Gates Foundation looks to help — and learn from — charters serving students with disabilities (Read at Chalkbeat)*
District and State News
FLORIDA — What's the holdup with Florida's federal ESSA accountability plan? (Read at the Tampa Bay Times)
NEVADA — Metal detectors considered after rash of school gun incidents (Read at the Las Vegas Sun)
CALIFORNIA — It gets worse for LAUSD: This week both the county and the state showed up to say, 'Get your fiscal house in order or else we're taking over' (Read at LA School Report)
NEW YORK — How the winner of the Cuomo vs. Nixon race for New York governor could shape education policy (Read at Chalkbeat)
VIRGINIA — Some students at a Fairfax school want gender-neutral homecoming court (Read at WUSA9)
NEW YORK — Eighty percent of NYC schools aren't fully accessible to students with physical disabilities. Activists say $850 million could make a dent. (Read at Chalkbeat)
TEXAS — State Board of Education votes to keep "heroic" in description of Alamo defenders (Read at the Texas Tribune)
CALIFORNIA — Teachers getting help to buy homes in California's hot housing market (Read at EdSource)
ILLINOIS — Southern Illinois disproportionately affected by teacher shortage (Read at WPSD)
TEXAS — Texas projects state funding for schools to drop as local revenue grows (Read at the Texas Tribune)
ILLINOIS — Duckworth bill would mandate seat belts for new school buses (Read at the Chicago Tribune)
NEVADA — EDITORIAL: Reject proposed teacher contract (Read at the Las Vegas Review-Journal)
Think Pieces
HOME SCHOOLING — When home is school: One teenager's story (Read at The Washington Post)
GRADUATION — Cohen: More States Are Offering Multiple Paths to Graduation. Which One Students Take Can Have Devastating Consequences for Their Future (Read at The74Million.org)
READING — This Mississippi district says these four strategies are helping their struggling readers (Read at The Hechinger Report)
Quote of the Day
"Gifted education does have a bad racial history in this country." —Michelle Gluck, president of the Gifted and Talented Association of Montgomery County, Maryland. (Read at The New York Times)
*Disclosure: The Bill & Melinda Gates Foundation provides financial support to The 74.
Want the day's top school and policy news delivered straight to your inbox — for free? Sign up for the TopSheet Daybreak Education Newsletter.
Get stories like these delivered straight to your inbox. Sign up for The 74 Newsletter